The Carlton Hotel Tel Aviv
Luxury Lodging Near the Tel Aviv Marina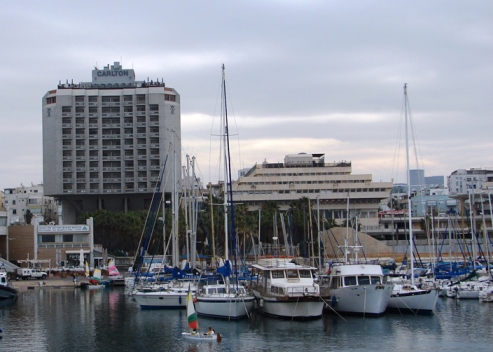 The Carlton Hotel Tel Aviv is a deluxe hotel that guests rave about. The rooms, the service, the view, the food and everything else.
It is located along the beachfront just near the Tel Aviv Marina. You can rent a yacht,  or ride a bike, stroll or jog along the 10 mile boardwalk or relax at the Tel Aviv beach - watching the surfers and sun worshipers or taking a dip in the Sea.
Service at the Carlton Tel Aviv is unbelievable! 
By all accounts, the Carlton hotel staff are friendly, accomodating and efficient, from the front desk, to the room maid, the doormen and the waiters.    
Check Carlton Hotel Availability and Rates
---
Carlton Hotel Tel Aviv Rooms and Lounges
All the rooms and suites at the Carlton Tel Aviv are large, comfortable and decorated richly.  Make sure to request a renovated room.
Photo Courtesy of Chris Smith
A room facing the sea with a balcony costs about $40-60 more per night.  If you can afford it, it's worth the exquisite views.  But the other rooms facing the park or the city view are quite nice as well.
The Carlton is equipped for families with adjoining rooms.  The parent's bedroom has a king-sized bed while the children's room has two double beds.
The best 'executive' rooms are on floors 11-14. They have free access to the Royal Executive Lounge which offers free WIFI, newspapers and refreshments.
---
Facilities at the Carlton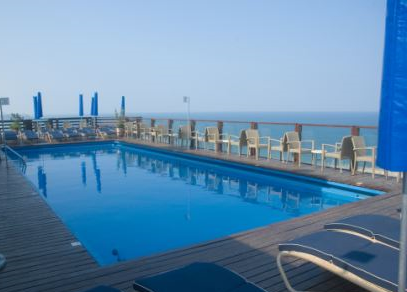 There is a beautiful rooftop pool at the Carlton with an amazing view of the Marina.  You also get free access to the Gordon pool just nearby.  Gordon Pool is a very big (and clean) pool with an area for lap swimming and a play area for kids and toddlers.  
As in most 5 star hotels in Tel Aviv, the Carlton Hotel Tel Aviv has an excellent Spa where you can enjoy a variety of massages – Swedish, Thai, Indian, hot stone and Shiatsu, to name just a few.  
The 5th floor gym is small but well-equipped, with modern machines for working out.
You should be aware that as in most Tel Aviv luxury hotels, the Carlton charges about $15 per night for Wifi.  Don't be surprised.  
Possibly the only negative thing I can say about this really excellent hotel is that during peak season, when there are large tour groups, the Carlton can feel  a bit crowded at the elevators and in the dining room. 
---
Dining at the Carlton Tel Aviv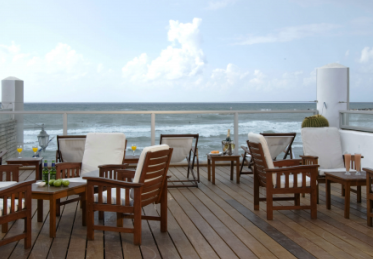 In the hotel dining room or even better, at 'Breakfast on the Beach' - enjoy a delicious Israeli breakfast  buffet outdoors with a huge and variety of homemade breads and cakes,  fruit, vegetables, freshly made eggs, pancakes, cereals and granola, cheeses with freshly made espresso or cappuccino coffee! 
Dinner is quite tasty too, unlike your typical hotel faire.

I highly recommend the Carlton if you're looking for a luxurious 5-star hotel near the Tel Aviv beach.
Return from Carlton Hotel Tel Aviv to Tel Aviv Hotels
Return from Carlton Hotel Tel Aviv to Go-Tel Aviv home page