Sheraton
Tel Aviv Hotel and Towers
Centrally Located 5 Star Hotel on the Beach
The 5 star Sheraton Tel Aviv Hotel and Towers is a well-liked, beach hotel in an ideal location, centrally located across the street from two gorgeous Tel Aviv beaches - the popular Gordon and Frishman beaches.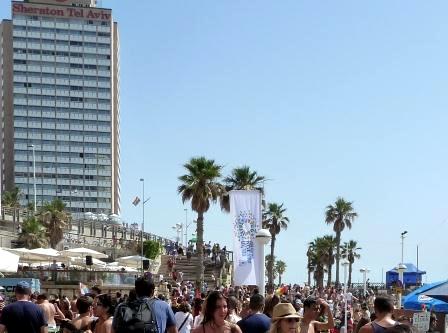 It's within easy reach of the lively Tel Aviv port area to the north and old Jaffa to the south and walking distance from many of Tel Aviv restaurants, bars and shopping areas.
Don't confuse the Sheraton Tel Aviv Towers and Hotels with the Sheraton Moriah Hotel nearby or the Sheraton Beach a bit further north.
---
Tel Aviv Sheraton Hotel Rooms and Lounges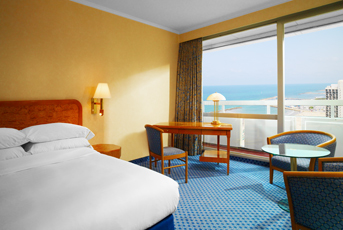 The Sheraton renovated standard rooms, called 'deluxe' are modern and comfortable.
All rooms are equipped with an espresso coffee machine which is fun.
Make sure to request a renovated room. Its a big difference! The non-renovated rooms are not up to par.
Sea View
Rooms have either a nice sea view from the side or a stunning full sea view with a balcony. If possible, ask for a balcony facing south towards Jaffa – they have the best view.
There are three levels of rooms available at the Sheraton:
Deluxe (their standard room),

Club rooms which are larger, include access to the club lounge and are about 5% more expensive than deluxe rooms

The more luxurious Towers rooms with exceptionally large, marble bathrooms and access to the exclusive Towers lounge on the 18th floor with their own private check-in services and other perks.
The hotel also offers a large selection of suites at different comfort and price ranges. Both the club lounge and Towers lounge have a nice atmosphere and offer snacks and drinks and free WiFi.
Note that Wifi in guest rooms cost $20 per day, an irritating fact of life at most 5 star Tel Aviv hotels.
Find the Best Rates, Check Availability and Read Recent Reviews
---

Facilities

at the Sheraton Tel Aviv

The freshwater pool area is beautiful and you can order food and drinks there.
From Oct. 2012 to Feb. 2013 the pool area is being renovated. During this period, the hotel will offer free access to the Gordon Pool- a 5 minute walk away.
The new Cielo Spa at the Sheraton offers massages, facials, body peeling and more. As a birthday present, I sent a good friend there recently for a massage who reported that it was great.
If you want to work out, the Sheraton has a small but well-equipped fitness center.
Or head to the Tel Aviv seaside boardwalk adjacent to the hotel where you can enjoy the gorgeous views while you walk, jog or even rent a bike with the city's ecofriendly bike share program.
---
Dining at the Sheraton Tel Aviv Hotel


The breakfast buffet which is included in the room charge is excellent, as at most Israeli 5 star hotels, is excellent. You'll find fresh breads, cakes and burekas, eggs to order and other hot dishes, fruits and vegetables, smoked salmon and other fish and more.

I have heard and read many good things about the Olive Tree restaurant at the Sheraton (I haven't tried it myself).


Wine Tasting 3 Times a Week!
As a fun perk, Sheraton Tel Aviv Hotel guests get to taste from the best of local wineries every Sunday, Tuesday and Thursday evening in the lobby area from 7-10 PM. There is a small fee of 30 Shekel for two wines.
Check Sheraton Tel Aviv Hotel Availability and Rates
Return from Sheraton Tel Aviv Hotel to Tel Aviv Hotels
Return from Sheraton Tel Aviv Hotel to Go-TelAviv home page