Ben Gurion Tel Aviv Airport
Security, Duty-free Shopping, Transportation
And Everything Else You Need To Know
Tel Aviv Airport, also called Ben Gurion Airport is a modern, comfortable, airy place.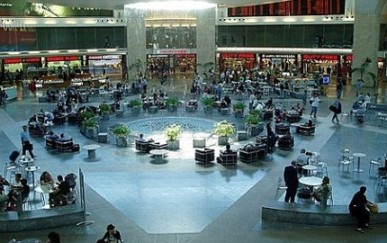 It's located just 15 kilometers (9 miles) from Tel Aviv, and 45 kilometers (25 miles) from Jerusalem.
Ben Gurion airport is medium-sized - so it doesn't overwhelm you like many other modern airport cities do such as JFK, Frankfurt or Heathrow.
---
Some Airport Perks
I love the convenient perks that Tel Aviv airport offers. I've traveled so much on business trips - these perks are definitely not common in other airports:
free wireless internet access everywhere
free luggage trolleys
24-hour duty free shopping.
---
Just Arrived -
Security, Immigration Passports and Visas
After landing, you are ushered right into the terminal without having to take any shuttles or buses. On some cheaper charter flights, you may need to take a bus from the airplane to the terminal because those airlines save on the expense of the jet-bridges.
Ben Gurion airport has only one main Terminal 3 from which all flights depart and arrive, except for some charter or budget flights that fly from Terminal 1.
Passports, Visas and Immigration
Your first stop after landing is immigration and passport control.
Expect to wait on line during the summer and holiday seasons. As in most countries, there are separate lines for Israeli citizens and foreigners, so please pay attention to the signs.
If you're looking for information on whether you need a visa, visit our Visa Israel Information page.
Security
Ben Gurion airport is probably the world's most secure airport, but it can occasionally cause delays. Depending on your security profile or where you're coming from, you may face some polite, if repetitive questioning by immigration officers. If you have nothing to hide, there is nothing to worry about. Just answer all the questions.
Be patient and take it in stride.
When I host business guests from overseas, I always send my guests a letter addressed to Israeli immigration with my company logo, my name and local phone numbers f prior to their arrival. I was called a few times by immigration officers at the airport and my ability to vouch for my guests sped them through security.
So if you're a business traveler, ask your host for such a letter. It can make a huge difference.
Traveling to Arab or Islamic Countries
If you plan on traveling to Arab or Islamic countries, some will not allow you in if your passport includes an Israeli visa or stamp. You can ask the immigration officer not to stamp your passport with an Israeli immigration stamp. Instead, they will stamp a separate sheet of paper. Keep this sheet of paper with you together with your passport until you leave the country.
---
Baggage Pickup and Local Currency
Baggage Pickup
If you are on an organized tour, there is a chance that your local tour operator will be waiting for you with signs after you leave the immigration section. Be on the lookout for your tour's name.
After passport control, you may take a free luggage trolley and pick up your suitcases at the baggage carousel for your flight.
Money Exchange
Right after customs and after your baggage pickup, there are conveniently located 24-hour banks and multi-lingual ATMs at the arrival lounge for you to exchange or withdraw money.  When you depart, there are automatic ATM's where you can withdraw foreign currency (US Dollars, Euro and British Pounds), as well as 24-hour money exchange services for most major currencies.
---
Transportation from the Airport
Transportation to and from Tel Aviv Airport is convenient. You can either rent a car, take public transportation, a taxi or a shared taxi service (Sherut) depending on your destination.
Car Rentals
If you plan on renting a car, take the escalators up where you can choose from Israel's five leading car rental companies: Avis, Budget, Eldan, Hertz and Sixt. They're also open 24 hours a day.
By Train
Taking the train to Tel Aviv, Jerusalem, Haifa and Nahariya in the North or Beersheva in the South is extremely easy and cheap.
• Trains run 24 hours a day, excluding the note below.
• Between 5:30 AM until midnight, they run every 20 – 30 minutes. Between midnight until 5:30 AM, they run every hour.
• Prices range from 10 to 40 Shekels depending on your destination.
• The train station entrance is to your left as you exit the arrivals hall, one flight down.
• To reach other Israeli cities, you can switch trains or catch a bus from the intermediate city.
• Note that there is no public transportation in Israel, including trains, during the Sabbath which begins on Friday afternoon (from about 2:30 PM or 3 PM until Saturday night (about 7 PM) or during Jewish holidays. If you're not sure when are the holidays, visit our Israel Holidays page.
By Bus
I personally do not recommend the bus option for traveling from the airport.
Taking a bus from the airport is not very convenient and might be difficult if you do not read of speak Hebrew.
But if you wish to do so, you need to take at least 2 different buses to reach your final destination. You must first take the Egged bus line from Tel Aviv airport to either the El Al Junction or to Airport city. Both destinations are a 10-15 minute bus ride. From either stop, you need to transfer to a different bus or buses in order to get to any one of the major cities in Israel.
There is no bus service in Israel from Friday afternoon from about 2:30 PM until Saturday night from about 7 PM.
Trains from Tel Aviv airport are much more convenient, especially for non Hebrew speakers.
Taxis
I confess I always take taxis to and from the airport for the ease, even if it costs slightly more than the alternatives.
For Taxis to Tel Aviv and all of Gush Dan (central Israel), make sure to take the middle, left exit that clearly says Taxis and you'll see the Taxi line on your left.
My advice - user only the official airport taxi line because it's supervised and you are guaranteed a fixed and reasonable rate to your destination. Normally within the city, I advice travelers to ask every taxi driver to user the meter, but the airport fare is the main exception.
During peak tourist season, the taxi wait can take anywhere from 10 - 30 minutes, but the line keeps moving. Depending on the time of day and destination, the rates can range from 100 – 200 Shekel or so to Tel Aviv.
Make sure to get your price quoted from the taxi dispatcher before you begin the taxi ride.
For Jerusalem and Haifa, you can catch a 24-hour Sherut Taxi, which is a shared taxi service that typically holds about 10 people. The fare per person runs about 50-100 Shekel.
---
Flying Out -Security, Business Lounges
and Duty Free Shopping
When flying out of Tel Aviv airport, there are free luggage trolleys, free internet access and great duty-free shopping from anywhere in the airport.
Security Again
Security lines can take some time during the summer and holiday seasons.
Keep your sense of humor handy!
The process may be lengthy, but the security staff is polite and friendly. As is customary at every Israel airport, profiling is used to decide on the length and depth of the questioning. I've had my luggage opened a few times. Take it in stride...
I recommend you arrive at Tel Aviv airport early enough - about 3 hours before the flight for economy class and , 2 and a half hours for business class. Better to be relaxed and not pressured time-wise in anyway.
The good news is that Ben Gurion Tel Aviv airport supports internet check-in. If your airline provides this service, you can arrive at least a half an hour later, an hour later if you aren't sending any luggage.
Business Lounges
There are two VIP Lounges for passengers with business or first class tickets.
The first is the King David Lounge for those flying Business or First Class with El Al and several other airlines.
The other VIP lounge is called Dan. They are both easy to find.
Great Duty Free Shopping
Duty free shopping at Ben Gurion airport is competitively priced with a good selection.
Even if your flight leaves in the middle of the night, shops are open 24 hours a day which is really convenient.
And if you happen to fly back to Israel, you can leave what you purchased at the Tel Aviv airport and pick the goods up on the day you arrive. So it's easy to buy a lot if you want to.
For a complete list of stores at the airport, visit Duty Free Shopping at Ben Gurion Airport
I have my regular duty free shopping route that I follow.
At James Richardson Duty Free, I start at the large selection of alcoholic beverages. At home, we drink mainly vodkas, Israeli wines and occassionally, some whiskey. My husband Yoram is a smoker so I always buy duty free cigarettes. I often buy perfumes, colognes or chocolate assortments as gifts.
The sports shop carries the latest trends in sneakers, sportswear and brand-name sunglasses.
There is always a good sale on something for my kids. There is also a nice store for kids toys which includes computer games, playstation, We, etc.
If I am flying with Yoram, we shop separately. I go for the fashion stores or books at Steimatsky's. Yoram has an obsession for colorful watches, so he makes a beeline for the duty free watches at Sakal. Then, like many men I know, he spends his remaining time cruising at Bug, the electronics duty free store. . I usually end up dragging him out of there so we don't miss our flight!
There are lots of other shops depending on your tastes: H. Stern for classic jewelery, Michal Negrin for vintage style clothing and accessories, and shops for music and DVD, sweets, lingerie, last minute gifts from Israel and much more.
If you're hungry or need a beverage, why don't you go for one of the good sandwich and coffee bars such as ArCaffe for a last minute espresso or cappuccino before you leave Israel.
I hope you enjoy your browsing and shopping around Tel Aviv Airport. And have a safe flight!
Return from Ben Gurion Tel Aviv Airport to Flights to to Israel

Return from Ben Gurion Tel Aviv Airport to Go-Tel Aviv Home Page