Tel Aviv Israel Cheap Hotels 
 Decent Budget Lodging in Tel Aviv


Yes - Tel Aviv Israel has cheap hotels and hostels that are clean and decent!

Tel Aviv is an expensive town with real estate prices at a premium.
But you can find worthwhile discount hotels, guest houses and hostels that are clean and safe, and some that are really special.
Some visitors choose Tel Aviv budget lodging so that they can stay in Israel for several weeks or longer. They find that by compromising a bit on accommodation, Tel Aviv can be a fun and cheap home base from which to visit the rest of Israel.
Skip to our recommended cheap hotels in Tel Aviv:
---
4 Tips for Choosing Budget Lodging
It's worth inquiring out about these 4 points when choosing between Tel Aviv Israel cheap hotels and hostels:
1. Air Conditioning. Rooms in budget lodging may have air conditioning or just fans. Since Tel Aviv Weather can be really hot and muggy, consider if you want to pay a bit more for an air-conditioned dorm or private room during the summer months.
2. Location. How important to you is the proximity to the beach? Which of Tel Aviv's different neighborhoods appeal to you most:
near the beaches
fun neighborhoods, like Florentine or Neve Tzedek
beautiful old Jaffa
3. Free Wifi. How important is free wifi access from your room and from the lobby or common rooms? if Wifi is not included, find out how much it costs.
4. Breakfast. Most hotels in Israel include a large Israeli style breakfast. Budget hotels and hostels may not include breakfast at all, or they may include only coffee, tea and toast or cookies.  Find out because food isn't cheap in Israel.
---
Our Top Picks of Tel Aviv Israel Cheap Hotels 

Note: If you prefer a good hostel, here are our choice of the best Tel Aviv Hostels.

---
SeeTheSea Hotel
One of the Best of Tel Aviv Israel Cheap Hotels!
3 Yordei Hasira Street near the Tel Aviv Port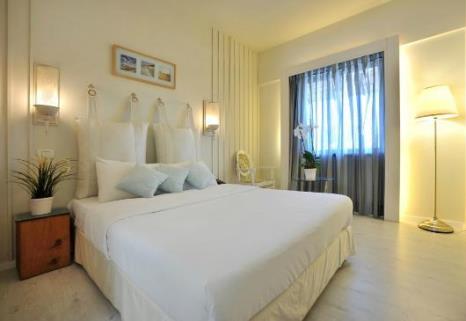 Clean, modern, white and bright...  Who can ask for more? 
SeetheSun, one of the best Tel Aviv, Israel cheap hotels,  is a relatively new 20 room hotel in a great location at the Tel Aviv Port (Namal) bustling with cafe's, restaurants and shopping and close to the Tel Aviv beaches.  
Rooms are smallish but lovely with comfortable beds, clean bathrooms and a small kitchen.  You can get a sea view, or a slightly larger room without the view.  Some rooms even have a jacuzzi!
There is  also a great sun roof for chilling out with amazing views.  And free wifi. 
By Tel Aviv standards, it's considered a budget hotel with rooms for up to 2 people with double beds starting at about $100 per room for a couple.  Breakfast costs an additional $15 or so.
See the Sea Hotel - Rates, Availability and Recent Reviews

---
Tel Aviv Israel Cheap Hotels:
Eclectic ApartHotel

122 Allenby Street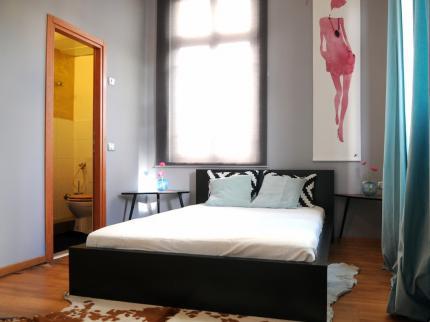 The cool decor at the Eclectic ApartHotel is just like the name - eclectic. The rooms are small, but newly renovated and comfortable.  The family rooms have a nice kitchen and are good value.
Just be aware that Allenby Street is in the heart of busy Tel Aviv, so if you are sensitive to noise, ask for an apartment facing the back, or bring ear plugs!  
There are buses close by and you can walk to the beach and the Tel Aviv outdoor markets in 10 minutes.  Or take a bus, taxi or bike to almost anywhere.
---
Tel Aviv Israel Cheap Hotels:
Ben Yehuda Apartments Hotel

119-121 Ben Yehuda St.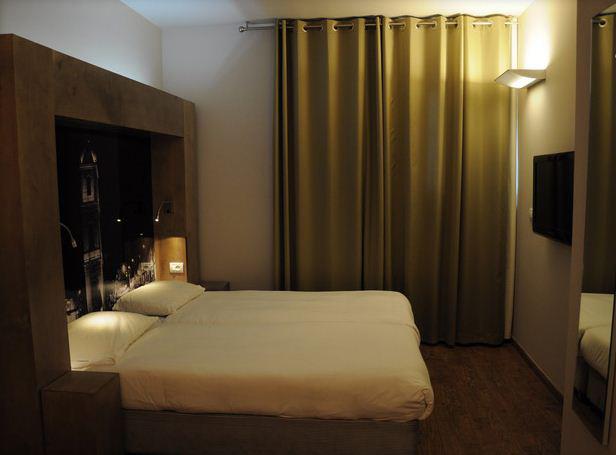 Ben Yehuda Apartments is located in the heart of Tel Aviv, minutes by foot from the Tel Aviv Marina and the amazing Tel Aviv beaches.

There is a studio, a 1 and 2 bedroom apartment, a duplex and a penthouse apartments.  They are all in good condition, the rooms are cozy, and the bathrooms are tiny, but the apartments are excellent value for the price you pay and what you get in return.
Don't be fooled by the 'apartments' in the name - you get full hotel services at Ben Yehuda Apartments.  Definitey a good choice, especially the larger apartments for familiers or groups of friends.
Ben Yehuda Apartments - Best Rates, Reviews, Availability
---
Tel Aviv Israel Cheap Hotels:
Sun City Hotel

42 Allenby St.
The Sun City Hotel is conveniently located just a 5 minutes walk from the beach, near a Tel Aviv bike station and several bus and taxi stands.
Sun City provides very good value, at about $90 per room even during peak season. Room are small, but clean.  Wifi is free, coffee is served all day long and pastries are served for breakfast.

Allenby is a busy, noisy street and you can hear the bars and clubs, especially on weekends so beware if you are sensitive to noise.
Sun City Hotel - Best Rates, Reviews and Availability
You may also be interested in:
You are here:
Go-TelAviv Home
›
Tel Aviv Hotels
› Tel Aviv Cheap Hotels