Summertime in Tel Aviv
News In The City that Never Sleeps
 Events in June, July & August 2013
Here is our handpicked list of the best Tel Aviv news and events this June, July and August.
Tel Aviv celebrates the summer with music, dance, arts, sports on the beach and special events for kids.   The days are long and hot... Schools are closed and the city is packed with natives and tourists.  
To find out whats happening in the city that never sleeps, click on the Tel Aviv  Events Quick Links below or read through the page:
---
Tel Aviv News- White Night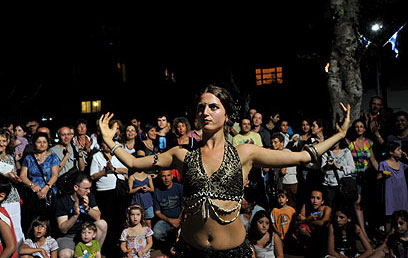 White Night is one of the most special night of the year in Tel Aviv.  It happens once a year on a full moon at the end of June.  This year it falls on June 27th.  
You will love it! Tel Aviv streets, beaches museums, restaurants and clubs celebrates all night long, most until until day break. Most events are free of charge or at a reduced price. 

White Night commemorates the inclusion of Tel Aviv, the White City, as a World Heritage Site by Unesco in 2003. Read more on our page – Tel Aviv's Lovely Bauhaus Architecture.
There are events at night suitable for all ages and you'll find lots of Israeli kids enjoying a rare night out.

Where to go during White Night in Tel Aviv? 

• Rothschild Boulevard and Nachalat Binyamin
• the Old Train Station (HaTahana) 
• Jaffa - the Flea Market,  Jaffa Port and old Jaffa
Tel Aviv beaches -  free concerts, DJs and dancing on the beach all night and past dawn at many of Tel Aviv beaches - especially at Alma and Banana beaches, Gordon Beach and Hatzuk Beach in the north of the city.
• Neve Tzedek neighborhood – around the Suzanne Dellal Center
• The Tel Aviv Port
• Museums, like Tel Aviv's Museum of Art and Eretz Israel museum are open until late at night 
• Midnight concerts at the Tel Aviv Opera


---
Tel Aviv News & Music Events this Summer


Tel Aviv News - DJ's and Parties
The summertime is the best time of year for parties in Tel Aviv. International and local DJ's play on the beach, at clubs and bars.
If you want to read more about what to do at night in Tel Aviv, visit our page on Tel Aviv's roaring nightlife.
Tel Aviv News in August 
5 Amazing House Parties at the Block
The Block is one of the best clubs in Tel Aviv these days and you will love it if you appreciate good sound and great underground house and techno music.  It has an unbelievable sound system, probably the best in Israel.
This August, the Block will host some of the  best international DJs.  
When:  every Thursday in August from 12 AM to 7 AM
Who and When:
August 1st - DJ Dmitri from Paris on August 1st 
August 8th -DJs Dyed Soundorom from France and Jus-Ed (aka Edward McKeithen, USA)
August 15th - DJ Steve Bug from Berlin
August 22nd - DJ Fatty DL from New York
August 29th - DJs Kode 9 from London and Michael Mayer from Cologne
Where: The Block, 157 Salame St (near the Central Bus Station)
Cost: 120 Shekels
Tickets: At the door or call for presale tickets: Tel. 03-537-8002 or email office@block-club.com.  Call and buy tickets in advance so you will be assured of getting in!
---
Great Berlin Techno at Bootleg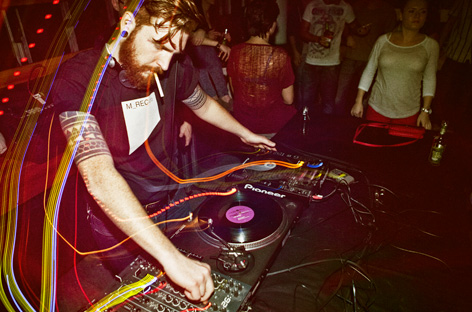 Bootleg is one of the longest running underground clubs in Tel Aviv.  This August, they host one of Germany's up and coming techno  DJ's, Ben Klockwith Ryan Elliott, Boris and Baumecker playing their intense, theatrical Berllin techno music.
When: August 16th, 12 AM - 7 AM
Where: Bootleg Club, 48 King George Street
Cost: 50 - 60  Shekels 
Tickets: At the door
---
Italian DJ Simonici at the Deli Club
Italian based DJ & Producer Nick Anthony Simoncino has been making waves in Europe, combining 'retro' deep house with modern sounds.  This is his first performance in Tel Aviv at the Deli CLub.
When: June 14th, 12 AM - 7 AM
Where: Deli Club, 47 Allenby Street
Cost: 50 Shekels
Tickets: At the door
---
Dutch DJ Legowelt - Live at Bootleg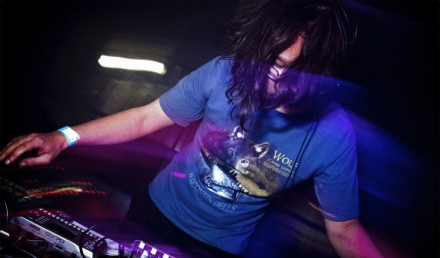 DJ Legowelt from Holland plays a mixture of Chicago deep house and slamjack.   The sound is going to be amazing with Legowelt playing live electronic music on the keyboard while he DJ's.
When: June 21st
Where: Bootleg Club, 48 King George Street
Cost: 50 Shekels 
Tickets: At the door
---
Electronic Trance & House Music Festival in Eilat

Blue 4 Dance is one of the best electronic music festivals in Israel.  No, this 2 day event is not in Tel Aviv but this is definitely worth a trip to Eilat!  
DJ performers include: Armin van Buren, Alesso, Ashley Wallbridge, Jochen Miller and Israel's own Yuval Zach.
Here's a scene from Armin playing in Eilat in the summer of 2011:
When: July 4th and 5th
July 4th - Alesso, Jochen Miller and Yuval Zach 
July 5th - Armin van Buren and Ashley Wallbridge
Where: The 'New Farm' (Hachava Hachadasha) in Eilat
Cost: 150 Shekels for July 4th, 190 Shekels for July 5th, 260 Shekels for both 
Tickets: For tickets, call Ofer Mizrahi at 052-830-3124.  Online tickets available soon!
---
Tel Aviv News & Events - Classical Music & Opera


Bolshoi  Opera Sing  Russian Classic - Eugene Onegin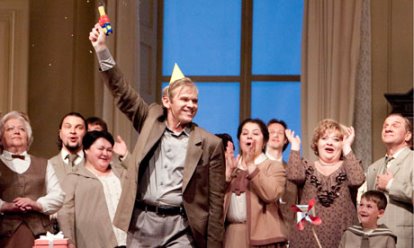 First time in Israel from Moscow, the famous Bolshoi Opera sings the Russian opera classic composed by Tchaikovsky - Eugene (Yevgeny) Onegin.  This is probably Russia's most popular opera and this is a truly spectacular performance
When: 
June 24, 25, 26  and 27th at 8 PM
June 28th at 1 PM
June 29th at 9 PM
July 1, 2, and 3rd at 8 PM
July 5th at 1 PM
July 6th at 9 PM
Where: Israel Opera House 19 Shaul Hamelech Avenue
Cost: 237 - 428 Shekels 
Tickets: Call 03-692-7777
---
Tel Aviv News & Events - Rock, Jazz & World Music


Tel Aviv News 
World Music SuperStar Idan Raichel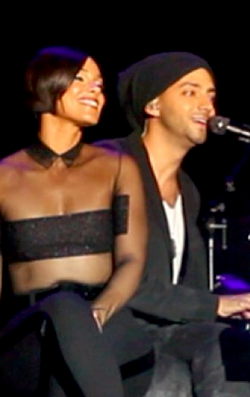 Israeli singer Idan Raicher is a worldwide music sensation.  His fusion style combines, Hebrew, Amharic (Ethiopian), Arabic, Spanish, Portugese and more!
Don't miss his wow performances.
When: 4 performances on August 1, 2 and 3rd and on 24th of September
Where: 
In August: Israel Opera Houe "HaMishkan LeOmaniyot Habama - at  19 Shaul Hamelech Avenue
In September: Raanana Amphitheater - Yerushalayim Park, 6 Derech Yerushalayim 
Cost: 179 - 259 Shekels
Children under 12 - 100 Shekels on the grass
Tickets: Buy online tickets here Idan Raichel In Tel Aviv
A Night of Nostalgia - Cliff Richards in Tel Aviv
Legendary singer Cliff Richards will play 2 nights in Tel Aviv this July.  Both longtime devotees and younger fans will enjoy these rock classics.
When: July 11th and July 13th at 9 PM
Where: Nokia Arena, 51 Yigal Alon Street
Cost: 340 - 1,050 Shekels per performance
Tickets: Buy online tickets here Cliff Richards in Israel
---
Experience Greek Amazing Performer Yanni in Tel Aviv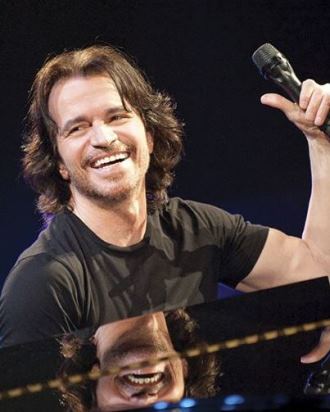 Best known for his unbelievable video 'Yanni Live at the Acropolis' - Yanni improves with time.  His live concerts are an amazing experience with a huge cast of musicians and performers.  One of the best World Music performers ever.
When: June 19th at 8:30 PM
Where: Nokia Arena, 51 Yigal Alon Street
Cost: From 440 to 1,500 Shekels
Tickets: Buy online tickets Yanni In Tel Aviv Nokia Arena
---
Don't Miss Anthrax Heavy Metal in Tel Aviv!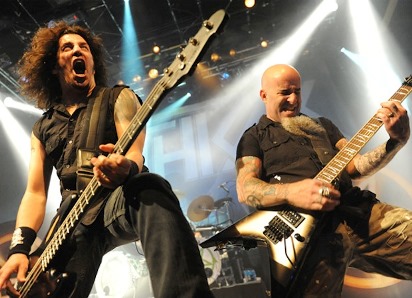 All you heavy metal fans - don't miss Anthranx performing for the first time ever in Israel this summer.
When: Tuesday, August 13th
Where: Nokia Arena, 51 Yigal Alon Street at 8 PM
Cost: Each night - 220 - 330 Shekels
Tickets: Buy tickets online at  Anthrax Rock Tel Aviv
---
Tel Aviv News - Dance Events


Rodin - Boris Eifman's New Ballet from St. Petersburg
Celebrated Russian choreographer Boris Eifman developed Rodin - this tragic, intense and spectacular ballet on the life of Auguste Rodin, the famous sculptor. It's been called the first 'psychological ballet.'   I am sending my Mom, a ballet lover, to this one!
When: July 10, 11, 12 and 13th
July 10th and 11th at 8 PM, July 12th at 1 PM and 9 PM, July 13th at 9 PM
Where: Israel Opera House 19 Shaul Hamelech Avenue
Cost: 159 - 300  Shekels Call
Tickets: Call 03-692-7777
---
Tel Aviv News and Art Events this Spring


Stunning Contemporary Art Exhibition at Sommer Gallery
'Between Naivete and Soberness'
artist Rona Yefman
The Summer Gallery focuses on the works from leading Israeli contemporary artists.  Their summer exhibition includes a fascinating and eclectic mix of recent works by Efrat Shvily, Eliezer Sonnenschein, Rona Yefman, Guy Ben Ner, Yael Bartana, Adi Nes.
When: June 10th until August 10th
Sunday closed
Monday to Thursday 10 AM to 6 PM
Friday 10 AM to 2 PM
Saturday 10 AM to 1 PM
Where: Summer Gallery, 13 Rothschild Blvd.
Cost: Free of charge
---

Tel Aviv News -Stunning Masha Zusman Exhibit 
Masha Zusman is one of the promising young Israeli artists.  She works with leftover wooden pieces from the streets and garbage dumps. On them, she creates her mesmerizing art work.
When: June 6th to July 27th
Sunday - Monday closed
Tuesday to Thursday 11 AM to 6 PM
Friday and Saturday 11 AM to 2 PM
Where: Inga Gallery, 7 Bar Yochai Street
Cost:  Free of charge
---
Tel Aviv News and Sports Events


---
Beach Tennis Every Friday at Frishman Beach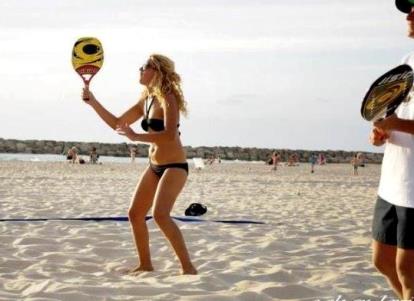 Did you say beach tennis? That's right!   Every Friday from May to October, you can rent some rackets and play tennis or just watch the tennis tournaments at Frishman beach.   For more about all 16 of Tel Aviv's amazing beaches, visit our page Tel Aviv Beach.
When: Every Friday from May 1st to October 1st
2 - 4 PM - rent rackets and courts,
4 PM until sunset - enjoy the tennis tournaments
Where: Frishman Beach
---
Tel Aviv News - Family Activities & Kid Events

'The Art of the Brick'  Lego Art Exhibition in Tel Aviv
Finally - art your kids will love!  CNN chose this exhibit as one of the 10 best in the world... Nathan Sawaya is a New York based artist whose medium are kid's Lego blocks.  All the works in the 'Art of the Brick' are made out of Lego.
When: June 27th until  August 27th
Sunday to Thursday and Saturday:  8:30 AM - 8:30 PM, Friday: 8:30 - 5:30 PM
Where: Israel Convention Center (Ganei HaTaarucha), Maxidon Hall
Cost:  99 Shekels per person, 280 Shekels for a family
Tickets: At the door. Not available yet for presale
---

Special 'Insider' Guided Tours at the Safari and Zoo
Read more about the best Zoo and Safari Park in Israel.
Just a 15 minute drive from the center of Tel Aviv in the suburb of Ramat Gan, the Safari is a great place to visit.  I especially recommend the special 'insider' tours where you see how the zookeepers take care of the animals and your kids get to help.
The fascinating midnight tours focus on the love and mating habits of the animals and are for adults only.
---
Giant Sand Sculptures from Your Favorite Children's Tales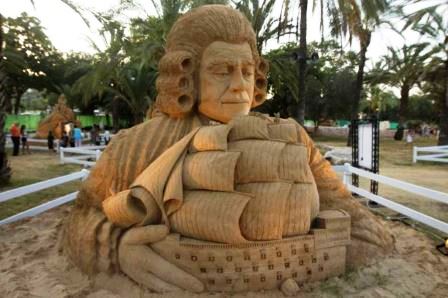 Young children will be delighted by these dozens of  incredible, huge sand statues from children stories and Biblical tales such as: Tarzan, Alice in Wonderland, Jonah and the Whale, David and Goliath and much more.  Stroll around the huge outdoor garden of the Eretz Israel Museum and see
When: July 1st until August 26th
Sunday to Wednesday: 10 AM to 4 PM, Thursday: 10 AM to 8 PM, Friday and Saturday: 10 AM to 2 PM
Will also be open during the evening with special lighting effects.
Where: 2 Haim Levanon Street, Ramat Aviv (northern Tel Aviv)
Cost: 99 Shekels per person (price for children 2 years old and up)
Tickets:  At the door
---

Back to Nature Fun for Kids on The Farm 'HaChava'

The Farm (HaChava) is a great place for younger children.
There are active booths for kids between the ages  5 - 10:  colored sand, graffiti for kids, natural colors, painting with oil and water colors, creating flower wreaths, and more.  And picking flowerss straight from the field!
These are in addition to the regular activities: the farm area,  petting and feeding zoo, obstacle course and maze,  bird-watching tours, and a nature tour.
When: Every Saturday (full summer schedule isn't published yet)
Where: HaChava (the Farm), 74 Rokach Blvd, Ramat Gan entrance to Park Yehoshua
Cost: 49 Shekel per person (adult or child)
Tickets: At the entrance. Try to arrive early to avoid the crowds. Call for more details: 03-613-8286
Return from Tel Aviv News and Spring Events in June, July and August