June 2012 Events
Tel Aviv News In The City That Never Sleeps
In this city that never sleeps, Tel Aviv news and events never stop!
Every June, Telavivians celebrate the summer with special annual events. The festivities this June include:
•
Tel Aviv's amazing White Night Festival
•
Gay Pride Week and Love Parade
•
Weeklong Book Fair
•
International DJs performing in Tel Aviv
•
Classical Music and Opera
•
Vibrant Dance performed by renown Israeli Dance Companies
•
The International Students Film Festival
Below is our listing of some of the best June events for adults and kids.
---
Tel Aviv News and Events

Tel Aviv's Annual White Night Festivities this Month!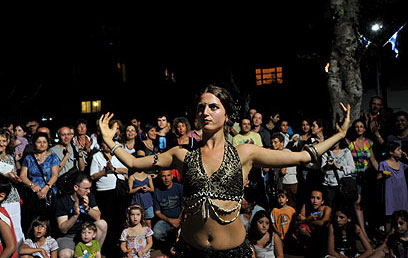 If you're in Tel Aviv on June 28th – you will love White Night, Tel Aviv's most special night of the year!

The entire city celebrates with music, theater, art and dance performances on the streets, beaches, restaurants and clubs all night long until day break! Most are free of charge or at a reduced price.


White Night takes place every year on a full moon in the end of June.

It commemorates the inclusion of Tel Aviv, the White City, as a World Heritage Site by Unesco in 2003. Read more on our page – Tel Aviv Houses the World's Largest Collection of Bauhaus Architecture.
There are events at night suitable for all ages and you'll find lots of Israeli kids enjoying a rare night out.
Where to go?
• Rothschild Boulevard
• the Station (HaTahana)
• Jaffa's Flea Market and walking around Jaffa Port and old Jaffa
• Nahalat Binyamin
• Neve Tzedek neighborhood – around the Suzanne Dellal Center
• The Tel Aviv Port
• Museums, like Tel Aviv's Museum of Art and Eretz Israel museum are open until late at night
• Midnight concerts at the Tel Aviv Opera
• The beaches. Expect free concerts, DJs and dancing on the beach all night and past dawn at many of
Tel Aviv beaches
- especially at Alma and Banana beaches, Gordon Beach and Hatzuk Beach in the north of the city..
---
Tel Aviv News and Events
Tel Aviv Gay Pride Week and the Annual Love Parade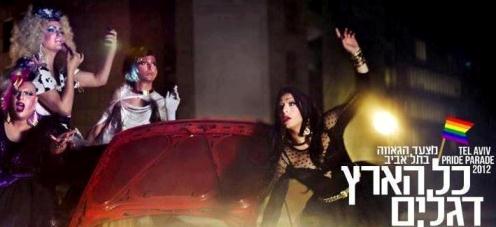 This year, Tel Aviv's Gay Pride Week of 2012 takes place between June 1st to June 8th.

Relax every day between noon and sundown at Tel Aviv's unofficial gay beach – Hilton beach. You can meet Israelis and tourists from all over the world while listening to the best of Tel Aviv's DJs play chill-out music.



On Friday June 8th, the love parade begins with MTV and drag queen performances at Meir Park at 10 in the morning.

At 1 PM, the parade marches and floats get going from Meir Park, along Bograshov, Ben Yehuda and Arlozorov Streets until they reach Gordon Beach. Tens of thousands of Israelis and tourists line the way.

The beach party starts at 3 PM with well-known Israeli performers and DJs playing all day and into the night.

You can go to several different gay , lesbian and gay-friendly parties every evening of gay pride week at the different bars and clubs in Tel Aviv. Find out more about the best gay lines on our page - Gay Tel Aviv Israel.

Two of the most extravagant parties will take place at the HaOman 17 club:



DJ Offer Nissim at the After-Madonna Party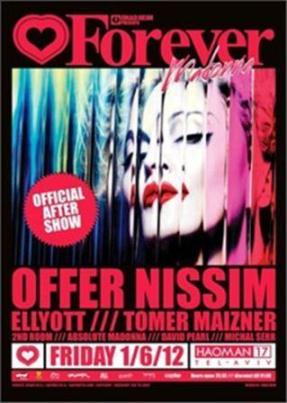 Israel's well-known DJ Offer Nissim plays one night after Madonna opens her new world tour in Israel on May 31st.

Expect a magical night!

For more on the Madonna concert, visit
Tel Aviv Events in May.

When: June 1

Where: HaOman 17 Club, 88 Abarbanel Street

When: 12 AM - 7 AM

Cost: 120 – 160 Shekel

Tickets: Tickets are no longer available



---



DJ Abel at Olympia - FFF Line at HaOman 17!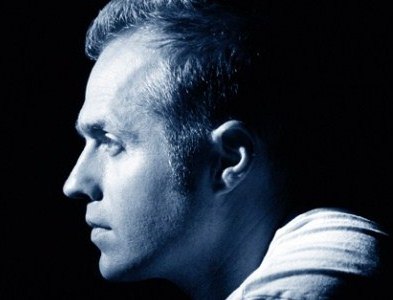 One of the main events of the gay pride week is the FFF gay-friendly Shirazi party at the HaOman 17 Club. This year's theme is the Summer Olympics in London. Expect spectacular live dance, acrobatics and other performances accompanying DJ Abel Ramon from the States.

After the party, walk with the FFF float at at the Love Parade and if you're up to it, continue dancing at the Gordon beach party!


When: June 7
Where: HaOman 17 Club, 88 Abarbanel Street
When: 12 midnight to 12 Noon
Cost: 120 – 160 Shekel
Tickets: Tickets no longer available


---

Jews are called 'the people of the Book.' and very year, Israel holds a week long fair celebrating books.

Besides hundreds of booths displaying thousands of books in different languages, there are food and entertainment stands and a children's play or musical every evening at 7:15 PM.

It's a great opportunity to stroll around and see the natives.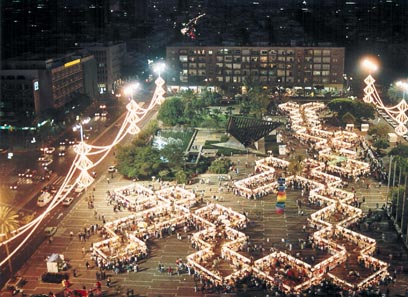 When: June 6- 15 between 6 PM – 11 PM, Thursday and Saturday nights till midnight. (closed on Friday)
Where: Kikar Rabin - City Square, 19 Malkei Yisrael Street
Cost: Free of charge


---
Tel Aviv News and Events- International DJs Performing in June
Tel Aviv parties are second to now and some of the world's best DJs play at the city's clubs every month.. For more about where to go out in Tel Aviv, you can visit our our pages on -

the amazing Tel Aviv nightlife
and in our page on Tel Aviv streets in 4 Funky Neighborhoods.
We covered two of Tel Aviv's gay friendly parties with DJs Offer Nissim and DJ Abel Ramon earlier on this page under Gay Pride Week Events. Here are two more guest DJs from the US and the UK performing in Tel Aviv in June.
UK's Mr. Scruff plays at the Block on the 14th!

First time in Israel, Andy Cartney, aka Mr. Scruff plays a long set of his unique blend of jazz, hip-hop, reggae, and house.
When:
Thursday June 14th. From midnight to 6 AM
Where:
The Block, 157 Salame Street
Cost:
70 Shekel in advance. .
Tickets:
Tickets no longer available
---
Hot French DJ Popoff plays at the Cat & Dog on the 15th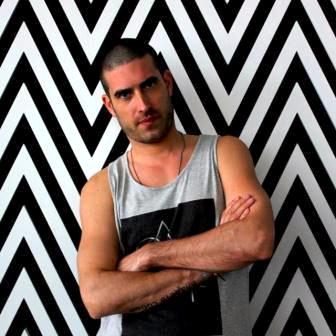 Popoff is one One of the world's techno masters and has created remixes for the likes of Depeche Mode and Mobi.


When: June 15, 12 AM - 6 AM
Where: the Cat & Dog Club,
Cost: 80 -100 Shekel, 120 Shekel the week of the event
Tickets: Call 057-3600-360




---
Tel Aviv News and Events – Classical Music and Opera
Enjoy Opera Classics in Tel Aviv


Tel Aviv News and Events - Verdi's Rigoletto at the Israel Opera


Where: Israel Opera House, 19 Shaul Hamelech St.
When: June 30th at 9 PM

Tickets: 03-6927777 or http://www.israel-opera.co.il/eng/
Cost: 175 to 428 Shekel depending on the seat. Add 15 shekel for Saturday night performances.


---
Tel Aviv News and Events – Classical Music
Ludovic Morlot & Violinst Mayuko Kamio Thrill at the Israel Philharmonic
Don't miss this magical performance conducted by Ludovic Morlot with virtuoso Japanese violinist Mayuko Kamio. The musical program consists of:
Dvorak, The Carnival Overture
Lalo, The Spanish Symphony
Dvorak, Othello Overture
Martinu, The Frescoes of Piero della Francesca
Where:
The Smolarz Auditorium, Tel Aviv University Campus, except for the first performance on June 28.
When:
June 28 at 10 PM at Hangar 11 at the Tel Aviv Port
June 29 at 11 AM
June 30 at 9 PM
Tickets:
1-700-703030 or 03-6211777
Cost:
150-410 Shekel per concert
---
Tel Aviv News and Events - Dance Performances in June

World Renown Batsheva Dance Ensemble performs Deca Dance
Deca Dance is an exhilarating compilation of 8 or more pieces choreographed by Batsheva's artisitic director Ohad Naharin over the past twenty years. "Mr. Naharin's weird and wonderful poetry of the body speaks so clearly,' wrote Roslyn Sulcas in the New York Times. You'll love it!
Where: Suzanne Dellal Dance Center, 5 Yehieli Street, Neve Tzedek, Tel Aviv
When:
June 15, 2 PM
June 16 – 17, 9 PM
June 18, 7 PM, 10 PM ,
,
Cost:
120 or 140 Shekel (depending on the seat)
Tickets:
03-5105656
---
Flamboyant Flamenco Performances in Tel Aviv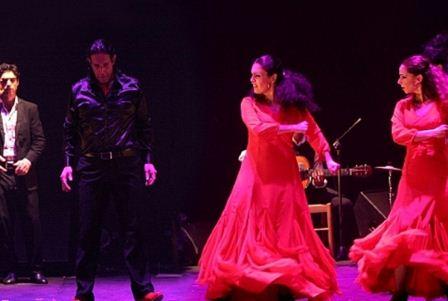 Come see this dramatic Flamenco Performance with 14 dancers, guitarists, musicians and singers. The Israeli couple Avner and Keren Pesach who foundeded this dance company trained and danced in Spain for over 10 years.
Where: Suzanne Dellal Dance Center, 5 Yehieli Street, Neve Tzedek, Tel Aviv
When:
June 3, 9 PM
Cost:
129 Shekel (depending on the seat)
Tickets:
03-5105656
---
Tel Aviv News – International Students Film Festival June 2 - June 9


Enjoy the International Students Film Festival,at the Cinematheque which has been running for nearly 20 years. This film happening is considered the world's best student festival with hundreds of screenings of new and promising filmmakers.

Where: Cinematheque Film Center, 2 Shprintzak Street
When: June 2-9

Price:

Single ticket – 25 Shekel, 10 Shekel for Students
Daily Pass – 45 Shekel, 30 Shekel for Students
Weekly (unlimted) Pass – 150 Shekel, 100 Shekel for Students.
For the Full Program and ordering tickets online, go to
Return from Tel Aviv News and Events in June to Go Tel Aviv home page