Grabbing some Bicycles and Bicycling 

Can be a Fun Way to Discover Tel Aviv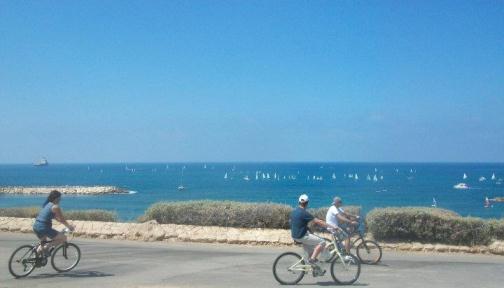 What can be for more fun that hopping on some bicycles and bicycling all over Tel Aviv!
It's an ideal way to see the city on your on your own, with family or with friends. And it's eco-friendly too.
So where to bike in Tel Aviv? The city has over 93 miles (150 kilometers) of marked bike paths. You can enjoy the sea view from the Tel Aviv promenade. Or take in the pastoral scenery from the bike paths of green Yarkon Park.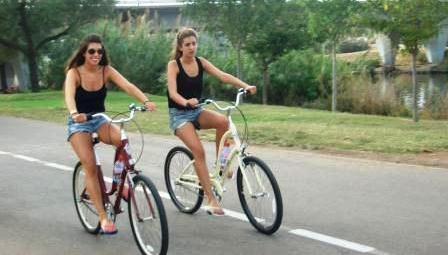 And cycle in the fascinating Tel Aviv streets, neighborhoods and outdoor markets...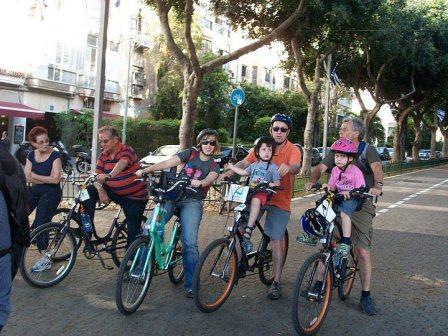 ---
TelOFun Bicycles and Bicycling in Tel Aviv
The city runs a cheap and easy-to-use bike share program called Tel-O-Fun, similar to other municipal bike renting systems in cities like Amsterdam, Paris and Montreal.
Find out more on renting the City of  Tel Aviv's Bike Share Program.
---
Join a Daily Tel Aviv Bike Tour Group
or
Reserve a Private Bike Guide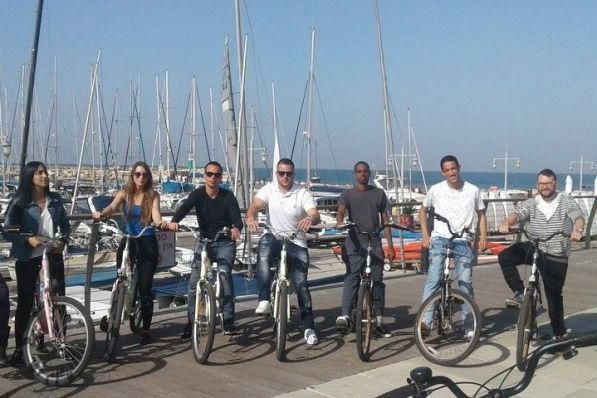 Renting bicycles and bicycling on your own in a new city is not everyone's cup of tea. If you love bicycling, but are not into the hassle of organizing it on your own, why not take a guide?
Go-TelAviv partners with the largest bike tour operator in the world. You can join a daily bike tour in Tel Aviv, or book your own private, customized  bike tour for you or your group.
(These are  "affiliate links", which means that if you click and buy something, we earn a small commission at no extra cost to you).

---
Daily Tel Aviv Highlights Bike Tour
The 3 hour, Highlights of Tel Aviv bike tour is a perfect way to get acquainted with the city, up close and pesonal
Route: The starting point is in Yarkon Park. You will also pass through:
the Tel Aviv Port
The Tel Aviv Promenade and the beaches
the Old Train Station
Suzanne Dellal Dance Center

Neve Tzedek neighborhood
Old Jaffa
Rothschild Boulevard
Rabin Square
Daily Tel Aviv Highlights Bike Tour Details:

Starting Point: Yarkon Park
Start time: 9:30 AM
Tour Duration: 3 hours

Included: Bike and English Speaking Guide
For kids: Child bikes (from 20 inch), child seats (until 20 kg, 44 lbs.) and helmets are available (if notified in advance)
Price: 45 Euro per person 

(This is about $50 or 180 Shekels. These prices can vary based on the exchange rate on the date of booking payment.)
Reserve Your Place on the Daily Tel Aviv Bike Tour 
Private biking tours in Tel Aviv are a great option for kids and adults alike. 
Click here to book a private bike tour.
---
Athletic Cycling Trips Outside of Tel Aviv

If you're interested in a more challenging cycling trip outside of the city, Gordon Tours can organize that as well. They can set up a biking excursion for you anywhere in the country. you can either do it on your own, and they'll provide all the equipment and instructions, or you can have a private guide.
For example, you might want a wonderful biking and wine-tasting tour in the Ayalon Valley near the Jerusalem Hills -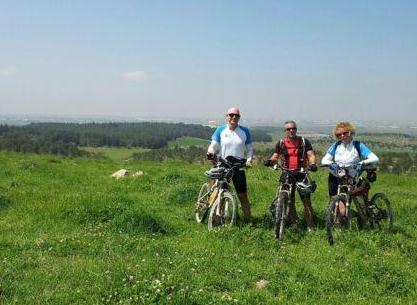 Or how about an amazing biking tour in the gorgeous Israeli desert terrain?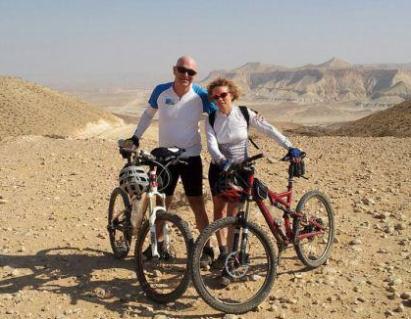 To get more information on biking in Tel Aviv or anywhere in Israel, sign up here.



---
You may also be interested in: