Grabbing some Bicycles




and Bicycling in Tel Aviv




A Fun Way to Discover the City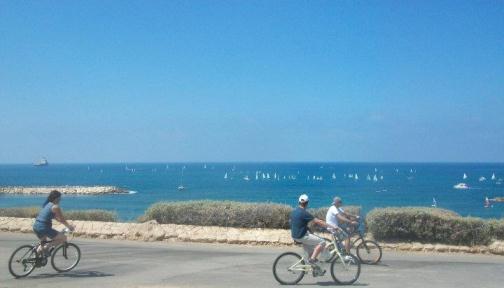 What can be for more fun that hopping on some bicycles and bicycling all over Tel Aviv!

It's an ideal way to see the city on your on your own, with family or with friends. And it's eco-friendly too.
So Where to Cycle in Tel Aviv

The city claims to have over 40 miles (70 kilometers) of marked bike paths. You can enjoy the sea view from the Tel Aviv promenade. Or take in the pastoral scenery from the bike paths of green Yarkon Park.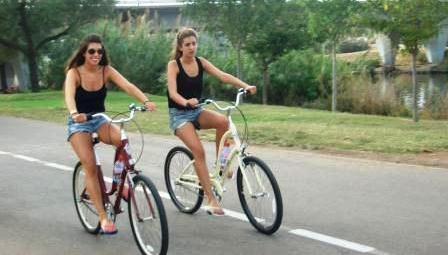 And cycle in the fascinating Tel Aviv streets, neighborhoods and outdoor markets...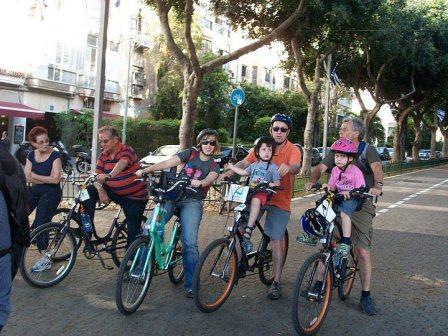 ---
TelOFun Bicycles and Bicycling in Tel Aviv
The city runs a cheap and easy-to-use bike share program called Tel-O-Fun, similar to other municipal bike renting systems in cities like Amsterdam, Paris and Montreal.
Find out more on renting the City of  Tel Aviv's Bike Share Program.
---
Bike Tel Aviv with your Own Private Guide!

Renting bicycles and bicycling on your own in a new city is not everyone's cup of tea.

If you love bicycling, but are not into the hassle of organizing it on your own, why not take a guide? You can join a group, or even better, order your own private guided tour for you alone, or your family, or friends. Do it with my good friends Michal and George at ProRider.
I've ridden with them on several occasions and had a very good time.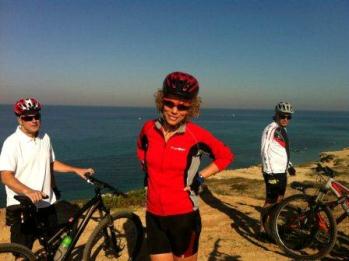 Both have experience cycling with people of all ages and they personally run each and every group. George has a bike shop and runs several fitness gyms. He checks every bike in the shop beforehand.
You pay $150 all-inclusive for a 3 hour bike tour for up to 2 people, $50 for each additional person. They bring everything you need - bike, helmet, water and a snack. If you like, you can stop for a coffee or beer break along the way.
There are 3 standard routes, or talk to Michal or George and together customize your own favorite route:

1. the Yarkon River Route

2. the Beach Promenade Route, OR

3. the Tel Aviv Market Shuk Route
which includes biking in the Carmel, Bezalel and the Flea Markets (will include some walking and sidewalk riding)


Click here to book a bike tour or get more information
---


Join A Group of Israelis for a 2-3 Hour Terrain Bike Ride

You may want to consider another interesting biking option. Join a small group of Israeli bike-riders a who ride with Michal and George every week.


The group runs bike rides several times a week in Tel Aviv, Herzeliya or in the the terrain nearby. Each route is designated easy, medium or hard. Besides enjoying the bike-ride and seeing the sights, you have a chance to meet and chat with native Israelis.



Athletic Cycling Trips Outside of Tel Aviv

If you're interested in a more challenging cycling trip outside of the city, they can organize that and take you out. Here are two pictures from recent trips they took. The first photo is from a magnificent desert terrain bicycle adventure.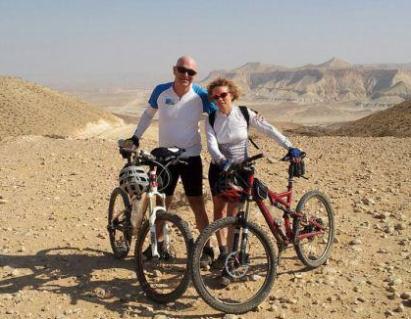 The second shot is from a wonderful (and intensive!) wine-tasting cycling tour in the Ayalon valley on the way to the hills of Jerusalem.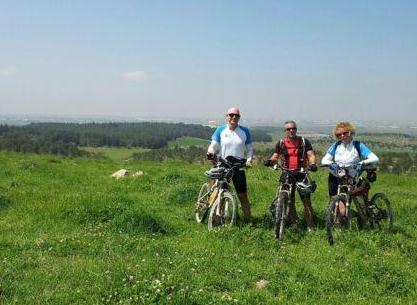 Like the idea of your own bike guide showing you around Tel Aviv? Or does joining a group of Israeli terrain bike-riders sound like fun? Or maybe you want a rugged bike trip in the Galilee or the desert?


For booking a bike tour, or for more information, fill in your name and contact details below:

(Make sure to let Michal know when you plan to be in Israel.)



I can't think of a better way to see Tel Aviv up close and have a great time than taking a bike tour, or just hopping on some bicycles and bicycling around the city at your leisure.
You are here:
Go-TelAviv Home
›
What to See and Do in Tel Aviv
› Biking in Tel Aviv