Try Tel Aviv's Bike Share System
Fun, Convenient and Cheap!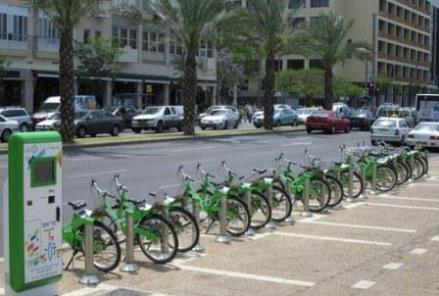 Tel Aviv's bike share program is a huge hit for tourists and locals alike. Just hop on one of those green bicycles!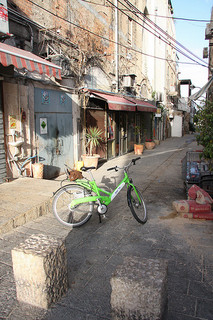 You can pick one up and drop it off at stations all over the city with no advance notification.
All you need is a credit card.
Known as TeloFun, Tel Aviv's ecofriendly bike system is similar to the city rentals cropping up around the world in Paris, Boston, Buenos Aires or Taipei (to name just a few).
It's one of the easiest ways to get around town and discover Tel Aviv.
In old Jaffa alleyways were never meant for cars anyway.
(photo courtesy of planetgordon.com)
You can bike all over the city. Along Yarkon Park or leafy Rothschild Boulevard.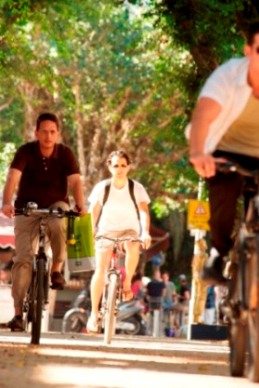 And along the gorgeous boardwalk from old Jaffa to idyllic Tel Baruch beach in northern Tel Aviv.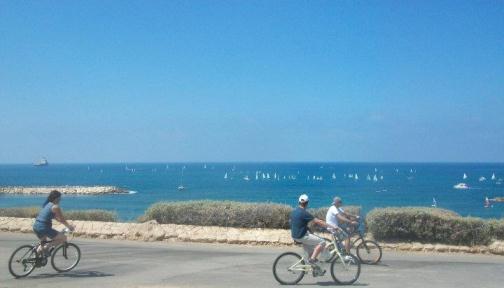 Or you may prefer to take a private biking guide or join an organized bike tour. They can be geared for family cycling or adults-only. Read about them on our page on Bicycles and Bicycling in Tel Aviv.


Using Tel Aviv's Bike Share System is a Cinch
It's really convenient and easy! You don't need to do anything in advance.
There are over 150 Tel-O-Fun rental stations all over the city and nearly 2,000 bikes. The stations are open 24 hours a day, 7 days a week. You can pick up your bike at one place and drop it off at another.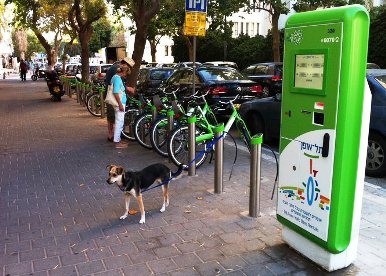 Here are some rental stations located near tourist attractions:

- The Tel Aviv Port - near the Shalvata restaurant/bar OR near Metzitzim beach
- The Tel Aviv Promenade, just near the Carlton Hotel
- 19 Shabazi Street in Neve Tzedek
- 53 Allenby Street near Carmel Market (Shuk HaCarmel)
- Rabin Square near City Hall
- 108 Rothschild Street, off Sheinkin Street
- The watch tower in Yafo
For a map in English that shows all the bike share stations and designated Tel Aviv bike routes, click on the Tel Aviv city Telofun link: http://www.tel-o-fun.co.il/en/Howdoesitwork/BikeLanesRoutes.aspx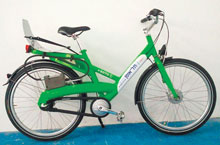 The bikes are all 3 gear and one-size only. They are equipped with lights, an adjustable seat and a small carrier in the back.
There are instructions in English. It's really easy but in case you get stuck, don't be shy about asking for help from a friendly Tel Aviv native.
How Much does Tel Aviv Bike Share Cost? How does it Work?
There are two separate costs involved, a onetime subscription cost and a usage cost based on how much time you use a bike.
Subscribing
Go to the Service Terminal at any bike share rental station and choose English.
After you swipe your credit card, you choose whether you want a daily, weekly or annual subscription. After your selection, you will get a card with a printed barcode. You'll also get a code which you can use for future rentals.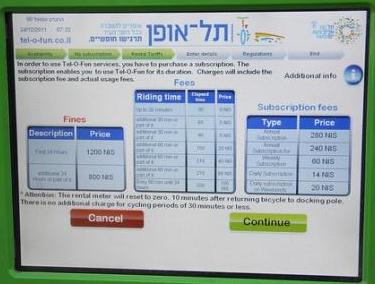 photo courtesy of planetgordon.com
The daily and weekly subscription fares are:
- 14 Shekel per day, week days
- 20 Shekel from Friday per day, weekends from Friday 2 PM until Saturday 7 PM and on national Israel holidays.
- 60 Shekel for a week
You can use the same credit card transaction to pay for up to 4 people on different bikes.
If you want a receipt, it's avaible after you rent and return a bike.
Renting
Here are the Tel Aviv Telofun bike share rental rates, updated as of April 2012:
- FREE ! up to 30 minutes
- 5 NIS up to an hour
- 10 NIS up to an hour and a half
- 30 NIS up to two and a half hours
- 70 NIS up to three and a half hours
- 150 NIS up to four and a half hours
- 100 NIS for each additional hour during the same day.
At the service terminal, select the rental screen if you have your subscription card with the barcode.
Choose which bike you want by choosing the number written on the docking pole near that bike.
Before you choose a bike, I recommend you double-check that the bicycle's tires are full of air and that it seems in good order. The city makes a decent effort to maintain the bikes but they are in constant use so it's a good idea to check.
You then go the bike itself and look for the small box on the left of the rear wheel. Open the box cover and press the 'unlock' icon. The cable tying the bike to the pole will unlock. Remove the cable from your bike and you're ready to go.
The rental clock starts ticking from this point onwards. You will pay as you go based on how much time passes before you return the bike.
Returning a Bike
You can return your rented bikes to any of the bike share stations with an available docking pole. You don't need to return the bike to the same station you started at.
Just place the bike to the left of the empty docking pole, thread the cable properly through the right side of the small box near the back wheel to the other side of the week. Last but not least, press the locking button until you hear a 'click.' This is the only way to end rental clock from running.
If you wish, you can get a receipt from the service terminal for the subscription and for the rental usage time and a printout confirming the time of rental return.
For those of you who are considering returning and re-renting bicycles and bicycling at the cheaper rate for a shorter length of time, be careful! You need to wait 10 minutes until the rental meter resets. Otherwise, your subscription will be billed for the accumulated time of the two rental periods.
Biking with Kids
The only downside to Tel Aviv's great bike share is that there are only adult-size bikes and you need to be at least 15 years old.
So if you're travelling with kids, you may want to rent children's bicycles for a couple of hours or days in bike shops near many of the Tel Aviv Hotels along the beach strip.
Or even better, take a private or organized bike trip!
Enjoy Cycling Tel Aviv with your Own Private Bike Guide!
You may be limited in time or maybe you just don't want to bother studying maps and biking on your own.
If you're looking for a private guide for yourself or your group, I recommend my good friends from ProRider. George, the cyclist in black -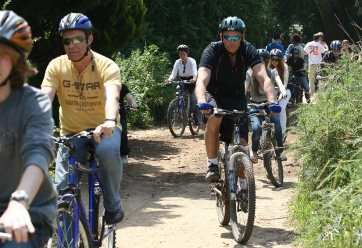 And Michal, you can't miss her on the beach!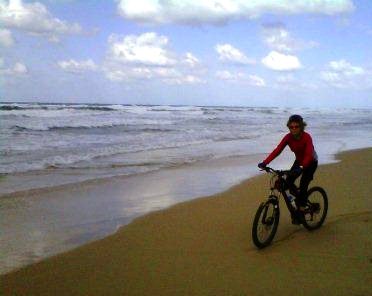 I've been on biking trips with them a few times and had a ball.
I trust and recommend them as biking professionals. Every bike is checked in the shop beforehand. They bring everything that you need – bike, helmet, water and a snack. The price ranges from $65 - $350 per person, all inclusive, depending on the size of your group, the destination and the length of time.
They also organize fantastic, more rugged cycling trips outside of Tel Aviv if you are more athletically inclined.
Drop Michal a note if you are interested in booking a private guide or even if you just want some more information.
---
Private bike guides are a great option, but the cheapest and easiest way to bike around in Tel Aviv is the city's convenient bike share program.
Whichever way you choose, happy cycling!
Return from Tel Aviv Bike Share to Fun Things to do in TelAviv

Return from Tel Aviv Bike Share to Go-Tel Aviv home page