Try Tel Aviv's Bike Share 


It's Fun, Convenient and a Cheap Way to Discover the City



Tel Aviv's bike share program is a huge hit for tourists and locals alike. You can rent the green bikes - which are regular pedal bicycles: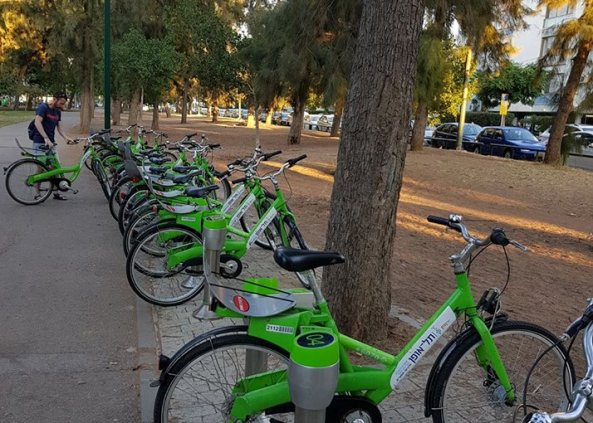 Or choose an electric bicycle - in blue: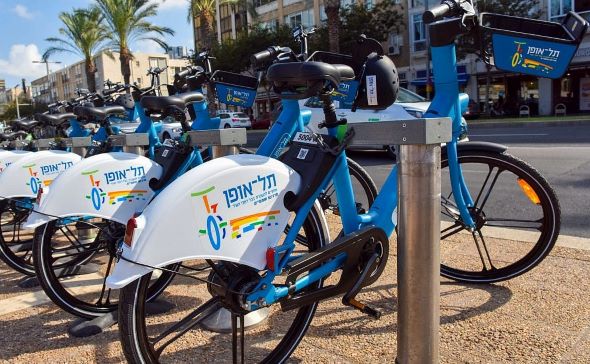 You can pick up a bicycle and drop it off at one of the 200 bike share stations all over the city with no advance notification.
Known as TeloFun, Tel Aviv's ecofriendly bike system is similar to the city bike rentals cropping up in cities around the world such as  Paris, Boston, or Taipei (to name just a few).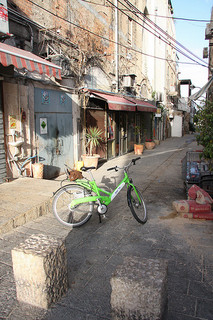 Courtesy of PlanetGordon
It's one of the easiest ways to get around town and discover Tel Aviv. You can take them anywhere in the city.

All you need is a credit card.
In old Jaffa, alleyways were never meant for cars anyway!

---
Where to Bike
There are 2,000 bicycles and over 100 kilometers of biking trails across Tel Aviv. You can bike all over the city.
Along tree-lined Rothschild Boulevard in the heart of Tel Aviv's Bauhaus White City.

In Tel Aviv's HaYarkon Park -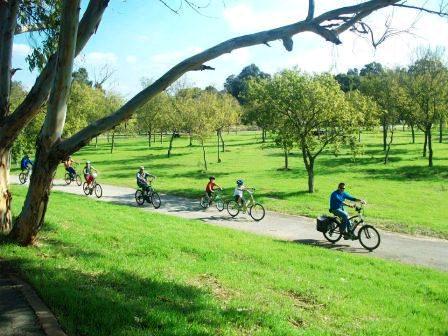 And of course, along  along the Tel Aviv beach promenade, known as Hatayelet, which starts in old Jaffa and winds its way up to the northern beaches of Tel Aviv.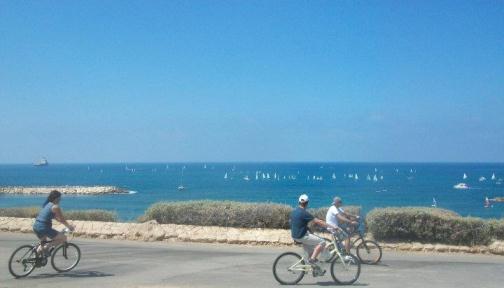 ---
Using Tel Aviv's Bike Share System is Easy
The stations are open 24 hours a day, 7 days a week.
You can pick up your bike at one place and drop it off at another at one of the stations.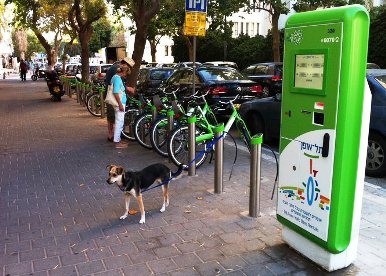 Some of the most popular rental stations that are located near tourist attractions are:
Tel Aviv Port. South near Metzitzim Beach and north near  Shalvata Restaurant/bar 
Tel Aviv Promenade. Just near the Carlton Hotel
Neve Tzedek neighborhood. 19 Shabazi Street
Carmel Market (Shuk Hacarmel). 53 Allenby Street
Tel Aviv City Hall. Rabin Square
108 Rothschild Boulevard. Off Sheinkin Street
You can find an English map of all the Tel Aviv bicycle docking stations -  including a live feed on how many bikes are currently available in each station. 

---
The Bicycles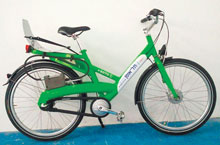 The bikes are all 3 gear and one-size only. They are equipped with lights, an adjustable seat and a small carrier in the back.
There are instructions in English. It's really easy but in case you get stuck, don't be shy about asking for help from a friendly Tel Aviv native.
---
How Much Does It Cost?
As of Oct. 2022, the rates for renting a Tel-O-Fun bike are as follows for one-time rentals:
Green Pedal Bikes:
Onetime unlocking fee - 3 Shekels
Weekday Charge per minute .03 Shekels
Weekend charge per minute: .05 Shekels 
Blue e-bikes:
Onetime unlocking fee - 6 Shekels
Weekday Charge per minute .06 Shekels
Weekend charge per minute: .08 Shekels 
Note that for both the green and blue bikes, a weekend starts from Friday at 2 PM unitl Saturday at 7 PM. Sames goes for holidays.
There are additional rate options for 3 month and annual subscription.
You can find updated pricing information here.
---
How Does the Bike Share Work?
Renting and Returning a Bicycle
Go to the Service Terminal at any bike share rental station and choose English.

After you swipe your credit card, you choose what type of subscription you want. After your selection, you will get a card with a printed barcode. You'll also get a code which you can use for future rentals.
Choose your bike by noting the number written on the docking pole near that bike. Thats the number you will enter in the rental machine

You then go the bike itself and look for the small box on the left of the rear wheel. Open the box cover and press the 'unlock' icon. The cable tying the bike to the pole will unlock. Remove the cable from your bike and you're ready to go.
You can return your rented bikes to any of the bike share stations with an available docking pole. You don't need to return the bike to the same station you started at.
Just place the bike to the left of the empty docking pole, thread the cable properly through the right side of the small box near the back wheel to the other side of the week. Last but not least, press the locking button until you hear a 'click.' This is the only way to end rental clock from running.
If you wish, you can get a receipt from the service terminal for the subscription and for the rental usage time and a printout confirming the time of rental return.
For those of you who are considering returning and re-renting bicycles and bicycling at the cheaper rate for a shorter length of time, be careful! You need to wait 10 minutes until the rental meter resets. Otherwise, your subscription will be billed for the accumulated time of the two rental periods.
---
Words of Warning
1. Delays in returning bikes will result in very high fees of thousands of shekels. 

2. Before you choose a bike, double-check that the bicycle's tires are full of air and that it seems in good order. The city makes somewhat of an effort to maintain the bikes but they are in constant use. Some people do complain about the service. So do make sure to check beforehand.
So long as you heed the advice, you should have a great time. Happy Cycling!
---
Fun, Safe Private Bike Tours, with no hassles...

Would you love to bike around Tel Aviv, but are concerned about safety? 
Or perhaps you just want to bike around hassle free, and let some else worry about bringing the bicycles, the best routes to cycle on, where to go and where to stop.
We recommend you consider Private Bike Tours from Baja Bikes. Their guides are truly nice people who know the city well, and most importantly, will support you with any bicycle or other issues! 
Their Private Tours can be booked from 2 people and larger. Private tours can take place almost any dat at 9:30 AM, 1 PM or 5 PM. The price per person is 55 Euro (approximately US $60) per person.
Sign up for a Private Bike Tour for you and your group.
(This is an "affiliate link", which means that if you click and buy something, we earn a small commission at no extra cost to you).

---
You may also be interested in: