Tel Aviv Nightlife Is Second to None
Find the best bars and clubs
in the city that never sleeps
Unfortunately, almost all the clubs listed below are closed due to the Corona crisis. Some of the bars have started opening as lockdown is over in Israel, but check before you visit!
Stay safe and healthy!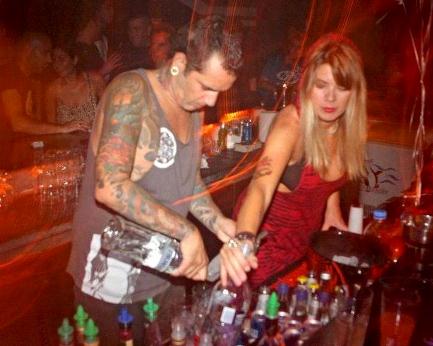 'One of the world's top party cities' writes Forbes on Tel Aviv nightlife, with its 'beachfront parties, underground clubs…"

'Relaxed, hedonistic air' writes Lonely Planet when ranking Tel Aviv as the 3rd top city to visit.
It's all true! Tel Aviv nightlife is second to none.

Take it from me, a veteran of New York's party scene back in the 1980's and 90's, there is nothing quite like the relaxed, uninhibited and sometimes crazy FUN of Tel Aviv nights.
And unlike other cities, Tel Aviv nightlife is not just for the young, but for the young at heart.

You can find the right atmosphere whatever suits your fancy and no matter what age you are. Whether you're 20 or 60, whether you love serious clubbing or mellow nights, you can find just the right place for you.
---
Want some help exploring
the best of Tel Aviv nightlife?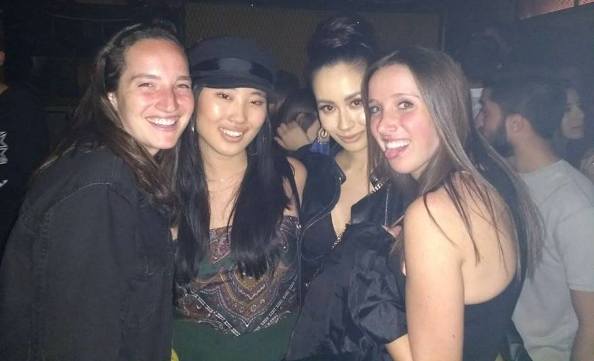 ---
Tel Aviv Nightlife - Clubs and Dance Bars
On most weekends, you can club-hop and dance nonstop from Thursday night until Saturday evening among the young, hip and beautiful people in the city's clubs and dance bars.
There are endless and endless clubs and bars in Tel Aviv.
Learn more about our favorite bars in Tel Aviv. Each one has its own unique flavor.
Continue reading here about the hottest clubs in Tel Aviv:
---
Fetish Fridays at Bootleg Club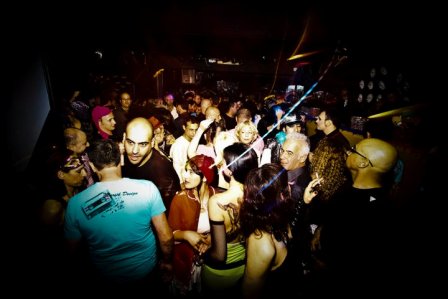 at 48 King George Street 
My favorite club is the Bootleg club, especially their Fetish Friday line in the heart of the city.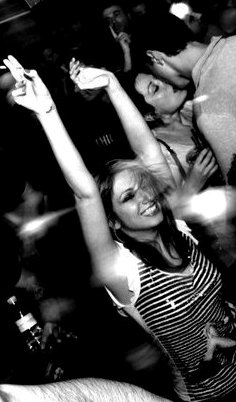 This is a great underground place without fancy décor or props, but with amazing atmosphere and great house and techno music.
You'll find here people of all ages who want to simply have a good time and forget their weekday worries.
The house DJ of Fetish is our friend Ilya Margolis. They also bring some of the best DJ artists from Israel and abroad to play to the enthusiastic party-goers.
You can buy tickets at the door, but best to find them on Facebook or call them and get on an invitee list in advance, to avoid hassles at the door!
---
More of the Best Underground Tel Aviv Clubs

Besides Bootleg, three  other hot Tel Aviv clubs are:
the Block
Under 52
Cookie Cream
The Block at 157 Salame St (near the Central Bus Station), Tel. 03-5378002
The Block a very cool club. 
Their sound quality is truly amazing, considered the absolute best in Israel. They host international house DJs most Friday nights and on holidays.  You can typically buy tickets to their parties online.  
---
Under 52 Bar at 52 Nahalat Binyamin (between Rothschild Blvd. and Ehad Ha'am Street)
---
Cookies Cream Club at 99 Allenby St.  Tel. 03-641-6303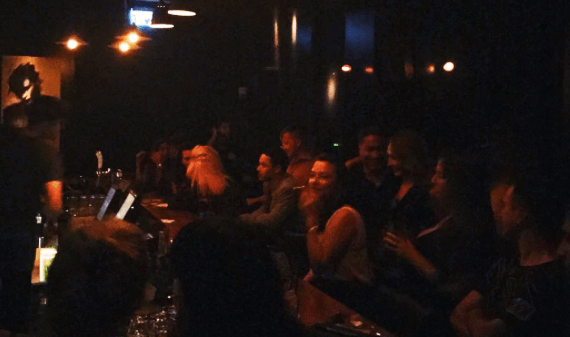 Many renown local DJs play there - Ravid Yehoshua, Ronen Guttman and Sahar Zangilevich.
They work their House magic here in this this intimate, underground dance bar.
You can visit their Facebook page here.
---
The Comfort 13 Club, at 13 Comfort St. in Jaffa. Tel. 03-518-8282
Comfort Club has closed, but the owners are continue to run their com4trance party line every month in Tel Aviv, usually in Florentine. For details, look uphere:  Com4Trance Line in Tel Aviv
Comfort 13  specializes in great trance music parties which run on Thursday and Friday nights, and on holidays.  
One of my favorites is to their annual Purim masquerade party.  As always, best to get on their invitation lists by calling them or via Facebook.
---
Three other good underground clubs that are definitely worth visiting are:
Breakfast Club - at 6 Rothschild Blvd. The Breakfast Club is one of the longest running underground clubs in Tel Aviv and highly recommended!
---
More Fun Clubs and Dance Bars
Clara Dance Bar at 1 Kaufman St at Dolphinarium beach, 03-510-2060

This beautiful gem of a place is right on the sea and open only in the summer. Summer in Tel Aviv means from about April or May to late October and even November!

On a hot summer night, you'll be grateful for getting a splash of the cool sea spray.
Clara caters mainly to a younger crowd.
You can dance, listen to the live or DJ music or lounge around on the outdoor sofas while watching the waves crashing on the rocks. Visit Clara's facebook page here.
---
The Cat & Dog Club at 23 Carlebach Street,  Tel. 050-499-6683 Sadly, the Cat & Dog Club has closed

One of the popular places on the club scene is the Cat and Dog club.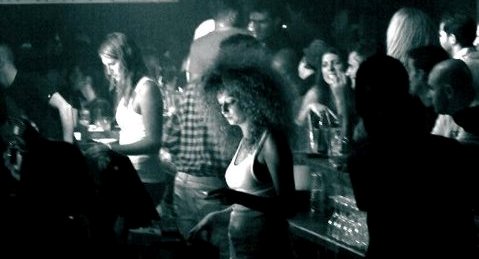 Cat and Dog also brings the best of international and local house DJ's, live music shows, and it is one of the places to 'see and be seen' by the beautiful Tel Aviv natives partying the night and morning away with unbridled gusto.

---
HaOman 17 Club - in a league of its own

HaOman 17 at 88 Abarbanel Street is probably Israel's last and still greatest mega-club with multiple levels and 3 main dance areas.
The mega DJs from around the world have played here including Armin van Buren, Tiesto, David Guetta, Paul van Dyke and Israel's own Offer Nissim who plays at the well known gay line Forever TLV.
HaOman also hosts the well-known Shimon Shirazi FFF party line. The gay-friendly scene at Shirazi FFF parties is spectacular with  special effects and performances, besides great DJs. 
---
Gay and Gay-Friendly Parties
If you're gay, lesbian or like to party at gay-friendly lines, you will find lots of information on bars, clubs and more at our Gay Israel page.
---
After-Parties
For those of you who want to get a feel for authentic Tel Aviv sleaze, but with amazing techno and house music by the Flash Brothers, I recommend the Barracuda Dance Bar at 27 Allenby St. On a good night, you'll catch some wild, down and dirty dancing on the bars.
At the Gilma / Spice Melange / Helen Keller at 113 Hashmonaim Street the after parties start at around 6 AM on Friday and Saturday mornings and really get going around 9 in the morning.

Definitely not for the faint of heart, but worth trying out to catch the craziest and sleaziest! Entry at the door is 50 - 70 Shekel.
---
When to Go?  What to Wear?
Tel Aviv nightlife doesn't begin before 10 or 11 PM. Bars and pubs start filling up around midnight. Arrive earlier and you'll be hanging out with the bartender.
The real action at the clubs begins at 2 AM and continues till dawn.
After parties begin around 7 or 8 AM and sometimes start at noontime. Check before you go.
During the winter, the best nights to go out are Thursday and Friday nights, but from springtime until as late as November, you can go clubbing almost any night of the week.
What to wear?  The dress code is extremely casual, especially for men. No one in Tel Aviv owns a suit.
---
Not into the Club Scene? 
Read more about the best Tel Aviv bars.
If you are looking to enjoy Tel Aviv nightlife, but are interested in something that's more mellow and relaxed, visit our page on Tel Aviv-Yafo Neighborhoods. You'll find out about Tel Aviv's cool bars and different places to chill out.
For more about the latest shows, music, dance, art and sports in Tel Aviv,  visit our page on Tel  Aviv Entertainment.

For eating out, find out about our recommended Tel Aviv Restaurants, covering everything from the best hummus and falafel in Tel Aviv, authentic local eateries and some of the best gourmet restaurants in the city.
---
Tel Aviv Nightlife Pub Crawl 
Let us help you discover the best bars and clubs in Tel Aviv in one unforgettable night!

Explore Tel Aviv night life with cool fellow travelers from all over the world. You will visit at least 4 popular Tel Aviv bars and clubs.
Pub Crawler recommendations:
'I've done this pub crawl a few times by now, and i've always had an unforgettable night. It's perfect for getting to know the nightlife in Tel Aviv, especially when you're a solo traveler.
And Avital instantly feels like an old friend with her happy, bubbly energy. Definitely recommend for anyone who's visiting Tel Aviv.'
'I have been to a few different pub crawls across europe and this one was by far the best one. Avital is not only a great pub crawl guide , she will easily turn your evening to a memorable party.'

Pub Crawl Details:
1 free beer and 5 free shots included
VIP Entrance to at least 4 bars and clubs. No waiting on lines even at the hottest nightlife spots!
Tour length - about 4 hours
When? Every Thursday, Friday and Staurday night at 10:30 PM
Where: Rothschild Boulevard - full details when you book
Price: 80 Shekels per person
Interested? Use the booking form below:
---
You may also be interested in: