Go-Tel Aviv Invites You to Explore 

The City That Never Sleeps
What Do You Love Doing in Tel Aviv?
That's what I asked my friend Nathalie when we started writing about Tel Aviv.  "It's hard to decide" she answered, "because there is so much that I love to do here!"
She thought for a moment, smiled and said, Well, I love relaxing on one of my favorite Tel Aviv Beaches -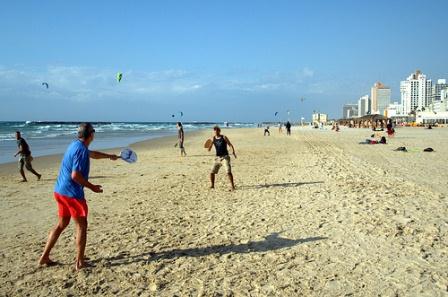 photo courtesy of David Shankbone
The city has more than 16 gorgeous beaches and has been rated the 9th best beach city worldwide by National Geographic.

Or how about walking around one of the city's Open Air Markets - Carmel Market, Levinsky Spice Market, Nahalat Binyamin Crafts Market or the Flea Market - that flood your senses with ethnic aromas, colors and personality.
I often stop to buy a refreshing, freshly squeezed pomegranate juice. Delicious!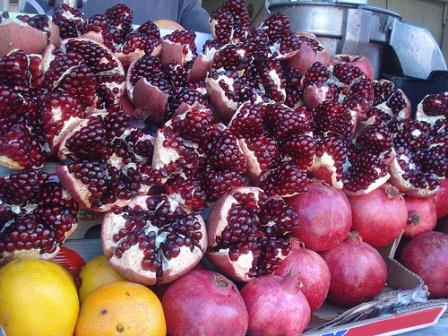 photo courtesy of Yael Beeri
---
I love window shopping in picturesque Neve Tzedek neighborhood, or strolling down tree-lined Rothschild Boulevard where I'll stop by at one of my favorite art galleries if I have enough time.

Going out here almost always includes meeting with friends and stopping at a restaurant, cafe or bar for a coffee or a drink.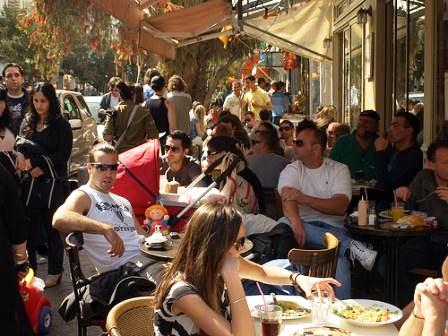 photo courtesy of David Shankbone
---
And there is nothing like Tel Aviv nightlife!  I love ending a fun day by dancing the night away at one of my favorite night spots.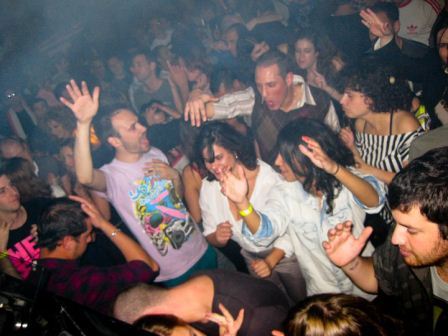 ---
I nodded in agreement.  I love life in Tel Aviv and its casual Mediterranean ambiance.

Life here inevitably revolves around the sea.
Twice a week, I walk barefoot on the sandy beaches with a friend or go bike-riding on the seaside Promenade.  My husband and I often start our day with have a delicious typical Israeli breakfast at the Hatzuk beach restaurant just 10 minutes from my house before heading off to work. 

We are both big-city girls, Nathalie from Paris and me, Ayelet, from New York, and independently, we both fell in love with this city and decided to make it our home.

We met working at a hi-tech company, as do 10% of the working population in Israel.  Nathalie is single, I am married to an Israeli and have 2 children, but that didn't stop us from becoming fast friends. We left the company looking for a life change, and that's how the idea for Go Tel Aviv was born.

Instead of promoting hi-tech products, we decided to use our skills writing about something we both love.
---
Our Best Insider Tips For Your Trip to Tel Aviv
Let us share with you our passion and knowledge of this lively and relaxed Mediterranean city:

---
How to Get Here, Where to Stay


For my previous jobs, we learned the tricks on the best ways to travel here and we'll share with you all the options on flights to Israel.
Our families and friends visit often so we make sure to keep up to date on Tel Aviv hotels and lodging options. We'll recommend the ones we like best, with something to suit everyone's budget and tastes.
Tel Aviv is a perfect home base from which to visit all of Israel. 
Consider exploring all or parts of Israel with Levi, our private tour guide in Israel. Levi specializes in customized tours catering to your specific interests and schedule.
---
Join us and discover why locals and tourists alike love this friendly city of casual fun and cultural adventure.  
Subscribe to our Tel Aviv Blog - to keep up-to-date with all additions and changes to this website.

Thanks for visiting the Go-TelAviv Insiders Travel Guide and we hope this city's charm works its wonders on you too!  
---