Tel Aviv Blog

The Tel Aviv blog keeps you up-to-date on additions to the Go-TelAviv.com Insiders Guide website. You may find it useful if you are planning to visit Tel Aviv Israel, or just want to be informed.

Subscribing to the blog is easy, free and requires no email address.

It is easy to subscribe: Hover over the orange RSS button at the bottom of the right hand column in the RECENT ARTICLES section, right-click, and then copy-and-paste the URL into your blog/RSS reader.

OR... if you have a personalized home page at Google, My Yahoo! Or My MSN, click on the relevant button below the orange RSS button.
Wine Tours Israel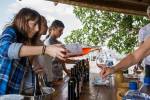 Joining our private wine tours in Israel means spending a day wine-tasting at boutique wineries and discovering the views and history of one of Israel's wine regions.