Stroll Tel Aviv-Yafo Streets
Discover Exquisite Neighborhoods
Strolling down Tel Aviv-Yafo Streets is the only way to get to know Tel Aviv's different neighborhoods.
Here are four of my favorite Tel Aviv-Yafo streets and neighborhoods that I love revisiting.
1. Shabazi Street in romantic Neve Tzedek

2. Rothschild Boulevard in the historic 'White City'

3. Lillenblum Street and Nachalat Binyamin
The best Tel Aviv bar-hopping

4. Florentine Street in Florentine – Israel's "East Village"


This page doesn't cover two fantastic places to walk around in Tel Aviv.
The first is old Jaffa, one of the most fascinating places in all of Israel which you can explore in our page on what to see in Jaffa Israel .
The second must-see is the Tel Aviv Promenade which starts down south in Jaffa and makes it way north along the Mediterranean Sea up several miles to Tel Baruch beach. The boardwalk passes through the Tel Aviv Port (the "Namal" in Hebrew) - the lively renovated port area worth visiting day and night. For more details on the promenade and port, visit our page Fall in Love with Tel Aviv Beaches.


---
Shabazi Street in Neve Tzedek
Tel Aviv's most Romantic Neighborhood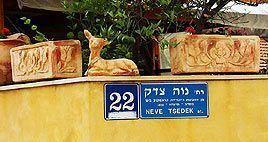 I think my favorite of all Tel Aviv-Yao streets is Shabazi Street in the heart of historic Neve Tzedek.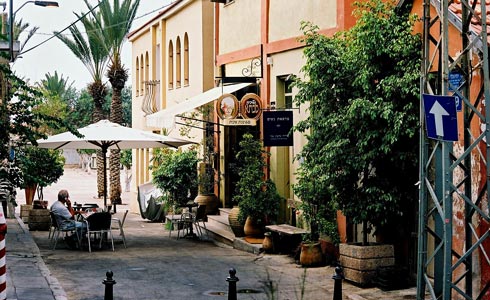 Neve Tzedek was the first neighborhood built on the sand dunes outside of Jaffa (Yafo) in the 1880's when the Turks ruled Israel.
It became an artist's enclave.
Many of Israel's first poets, artists and journalists lived here, such as Nobel Prize winner and author S. Y. Agnon and artist Nachum Gutman. If you have time, visit the gorgeous Gutman Museum of Art in Neve Tzedek at Rokach St.
For more about the fascinating history of Tel Aviv, read more in our pages:
The History of Tel Aviv - Ancient Legends and History
and
Tel Aviv History from Medieval to Modern Times.
After a long decline, the neighborhood was rediscovered by Tel Aviv's bohemia in the 1980's. Many of the original buildings have been and are still being restored.
Today, Neve Tzedek is an enchanting neighborhood that somehow manages to feel like a village oasis in the middle of buzzing Tel Aviv.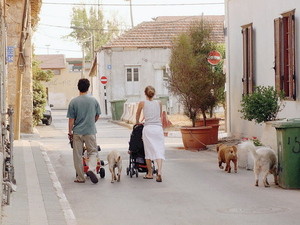 Walk along the narrow streets and original two-story terracotta residential buildings. Shabazi and neighboring streets are lined with cozy cafes and restaurants, galleries, arty boutiques and handmade ice cream parlors.
Cafe Susanna at 9 Shabazi Street is one of the better known places, near the renown Suzanne Dellal Dance Center. You'll find tasty meals, freshly made pizzas in stone ovens and a variety of coffees.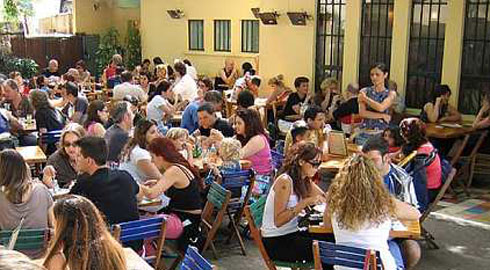 Nearby at 10 Shabazi Street, Dallal is a classy restaurant with great drinks as starters and a nice variety of homemade breads. On Friday mornings, you can't miss the aroma of delicious, freshly baked Challah bread which you can buy!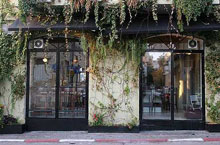 If you're in the mood for something more intimate, go to
Jajo Bar
at 40 Shabazi Street. There are no tables, just two long bars. The décor is red and black, the lights are dim and the background music is romantic. Ask the barman to help you select from their superb wine selection.
Neve Tzedek also boasts some posh boutique hotels such as Nina, Neve Tzedek and Versano. Some of my French relatives stay there when visiting Tel Aviv, preferring to live in an authentic atmosphere like a Tel Aviv native, while living in the lap of luxury.
Every time I visit Shabazi St .I fall in love again with charming Neve Tzedek.
---

Rothschild Boulevard
The heart of what makes Tel Aviv, Tel Aviv
Rothschild is a beautiful, wide, tree-lined boulevard that encompasses the Tel Aviv spirit – the love of life and 'relaxed energy' of Telavivians.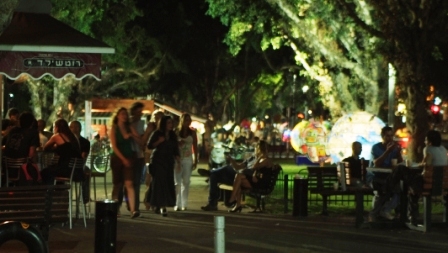 Rothschild Blvd. begins in Neve Tzedek and continues northwards until it reaches Habima, Israel's National Theater.
You can walk leisurely from end to end in about an hour and a half in this most famous of Tel Aviv-Yafo streets.
You'll pass charming, historic buildings built in Tel-Aviv's unique Bauhaus style, forming part of the World Heritage designated "White City" of Tel Aviv. You can read more about it in our page on Tel Aviv's Lovely Bauhaus Architecture.


Day and night, Rothschild Blvd. is brimming with life; people strolling, dog-walking, jogging, biking, and, as we Israelis simply love to do, stopping at one of the multitude of restaurants, kiosks and bars lining the street for a coffee and a bite.
During the summer, there is almost always an outdoor art exhibit or live show to enjoy. I find it so much fun to walk around or just sit on a bench and people-watch!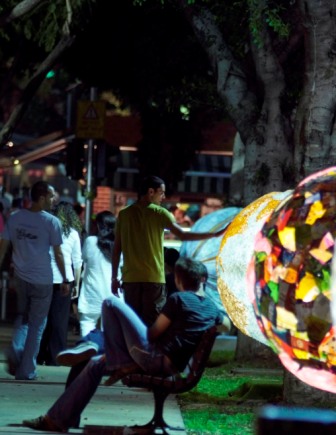 Taste or drink your way along the literally hundreds of places lining the boulevard and neighboring streets.
A Tel Aviv classic is Moses, at 35 Rothschild St. I think they have the best hamburgers in the city.
I adore the sushi at Yakimono at 19 Rothschild St., but feel free to sample sushi anywhere else. We Telavivians love sushi and there are countless excellent sushi bars around town.
We'll cover more of our favorite restaurants along Rothschild and elsewhere, on our upcoming section on Tel Aviv restaurants.
---

Lillenblum and Nahalat Binyamin Streets
For the Best Tel Aviv Bar-Hopping
Just a block away from Rothschild Blvd. are two Tel Aviv-Yafo streets that are not to be missed.
There are places to drink all over Tel Aviv, but Lilenblum and Nahalat Binyamin Streets are the ultimate places to bar-hop and are still packed with people at 3 AM on Thursday and Friday nights and on most summer nights too. Don't bother arriving before 10 or even 11 PM, unless you want some alone time with the bartender…
You can read about the open-air arts and crafts market at Nahalat Binyamin, open every Tuesday and Friday, on two of our pages: Tel Aviv Shopping and Fun Things to Do in Tel Aviv.


There are so many bars to choose from, but here are some of my favorites:
Abraskas - 40 Lillenblum Street. a bar and restaurant with a pool table, great live or DJ music and dancing.
Nanuchka - 30 Lilenblum Street. A very cool and popular place specializing in Georgian vodka and cuisine.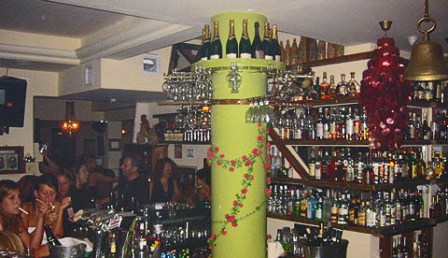 Mishmish and Shesek (which mean apricot and loquat) – at 17 Lillenblum Street. Two cozy bars with amazing atmosphere and great drinks. Definitely worth trying!
---

Florentine – Tel Aviv's East Village
If I have to choose the 'coolest' of Tel Aviv-Yafo streets today, I would select Florentine St. or one of the smaller sides streets in the Florentine neighborhood.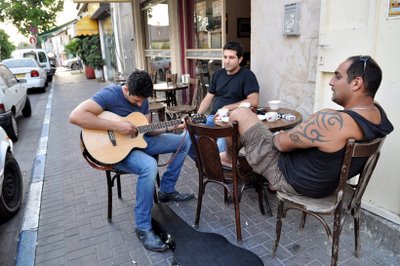 Like today's East Village in NYC, Florentine is a neighborhood in transition.
It's another perfect place to sit at one of the many sidewalk cafes and watch the motley passerbys: aspiring artists, young professional musicians with dreadlocks, students, elderly couples, hippy types and blue collar workers who haven't deserted the neighborhood.
As you walk around Florentine, you can't miss the contrasts: Trendy boutiques, yoga shops art galleries and pubs with nightly live entertainment, side by side near original Mom and Pop upholsterers, old-time groceries and tiny synagogues.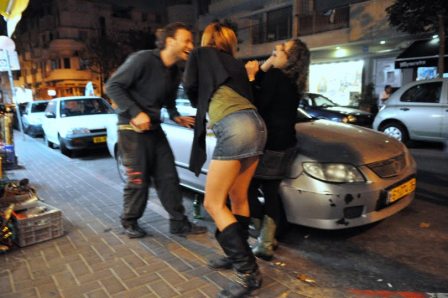 Florentine was founded in the middle of citrus groves in the 1920's by a group of Jewish immigrants from Thessaloniki, Greece. The group was headed by, you guessed it, the Florentine family. Jews from Turkey and other Balkan countries who immigrated to Israel filled the neighborhood.
You can still find Balkan style bakeries owned by original families and authentic, 30-year old grocery shops where time seems to stands still, their shelves abundant with home-made, canned goods.
I love visiting Saloniki Bakery on the corner of Florentine and Stern streets, where I buy their delicious 'burekas' filo pastries stuffed with eggplants or olives and sesame seed, alongside the more typical cheese or potato filled burekas.
One of my favorite spots for a drink is Bugsey at 26 Florentine Street. While reclining on vintage sofas and chairs, you can enjoy live music shows on weekends (and on most summer nights) with your favorite malt whiskey, beer or world-class Israeli wine. And the food is pretty good too.
Florentine is center for street parties, often spontaneous! Here's a party right outside Bugsey on Florentine Street.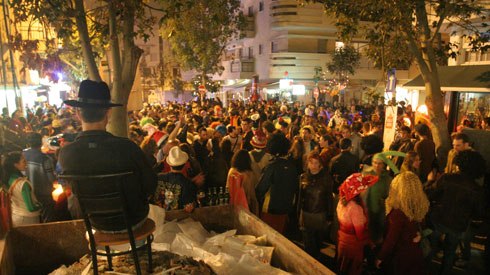 Don't miss walking around and enjoying Florentine's most 'bohemian' of Tel Aviv-Yafo streets.
---
Tel Aviv's Coffee Culture
In this city that never stops, you can saunter down tree-lined Tel Aviv-Yafo streets and boulevards at all hours of the day and night. Each neighborhood is unique, but they all share Tel Aviv's amazing cafe and coffee culture.
You can't walk far in the city without passing a coffee house or espresso bar, most serving excellent espresso and cappuccino. You can find us Telavivians sitting in a 'beit cafe' at all hours of the day or night; reading the morning's Israeli newspaper, working on our laptop or chatting with friends until the early morning hours.
Lounging at the local cafes on Tel Aviv-Yafo streets is an ideal way to discover the unique character of each neighborhood and soak up the local culture.
Return from Tel Aviv-Yafo Streets to Fun Things to do in TelAviv

Return from Tel Aviv-Yafo Streets to Go-Tel Aviv home page