Grand Beach Hotel
A Good Value, Mid-Range Hotel Near the Beach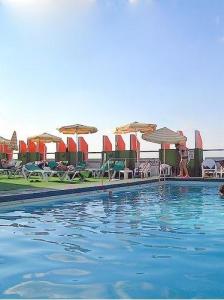 I admit that I'll always have a soft spot in my heart for the Grand Beach Hotel in Tel Aviv!

My aunt and uncle lived in the hotel for a couple of years.  I used to visit them often on summer vacations in Israel and loved to go sunbathing and swimming in the rooftop pool area. 
There's always a great view.  And since the recent renovation,  everything is new, comfortable and clean.
Perhaps it is less glitzy than the other hotels near the beach, but the Grand Beach  is a good choice for a mid-range, 4 star hotel in Tel Aviv.
---
Convenient Location
The Grand Beach is centrally located right across the street from the beach at Nordau Street, one of the main avenues in the center-north of the city.

Its located just across the road from a pretty park and the northern part of the Tel Aviv beach strip.
It's a short walk of a few minutes to the lively Tel Aviv Port to the North.
Or take a 15 – 20 minute walk south to the Tel Aviv Marina.
In fact, you can walk along the beach boardwalk all the way down to beautiful old Jaffa.   It should take about an hour.  Or rent some bikes at one of the city's bike share stations and bike your way down.
---
Rooms at the Grand Beach Hotel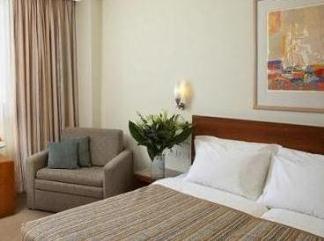 The basic 'superior' rooms are clean, comfortable and compact. Every room has some nice perks - free WIFI, an LCD TV and a mini-fridge.
You can upgrade to premium and business rooms and enjoy the small business lounge.
As I recommend for all Tel Aviv beachside hotels, ask for a higher floor room with a sea view.
---
Hotel Grand Beach Food & Service
As in most Israeli hotels, breakfast is included and is plentiful!
You'll find fresh fruits and vegetables, eggs made to order and a variety of breads, cakes, and cereals. You can even prepare your own freshly squeezed orange juice with a fun, old-fashioned juicer.
Since the hotel renovation recently, the service has improved and is usually friendly and attentive. Since this is a large tourist hotel, expect the inevitable noise of tourists, families and tour buses during the summer and holiday seasons.

The Grand Beach Hotel in Tel Aviv is an excellent choice if you want a reasonably priced, comfortable hotel near the beach.

Check out Grand Beach Hotel Availability and Rates
Return to Go-TelAviv home page