Fall in Love with Tel Aviv Beaches
Discover 16 different sun-basked beaches
in the city that never sleeps
I'm in love with all 16 glorious, sun-basked Tel Aviv beaches! 

I start to unwind the minute I spot the blue sea and open horizon just 5 minutes by car from home.
Tel Aviv's entire west side faces the Mediterranean Sea. The city boasts 14 kilometers - 9 miles - of some of the best beaches in the world with clean wide stretches of sand and stunning views of the sea, white sails and surfers. 
It is no surprise that National Geographic rated Tel Aviv as the 9th best beach city worldwide. You will love them too. 
---
Facilities at Tel Aviv Beaches 
All the beaches (besides the 'doggie' or undeclared beaches) have:
Fairly clean toilets and outdoor cold showers
Most have indoor shower stalls and changing rooms
During beach season (April to October) you can rent lounge beds or chairs at most of the beaches
During season, there are vendors walking up and down the beaches selling ice-cream, ice cold beer, soft drinks and water
There are restaurants and cafes along almost all the beaches. 
---
Many of the beaches have water resistant workout gyms. 

It's simply amazing to work out while gazing at the sea and listening to the soft sound of the waves as they crash ashore.

Some of the beaches, especially near the Tel Aviv marina also have volleyball nets and balls. Some also have water sports facilities offering surfing, kayaking, boating and diving.
On Tel Aviv beaches, you cannot avoid the sight (and sound!) of 'matkot' players all over Tel Aviv beaches. That clacking sound of Israel's favorite beach sport is of the small hard ball hitting a small wooden racquet.
When you stroll around, watch out for the ball!

---
Safety at the Beaches
Only swim on declared beaches with working lifeguards! The seas along the Israeli coast can have strong currents. If you are not sure whether you are on a declared beach, look for the lifeguard stand and the flag.

The daily flags advise visitors about the sea conditions:
Blue or white flags indicate the sea is calm
Red means you can swim but the sea is choppy or there are stronger currents so be careful
Black means the sea is too dangerous for swimming.
---
The Tel Aviv Promenade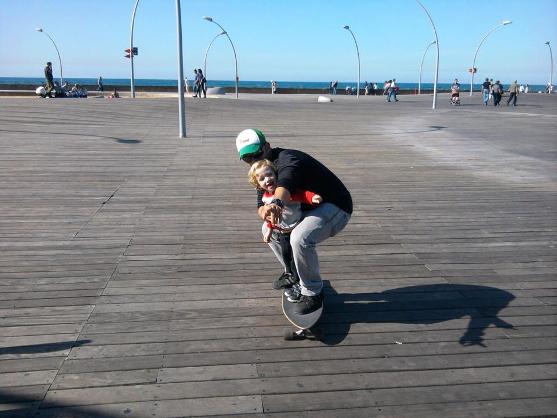 Check out my friend Nir, hi-tech salesman and wave surfer as he skateboards on the Tel Aviv promenade with his nephew...
You can walk, jog or bike along the amazing Tel Aviv beach promenade, which stretches from Jaffa in the south, all the way up north to Hof Hatzuk and Mandarin Beach in the north of Tel Aviv.  
All summer long during the day and night, the promenade is a great place for people watching – walkers, joggers and bikers, the babes and the hunks, Telavivians, tourists and the street artists; the clowns, tattoo artists, hair-braiders, and jugglers.
---
Warning:
Tel Aviv Beach Sunsets are Addictive!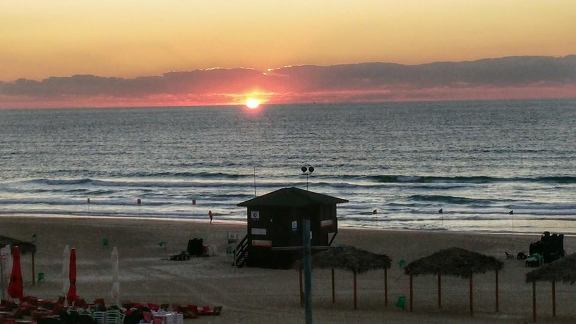 I am not sure why the colors of Tel Aviv sunsets surpass those of sunsets I've seen anywhere else in the world. 
Make sure to catch a Tel Aviv sunset when you are here. Day after day, they are too incredible.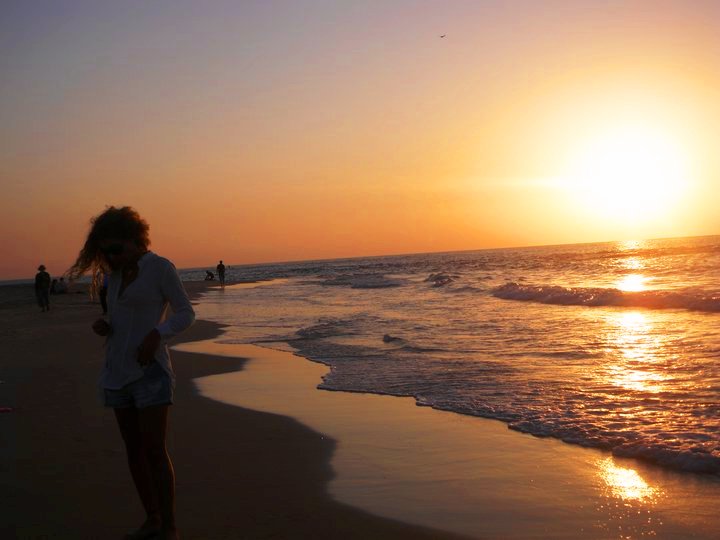 These are a few photos of friends at different Tel Aviv beaches on different days.

---
A Review of Tel Aviv Beaches
from North to South
With 16 beaches to choose from, each beach has its own 'personality' and attracts different crowds.  

This page covers five of Tel Aviv's northern beaches. You can read here about Tel Aviv's Southern Beaches.
---
Use Our Interactive Map 
To Locate Each Tel Aviv Beach


---
1. Hatzuk Beach North
also called Mandarin Beach
Hof HaZuk North, also known as Mandarin Beach is Tel Aviv's northernmost beach, bordering Herzliya's beaches.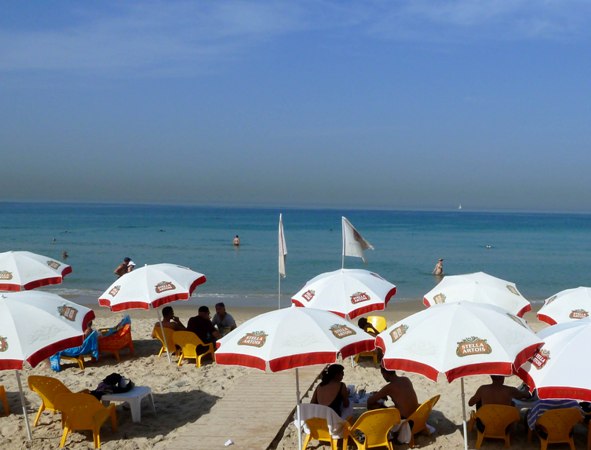 The beach area itself is beautiful, clean and well-kept.
Facilities include well-kept grassy lawns, benches above the beach, facilities for showers and changing rooms, walking paths, lounge chair rentals, and a great outdoor gym. 

You'll see people of all ages here, but the beach hosts a slighty older and perhaps wealthier crowd. You'll see some Moms and babies, and lots of of middle-aged and senior couples and groups that live in the wealthier, northern suburbs of Tel Aviv.. 
There is a restaurant/bar on the beach where you can either sit at tables and chairs on the beach itself, or on the concrete patio above if you prefer to avoid the sand. The restaurant is run by Omer Miller, a well-known Israeli chef. I find it a bit overpriced. You'll find the normal Tel Aviv beach fare - classic Israeli breakfast, hummus, watermelon in season, fresh fish and of course, the perennial dish all Israeli kids love: schnitzel and chips (breaded chicken cutlets and French Fries).
On hot summer nights, its a great place to enjoy a glass of wine or a cold beer, with hopefully a sea breeze.  During the summer, the beach is still full until midnight.
---
You can walk five minutes north past the 'border' between Tel Aviv and Herzliya, you'll hit one of the coolest beaches in the are, full of good looking young Israelis in their late teens and twenties.
They drive to the reef above and climb down to this part of the beach to avoid paying the entrance fee.  Lot of fun to people watch here!

---
2. Hatzuk (Reef) Beach South
Sometimes called the 'Sea and Sun' Beach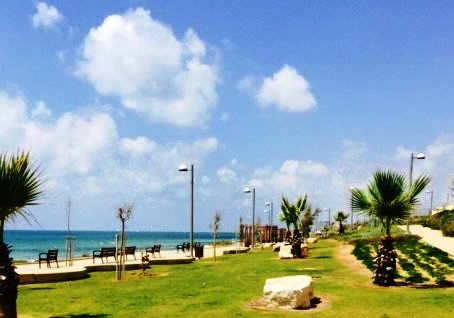 Hof HaZuk South is also called the Sea and Sun Beach,  after the Sea and Sun building complex just above the beach.
Like Hof HaZuk North, it is also well kept, with grassy and sandy areas. It also has a small children's playground area.
Again, like Hof HaZuk North, you'll see people of all ages but there is more of a slightly older, and perhaps wealthier, catering to the residents of Tel Aviv's northern suburbs.

The Banana Beach restaurant serves typical Israeli beach fare - breakfasts, sandwiches, salads, and grilled fish and meats.
---
3. Tel Baruch Beach
Tel Baruch is considered one of Israel's cleanest and well kept beaches. Its a perfect beach for families with young children.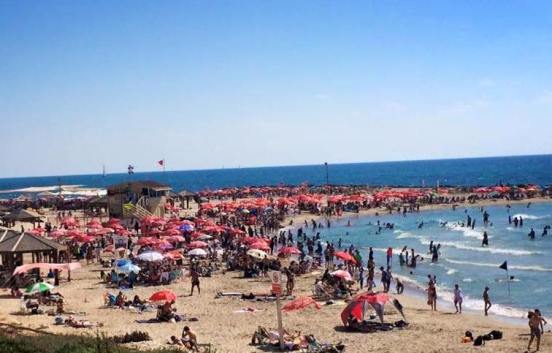 You can see in the picture above that the northern half (right side) half of the beach area is located in a bay so the sea  is almost always calm there, ideal for young kids.

Like Hatzuk beaches, it has green lawns, an outdoor workout area and Blue, an informal and casual restaurant for beach-side dining.
There is no entrance fee per person, but if you drive your car here, there is a car parking fee for non Telavivians.
During summer evenings, lots of people barbecue in the lawn areas above the beach until midnight and even later!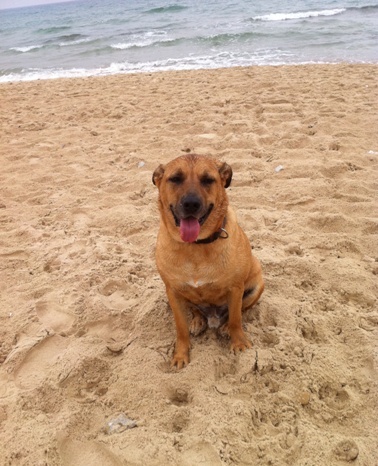 And, if you walk towards the southern tip of the beach, you reach Tel Baruch Doggie Beach. We love going  there with our dogs.
You can continue walking down Tel Baruch beach, past the doggie beach until you hit the bridge that crosses the HaYarkon River over to Namal Tel Aviv,  the lively Tel Aviv Port.  
---
4. Metzitzim Beach
Just south of Namal Tel Aviv - the Port -  is the recently renovated Metzitzim Beach with a children's playground, 3 volleyball courts, and an outdoor workout area.
Parking costs 15 NIS. Otherwise, the beach entrance is free of charge.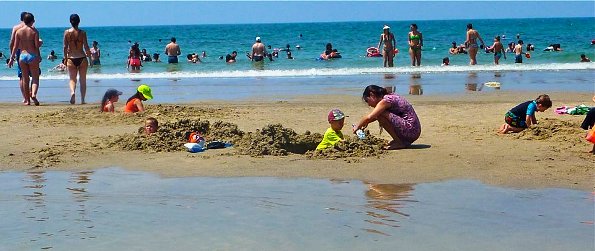 The northern half of Mezizim is more family oriented. 
There is a 24 hour restaurant (during peak season).  They often set up a giant screen facing the sea, espcially for important matches.  
The southern half this beach is geared for teens and twenty year olds.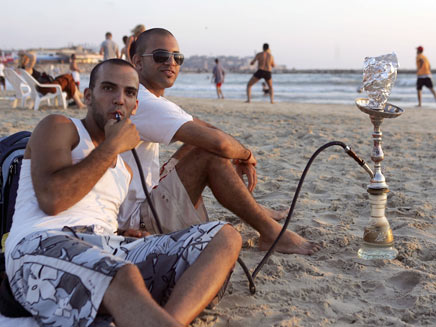 Metzizim Beach is another great place to tan and watch the beautiful people.
---
5. The Religious Beach or the Separate Beach
or just Nordau Street Beach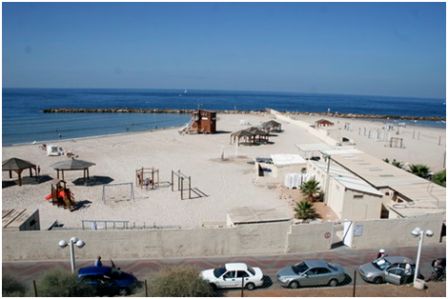 South of Metzitzim beach and adjacent to Nordeau Street is the small but lovely Separate or Religious Beach.
The beach is open and lifeguarded until 5 PM.

It caters to ultra orthodox Jews by offering separate bathing periods for men and women. Only women are allowed on Sundays, Tuesdays and Thursdays. Entrance for men only on Mondays, Wednesdays and Fridays.
During the Sabbath from Friday evening until Saturday night, the beach isn't separated and it's open to men and women alike.
---
This page covers the Tel Aviv's gorgeous Mediterranean beaches fom the North until the Hilton beach complex.
You can continue reading about the Southern Beaches of Tel Aviv, from Hilton Beach down to the beaches of Jaffa.
You may also be interested in: