What's the Weather in Tel Aviv Like Year Round?
One of my many main pleasures having moved here 20 years ago is the weather in Tel Aviv.
We have about 300 sunny days a year. I just love it! The city lies on 9 kilometers (10 miles) of the Mediterranean coasts and boasts 16 beautiful beaches for enjoying the sunshine.
Spring Mar - May
Spring season in Tel Aviv is a beautiful time of year and an ideal time to visit. The weather in Tel Aviv is about 60-75&deg F or 16-24&deg C. Rain is rare after April. In general, rain in all of Israel is seasonal and generally falls only between November and April.
From April onwards, you will probably prefer short sleeves during the day. Nights can still be chilly.
Summer June – Sep
Tel Aviv summers are really hot and humid with temperature running from 75-95&deg F or 23-35&deg C and humidity between 50-90%.
August is the toughest month with a peak of 104&deg F or 42&deg C and up to 90 % humidity! Other parts of Israel are hotter, but you feel it more in the Tel Aviv area because of the high humidity.
Personally, I don't mind the heat, but some people like my husband Yoram suffer terribly from the humidity. Still, there is air conditioning everywhere you go including hotels, restaurants, taxis and homes.
We love sitting on the beach with friends on summer nights, enjoying the sea breeze and the cooler night air.
Autumn Oct - Dec
Tel Aviv fall weather is usually pleasant and it's also a comfortable time to visit. Like the spring temperatures are between 60-75&deg F or 16-24&deg C. There may be a bit of rain in Nov – Dec.
Short sleeves are fine during the day through November. At night you may need a light sweater or jacket.
Winter Jan - Feb
Winter is the wettest season in Israel. Tel Aviv averages 20 inches of rain a year (530 mm) and most of that falls in the short winter months.
Winter in Tel Aviv is mild and reminds me of fall in New York. It's windy, sometimes wet, and cool. The temperature ranges are about 42-60&deg F or 6-15&deg C.
My husband and I are beach lovers, especially during the winter. Here's a picture we took this year of a storm at a beach 5 minutes drive from our home, the same exact beach as the picture of me above! The winds and the sea swelled so high there was actually no beach left. But we loved it anyway.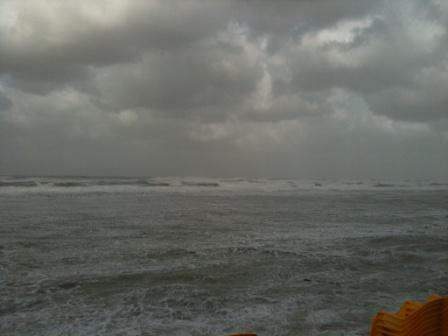 If you want to find out the weather in Tel Aviv right now and for the next few days, go to our Tel Aviv Weather Right Now page.
Return from Weather in Tel Aviv to Handy Tips for Travellers to Tel Aviv

Return from Weather in Tel Aviv Year Round to Go-Tel Aviv Home Page