Stroll or Bike Along
Lovely Jaffa Port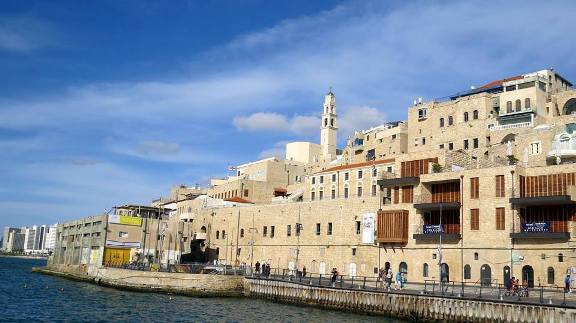 Jaffa Port is one of the ancient ports of the world.
It's been used as a shipping port for many thousands of the years, from the days of the Canaanites.  Since the port is relatively shallow, ships would anchor nearby in the sea, and smaller boats would bring people and produce to shore.
In the Bible, Jonah the Prophet flees God's mission on a boat from the port of 'Joppa' where he found a ship headed for Tarshish..
The ancient Greeks  also knew about Jaffa.  

Andromeda Rocks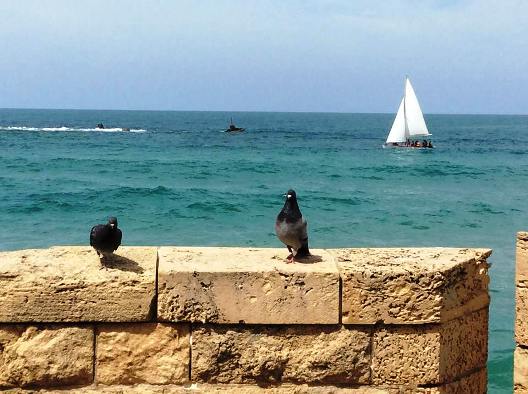 According to Greek mythology, it was on one of the rocks in the sea near Jaffa that the sea monster tied Andromeda, until she was rescued by Perseus riding on his winged horse.
For more about the history of ancient Jaffa, visit our page on the History of Tel Aviv.

---
Getting There
You can take a taxi or drive down to Jaffa Port.  There is parking to the south of the Port.
If you're able, I recommend you walk south on the Tel Aviv Promenade (at least partly), down to the Port along the renovated Jaffa Sea Wall.
If you don't feel like walking, you can cheaply rent a bike from Tel Aviv's Bike Share Program and bike your way down. It's easy, cheap and fun.
You can walk or bike your way through the port, and continue south on the Promenade as far as Jaffa or Midron Beach near Ajami.  For more about Tel Aviv's southern beaches around Jaffa, visit Tel Aviv Beaches.
---
The Old and the New at Jaffa Port


Today, the port is used for light sailing and fishing, since the main shipping activities of Israel were moved to the ports of Ashdod and Haifa.  
The port of Jaffa houses shops, restaurants, bars, as well as historical churches and mosque in the port.
Stroll around.  Day and night, you can see the fishermen plying their trade, as they've been doing for thousands of years.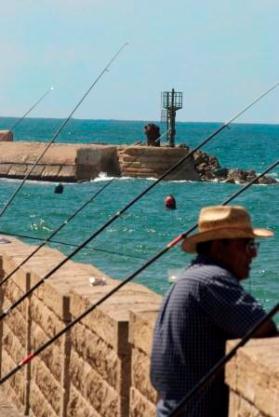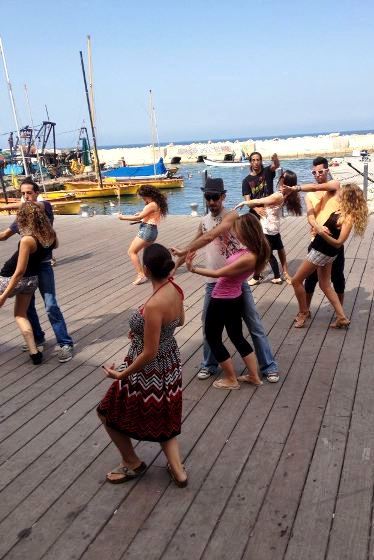 On Fridays at the port between May to October,  you'll find:
two live shows, late morning and afternoon

an art exhibit

separate workshops for kids and for adults (see the picture above of an outdoor dance lesson)

foot and arts and crafts booths

an outdoor therapy center for the public offering massage,  reflexology and more. 
For a current listing of events at the Port, visit the Jaffa Port Event Listing.
Stop and eat at the Jaffa port restaurants serving freshly caught fish and seafood.  Or have a Turkish coffee scented with cardamom at one of the local coffee shops.

If you have enough time I suggest that you visit Jaffa at least twice, during the day and at night, when can take a more romantic stroll and dine at one of the excellent Jaffa restaurants.
For more about dining in Jaffa and Tel Aviv, check out our page on  best Tel Aviv Restaurants.  
Back to What to See and Do in Tel Aviv
Back to Go-TelAviv.com home page