Visit the Jaffa Port

Tel Aviv Port's Downtown Cousin 
is Less Polished But Much More Authentic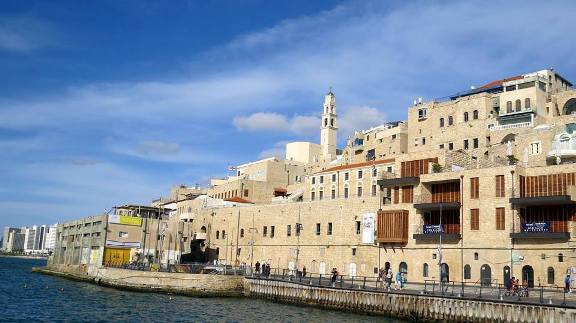 Tel Aviv is home to two very different ports.
Jaffa Port is the older, original port that has been around for thousands of years. The Tel Aviv Port further north is no longer an active port and is a fun dining and entertainment area.

How to get the port of Jaffa?
You can take a taxi or drive down. There is free parking on the southern side of the Port.
Or, we recommend you walk south, along the seaside down the Tel Aviv Promenade. You'll hit the renovated Jaffa Sea Wall and then the Jaffa Port.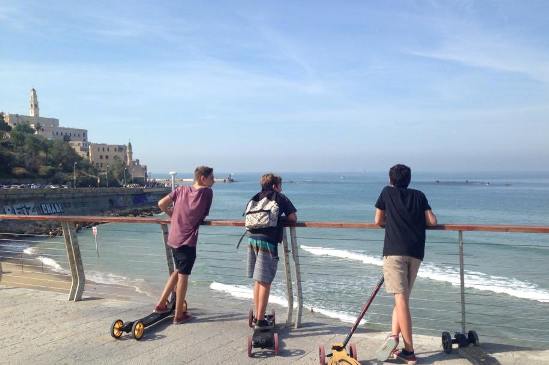 If you don't feel like walking, you can cheaply rent a bike from Tel Aviv's Bike Share Program and bike your way down. It's easy, cheap and fun. 

---
Jaffa Port is Ancient
The Port of Jaffa is at least 3,000 years old!
Since the port is relatively shallow, ships in ancient times  would anchor nearby in the sea, and smaller boats would bring people and produce to shore.
The Bible mentions how Jonah the Prophet flees God's command on a boat from this very same  port of 'Joppa' where he found a ship headed for Tarshish.

The ancient Greeks knew about Jaffa too. These rocks your can see from the port are called the Andromeda Rocks.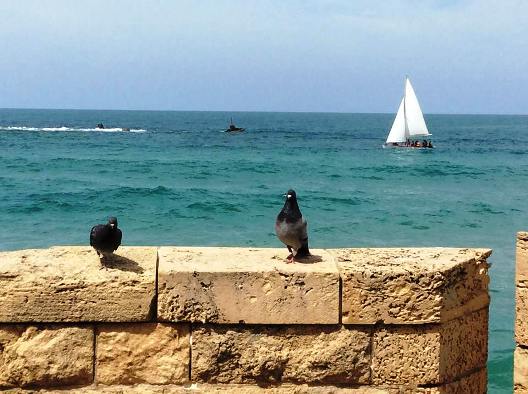 According to Greek mythology, it was on one of the rocks in the sea near Jaffa that the sea monster tied Andromeda, until she was rescued by Perseus riding on his winged horse.

For more about the history of ancient Jaffa, visit our page on the ancient history of Tel Aviv.

---
What to do at the Port 


The port is called in Hebrew Namal Yafo.
These days, it is still actively used but only for light sailing and fishing, since the main shipping activities of Israel were moved to the ports of Ashdod and Haifa.  
As you stroll along, day and night, you'll see the fishermen plying their trade as they've been doing for thousands of years.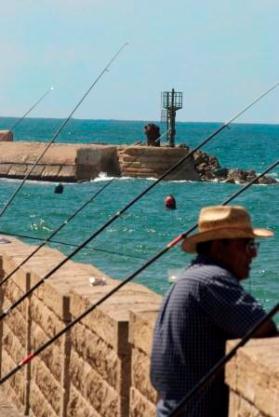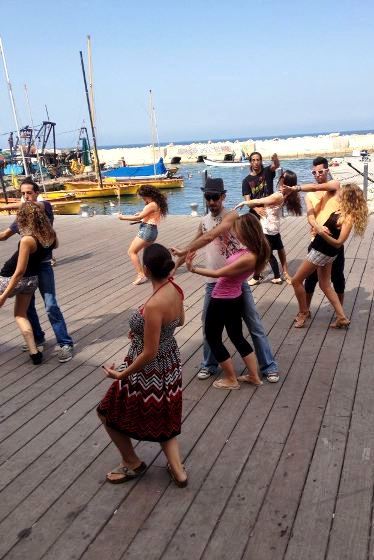 You can walk up and down the port in 10 - 15 minutes or so. There's usually a great sea breeze. 
The port houses bars and restaurants, some local shops and interesting art exhibits in the old port building warehouses.
On Fridays at the port between May to October, you'll find:
two live shows, late morning and afternoon

an art exhibit

separate workshops for kids and for adults (see the picture above of an outdoor dance lesson)

foot and arts and crafts booths

an outdoor therapy center for the public offering massage,  reflexology and more. 
For a current listing of events at the Port, visit the Jaffa Port Event Listing.
One of the reasons that I personally enjoy visiting the port is because you get to see Arabs, Jews and tourists enjoying the port side by side,  in a relaxed manner. This is something you don't always get to see in other parts of Tel Aviv.

---
Dining at the Port
Stop and eat at the Jaffa port restaurants serving freshly caught fish and seafood.  
There are two most well known seafood restaurants at the port, which are both good. The fish and seafood here are much cheaper than in most other Israeli restaurants.
The Old Man and the Sea serves an incredible amount and variety of local salads, fresh fish, seafood. The only downside is that usually you can't see the port and sea view from within the restaurant.
The Fishermans Restaurant a few meters south is even better because you can also sit outside and enjoy the view. 
Or even better, the Fishermans restaurant has a fast food Fish and Chips Stall - where you can order in a plate or cone a delicous meal to go of fried seafood or fish with chips.
I was there recently and we ordered a dish of fried calamari, fried shrimp, and chips.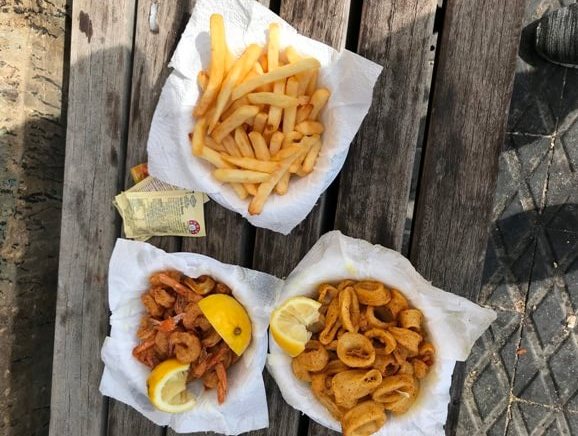 It was really delicious!
Instead of sitting in a restaurant, we ate on a bench or you can sit  the wharf itself. Its lots of fun and a bargain too. A typical order of fish or seafood (about 300 grams) runs at about 40 shekels.
There is also a cool Jaffa Port bar called The Container. 
What can be more fun than having a drink while listening to good house music and watching the sea and the people walk by. If its too hot or cold outside, you can sit in the huge warehouse area with the interesting, bizarre artwork.
There is live music and/or DJs on Tuesday, Thursday and Saturday nights.
They are a restaurant as well, but honestly, I wouldn't go there for the food,  but for the club atmosphere. Read more about great bars in Tel Aviv.
For more about dining in Jaffa and Tel Aviv, check out our page on the best Tel Aviv Restaurants.  

You may also be interested in: