A Perfect Day In TelAviv
8 Fun Things To Do on a Single Day (and Night!)


Wondering what to do if you have just one day in TelAviv? Here are some ideas based on a recent outing in the city.

On a warm sunny Friday after a storm, Nathalie and I decided to enjoy Tel Aviv. Since we were taking my two kids along, we wanted fun things to do for kids and adults too.  

Take a look at our one day intinerary which can inspire your perfect one-day Tel Aviv outing...
---
Stop 1  

Hit the TelAviv Promenade, the Port and Beaches
The ideal first stop in Tel Aviv is always the beautiful seaside promenade -
that overlooks all 16 Tel Aviv beaches along the coastline.  
Each Tel Aviv beach has a somewhat different character but they are all breathtaking.
We chose to meet on the wooden decks of the Tel Aviv Port.  The port is buzzing night and day, but I especially love its tranquility in the early morning hours. While we walked along the port and enjoyed the salty sea breeze and the view, my son Gilad joined the joggers and bikers and had fun cycling around.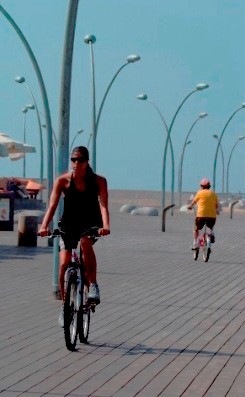 You can rent a bike with Tel Aviv's convenient and cheap bike share program.

Or you can choose to take a guided bike tour of the city.  It's a unique way to see the ins and outs of Tel Aviv up close and personal, especially if your time is limited.

Grabbing some bicycles and bicycling in Tel Aviv is a great way to explore the city.  
---

Stop 2

Enjoy a Classic Israeli Breakfast 
Israeli breakfasts are not just uniquely different than anywhere else in the world, they are really quite tasty!
TelAviv port is full of restaurants serving Israeli-style breakfasts. We stopped at Yulia, a good seafood restaurant that serves a classic Israeli breakfast. Which means what?
Crisp, freshly baked bread, a variety of local cheeses, an omelette with fresh herbs and onions, "Arab-style" tomato and cucumber salad, small platters of olives, homemade jam..  and my favorite, 'labne' – a tangy yoghurt spread topped with 'zatar' (hyssop) and drizzled with olive oil.

Freshly squeezed orange-carrot juice is my favorite, and steaming cappuccinos. The kids had hot chocolate... 

What a delicious way to start the morning.
---
Step 3 -

Discover Tel Aviv Culture and Museums
After a relaxing start to the day, I felt like soaking up some culture.
The Israel Art scene is lively, with galleries and museums galore. I highly recommend it.. but my kids weren't in the mood for art.
They wanted to visit the Safari Park, a wonderful Israel zoo, just a 15 minute car ride from the center of Tel Aviv. Besides being a great zoo, they offer guided tours there where you can actually feed the animals and see how the zookeepers care for the animals. We had been to the zoo a few weeks earlier, so I protested! 
Finally, we compromised. My son Gilad had to prepare for his school genealogy project, so we agreed to visit the Diaspora Museum - the Museum of the Jewish People (Beit Hatfutsot). The fascinating museum  chronicles Jewish life around the world over the past 2,600 years. You can also look up the origin of family names and places, which is what Gilad needed to do.
Visit our Tel Aviv Museum Guide to select which museum works for you. 

---
Stops 4, 5 and 7:

Stroll Along
Old Jaffa, the Old Rail Station (HaTahana) and the Tel Aviv Markets 
We debated where to go next. As usual, we were 4 people were 4 different opinions!

Tel Aviv is a city of distinct neighborhoods, each one having its own special atmosphere. You can learn more about them on our page on Tel Aviv-Yafo streets and neighborhoods.
My favorite place is definitely exquisite old Jaffa, Israel in the south of Tel Aviv.
I love wandering its narrow alleyways and visiting the renovated Jaffa Port.

Jaffa can be fun for kids too. But my son Gilad wanted to visit HaTachana - Tel Aviv's old Train Station complex. Every day in the summer, they have kids' activities and street performers. He had seen there a great acrobatic show there recently and hoped to catch it again.
Nathalie suggested visiting one of Tel Aviv's open air markets. She loves browsing around Carmel Market (Shuk HaCarmel to Israelis), the Levinsky Spice Market or Jaffa's Flea Market.

And of course, Eden, my teenage daughter wanted to go shopping. Tel Aviv Shopping is amazingly eclectic.

Well, Eden won the day. Sort of... We decided to stroll (and shop!) around in colorful Nachalat Binyamin, an outdoors arts and crafts street fair open every Tuesday and Friday.
There is something here for all ages.  
Eden chose a funky leather bracelet. Nathalie bought a set of hand painted dolls for her niece. I loved the beautiful hand-blown glass miniatures. The artisan prepared them as we watched.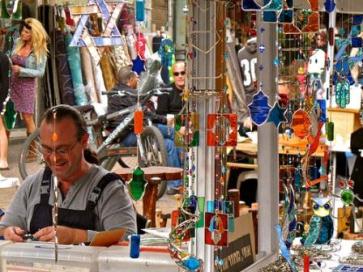 photo courtesy of Zohar Manor-Abel
We had fun wandering in between the artists' stands , while snacking on delicious pitas, fresh from the oven, stuffed with homemade hummus and pickles for lunch.

While you shop, there is always some kind of free street show you or the kids can enjoy. Today we got to see 'Juicy Lucy' and you can see it too -
---
Stops 7 and 8

Tel Aviv Entertainment: Dining and Nightlife 
We were getting tired. It had been a long day.

It was Friday afternoon, when most of the the shops and places in Israel close down early. and Israeli's tend to go out quite late...
We went home to rest. Later in the evening, like most Israeli families, we would enjoy a traditional Friday night 'Sabbath' dinner, this time with my husband's extended family.
You can choose to have dinner at some of our favorite Tel Aviv restaurants.  
Or have a drink and a snack and our handpicked list of Tel Aviv bars - each one is completely different than the other..
Later that night, Nathalie and I agreed to meet up at one of the popular dance bars in TelAviv, but we'll save that adventure tale for another time... Let's just say that Tel Aviv Nightlife is second to none with insanely packed clubs and bars all year round.
To find out what's happening this month in TelAviv, make sure to visit our page on Monthly Tel Aviv Events and News from Israel for the most up-to-date local art exhibits, concerts, cultural events and nightlife information.
---



Unlike us natives, you may want to explore TelAviv in a more structured manner. We recommend these three, private Insider Tel Aviv Tours to consider.

You may also be interested in:




Go-TelAviv Home

Just One Day in Tel Aviv