Eight Of The Best Bars in Tel Aviv
Dance & Cocktail Bars, Cool Pubs and more...

Wondering where are the best bars in Tel Aviv? The city has hundreds of pubs and bars! 

Elegant cocktail bars, seaside bars, dance bars, romantic wine bars and hip, underground pubs. 
You can discover these bars on your own... Our use our list of our eight favorite places to drink in Tel Aviv, in no special order.
We made sure to select bars that are wildly different from each other, so that you can choose the place to suit your taste. Or you can go bar-hopping and enjoy them all!
So cheers, bottoms up, or as we say in Israel – L'Haim!
---
Want Help Exploring Tel Aviv's
Best Bars and Clubs?
Let us help you discover the hottest clubs and bars in the city that never sleeps, in one unforgettable night!
Join fellow travellers and learn more here about our Tel Aviv Nightlife Pub Crawl every Thursday and Saturday night.

---
Tips on Tel Aviv Bar Hopping


Click here to skip to our list of best bars in Tel Aviv. 
Nightlife in Tel Aviv starts late. You can have a drink during happy hour around sunset, and on weekends bars usually open early, at about 12 to 2 PM. But the real fun at bars doesn't start before 10 PM on weekdays and no earlier than midnight or even 1 AM on weekends. Weekend nights in Israel means Thursday and Friday. On weekend nights, bars are open until at least 5 AM.
Smoking. Be warned. Although officially you cannot smoke in restaurants and pubs, or only in designated areas, most bars ignore the rules. 
Paying your bill. Most bars accept cash and credit cards, but check before you run up a bill. The minimum tip is 10% but the standard in Tel Aviv is inching its way up to 12% - 15%.
Making reservations. Although in most Tel Aviv bars you don't need to reserve a place in advance, Friday nights is an exception. Take our advice and call beforehand.
---
Best Bars in Tel Aviv - at the Tel Aviv Port
Shalvata Lounge Bar with the best Seaside View
Hangar 28 at the Tel Aviv Port. Tel. 03-5441279
Shalvata is a trendy, seaside bar at the Namal, the Tel Aviv Port.
Since it's an outdoor bar, Shalvata is open for half of the year, between April and early November.

We think its the best bar at the Port. During the week it opens at 6 PM, but on Fridays and Saturdays it opens at 2 PM and 12 PM respectively.  Daytime is great for hanging out with kids. There is great lounge seating at Shalvata.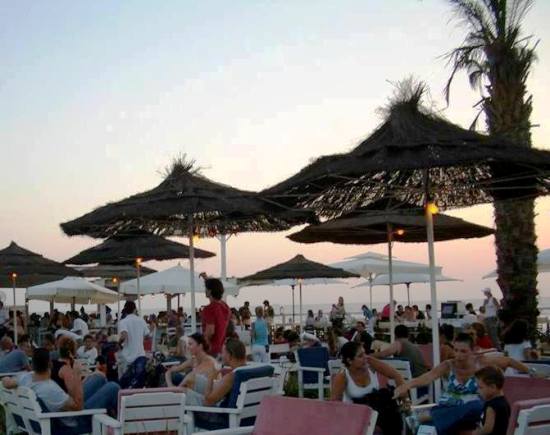 Thursday and Friday nights are partytime at Shalvata with either a top, local DJ or a live band playing. You can dance the night away. We recommend you call and check before you go, to avoid any hassles getting in.
---
Best Bars in Tel Aviv - in Jaffa


Anna LouLou Bar - Cool, Multi-ethnic Hipster

1 Hapninim Street in Jaffa. Tel. 03-716-8221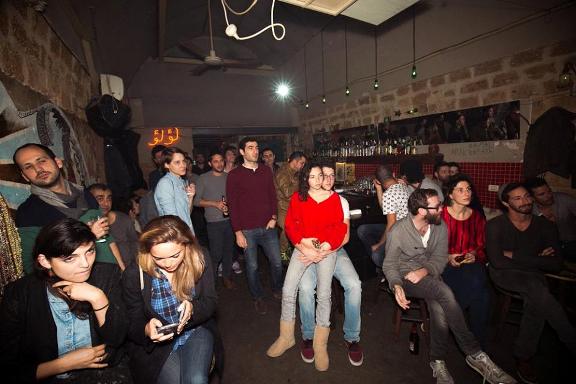 Ana Loulou Bar is located near the Flea Market (Shuk Hapishpishim) in Jaffa.
It is one of the few places where everyone, and that includes Arabs and Jews, can truly intermingle, have a drink, dance together and party. Despite all the political tensions in Israel, this bar and its unique atmosphere has a steady following.
They play a mix of  musical styles - electro-Arab, 'mizrahi', African, blues and more.
You'll feel comfortable whether you are straight or gay, Jewish or Arab. Here's my stepson Tom DJ'ing recently at Anna Loulou Bar.

---
Best Bars in Tel Aviv - near the Sea


Mike's Place - Live Music & American-style Food 

86 Herbert Samuel St. Telephone. 03-510-6392

Mike's Place feels like a fun pub back home in the States.
There is live rock, blues or reggae music every single night, year round. Mondays and Tuesday nights is amateur night, you can get on stage and play...
Beside the huge variety of beer (on tap) and other alcoholic drinks, they serve lots of classic American style food: pizza, fries, burgers, nachos and chicken wings.

The place is open daily from 11 AM, and gets pretty packed from Thursday to Saturday until late at night. 
---
Best Bars in Tel Aviv - near the Sea


Mendelimos - Young, Hip and Trendy 

102 Hayarkon St.  Tel. 050-969-5830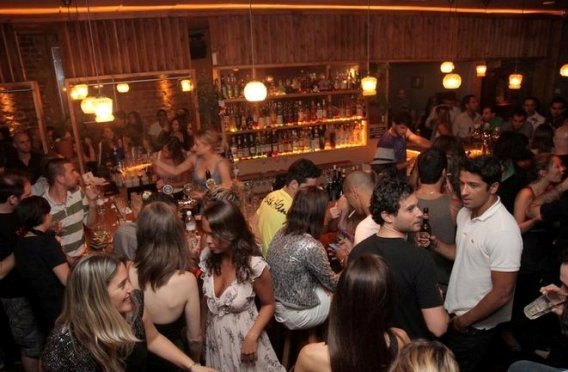 Mendelimos Bar is the place to go if you are looking for a trendy Israeli bar in the center of the hotel beach strip.
The decor is stylish, but comfortable so that the place doesn't overwhelm you. There is a separate no-smoking section setup with sofas.
The good mainstream music, a danceable mix of pop, house and trance, Latin and Israeli tunes keeps up a very happy atmosphere!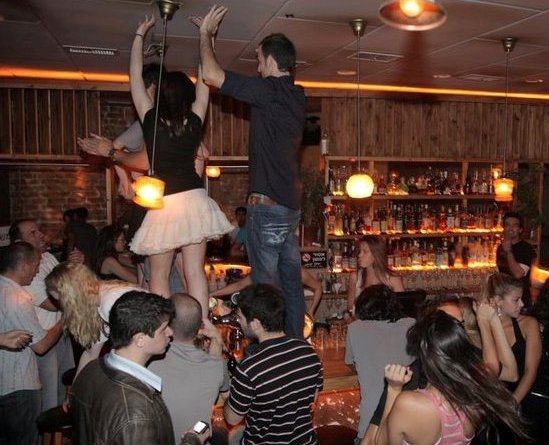 ---
Best Bars in Tel Aviv - at Sarona Complex


House of Katerina - Old World Wine and Beer Cellar 

17 Rav Aluf David Elazar St.  Tel. 03-560-6557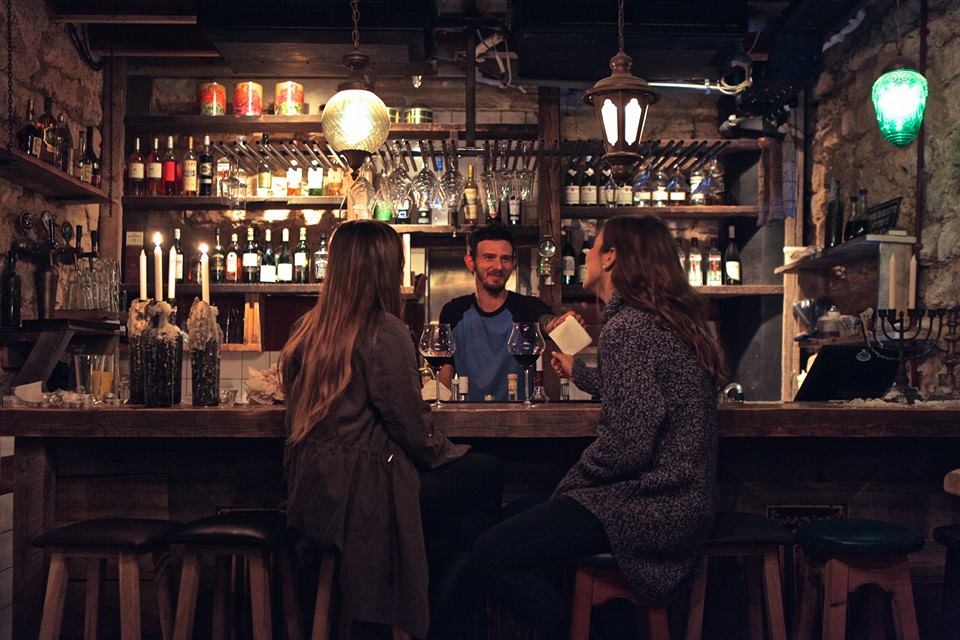 Nothing beats the enchanting atmosphere at House of Katerina Bar in the Sarona complex.
The bar is built in restored wine cellars built by the Templars in the l800's. It is decorated with antiques and candles in an old-world atmosphere.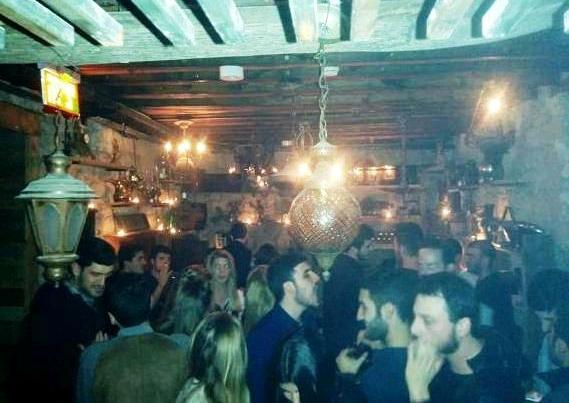 They serve a wide selection of wine and beers, and try the great cheese platters options.

---
Best Bars in Tel Aviv - near Allenby Street


French 57 - New Orleans-Style Cocktail Bar


Unfortunately French 57 has CLOSED

2 Brenner St. Tel. 050-734-7452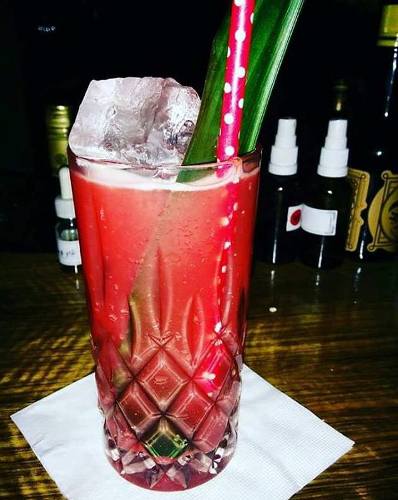 Walk in from Allenby Street in Tel Aviv directly into the French Quarter of New Orleans at French 57 Bar.
Besides the classic drinks, you can enjoy their specialties, New Orleans cocktails, such as the 'Grasshopper' and 'Gunshop Fizz' (in the picture), made with pineapple, passionfruit, cucumbers, almonds, lime, campari and deadly Creole Bitters...
My personal favorite is their Irish coffee - made with good strong coffee, Jameson, a tad of sugar and nutmeg. Heaven!
If you are hungry, they serve Louisiana and Creole classics: Cajun chicken, crab cakes, oysters and Balayez veal sausages.

And there is always wonderful jazz music playing in the background...  
---
Best Bars in Tel Aviv - around Rothschild
Jimmy Who Bar - Hip and Stylish
24 Rothschild Blvd. Tel. 050-6667337
There are dozens of pubs in the vicinty of three streets: Nachalat Binyamin, Rothschild Blvd. and Lilienblum Street. Jimmy Who is one of the hottest.
Jimmy Who has three different areas, each with its own bar, so you don't feel like you're in a mega-club. The ambience is unique, combining both a modern and a retro style, with lots of purposely unfinished, rough edges.
The DJs play an 'off-mainstream' mix of house, pop and local tunes and there are live performances on some nights.
Because its so popular, make sure to reserve a place in advance, especially on weekend nights.
---
Best Bars in Tel Aviv - around Rothschild
Shpagat - Best Gay Friendly Bar 
43 Nahalat Binyamit St.  03-560-1758
Evita is the oldest gay bar in the city and has become an institution for the best drag shows and gay community gatherings.
But for the best gay-friendly bar, we vote for Shpagat.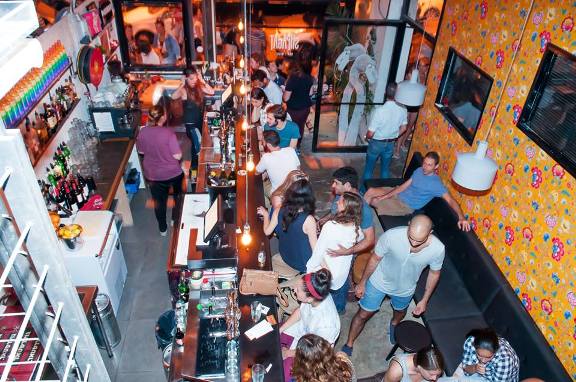 The atmosphere at Shpagat is relaxed and friendly. The music is good and the prices are reasonable. There is a young, mixed crowd of gays and straights. It is a good place to meet new people and you'll find lots of locals and tourists intermingling here. 
Wednesday is girl's night at Shapgat, but all are welcome.
When the weather is nice, the crowd spills into the streets.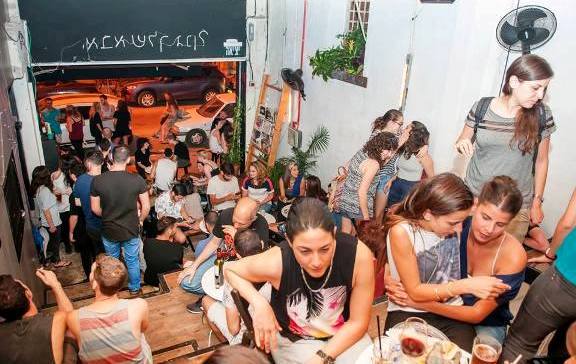 ---
What's Your Favorite Tel Aviv Bar
Share here your review of a Tel Aviv bar, or tell us about your drinking experience in Tel Aviv.
Go-TelAviv Home
›
Tel Aviv Restaurants
› Best Bars Tel Aviv
Go-TelAviv Home
›
What To Do in Tel Aviv
› Best Bars Tel Aviv
Go-TelAviv Home
›
Tel Aviv Nightlife
› Best Bars Tel Aviv