Join Our Private Wine Tours in Israel


Enjoy a Scenic Wine-Tasting Excursion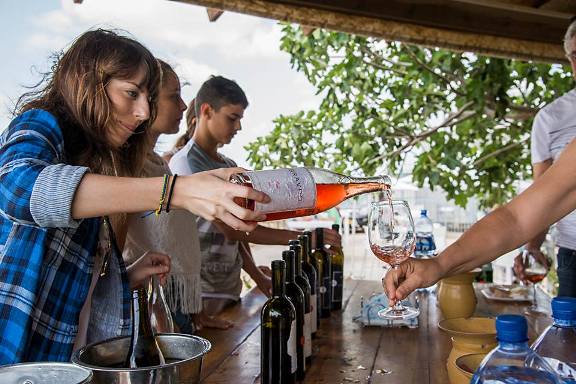 Joining our private wine tours in Israel means spending a day:
Exploring one of Israel's six wine regions
Wine-tasting at up to three boutique wineries in Israel while winemakers share with you their knowledge and passion

Enjoying the scenic views and discovering  the history of the regions you will visit.
---
Tourists Review Levi's Wine Tours
Leta and Hope from the USA
"My daughter and I are so happy that you were our guide. You were helpful in so many ways with your knowledge of the history of Israel, of modern day Israel and the people living there.
We absolutely loved the wine tour and it was a wonderful way to really get to meet the Israelis living there.
I would certainly recommend you for your professionalism... as a tour guide and all that it entails. We would definitely ask for you again and hope others do as well. Thank you very-very much. "  Feb. 2017
Six Regional Options for Our Wine Tours in Israel

You can choose between six main wine-growing regions for your wine tour in Israel, depending on your interest and the season.
The Central Area of Israel has been producing wine since most ancient times.  This area includes three major regions which today, produce some of the best wine in the country:
1. the Carmel Mountains to the South from Haifa
2. the Judean Hills around Jerusalem and adjacent Shfela Valley
3. and the Sharon Plain north of Tel Aviv. 
Northern Israel's high altitudes, volcanic soil, and the contrast between hot summers and snowy winters are ideal for wine-making. The northern wine regions are in -

5. and the Golan Heights.  
From Southern Israel, the Ancient Hebrew spies smuggled huge wine grapes as the Bible tells us. 

6. The extremely dry Negev desert has proved exemplary good for wine production. From here, The intense heat and sun, the relatively cold nights and the resulting early grape ripening create the highest quality wines with unique aromas.
Read in more detail about Israel's six wine regions here.
---
Additional Options on Your Wine-Tasting Tour
Each of the boutique wineries you visit on the tour will share with you their have their own special style and approach to wine-making. 

You can opt for our standard wine tours, or you may prefer to customize your tour to include:
your choice of a wine region
your choice of a specific winery 
Optional additional visits to nearby chocolatiers, breweries and dairies can be planned as well.
---
Private Wine Tour in Israel Cost and Information
The price of your private wine tour depends on your pickup location.
What's Included:
Full Day Tour
Pickup / Dropoff at your Tel Aviv hotel 
Wine-tasting  at least 3-4 wines, at 3 wineries
Finger food - usually local cheeses, olives, and breads
Tourist Class Car with Guide / Driver
 Tour Price: $ 850 for up to 4 people

A customized tour pricing is program-dependent.

To book your wine tour BOOK HERE
Go-TelAviv Home
›
What To Do In Israel
› Private Wine Tours
Go-TelAviv Home
›
Israel Wine Regions
› Private Wine Tours