Fascinating Bodies Exhibition in Tel Aviv

At HaTachana, The Old Train Station
Bodies is no longer running in Israel. If it comes back - we'll let you know!
The Bodies Exhibition is here in Tel Aviv for a short time this summer and fall. If you have 1 to 2 hours to spare I recommend it!

It can be interesting for adults and kids alike and its located in a fun place - HaTachana.

HaTachana - the Old Train Station is the original train station in the Jerusalem to Jaffa Israel line that was closed down in 1948. It's a popular Tel Aviv spot, mixing the old - original rail cars, train tracks and historical buildings, and the new – outdoor events, stylish shops, restaurants, art galleries and an organic market.

The exhibition gives you an up-close, intimate and fascinating view of the human body.
Some people get a bit queasy. I was just fine. The way real bodies are preserved is simply amazing!

This is made possible based on a new and innovating polymer preservation process that is able to preserve human bodies using liquid silicone which prevents natural decay. The process can be used on whole bodies and even individual organs.
Everything looks real and authentic, but is actually a sort of rubber.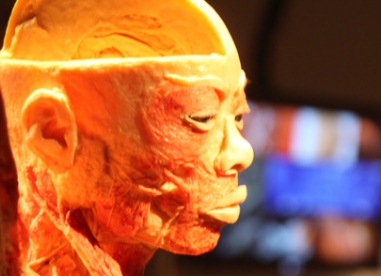 What to see at Bodies Exhibition?
My husband chose to breeze through the exhibit, look at the amazing displays and get an overall impression.

He loved it.
If you love biology like me and find the human body and all its workings fascinating, you can take your time reading your way through. There's a lot to read!
Different parts of the exhibition are dedicated to different parts of the body: the skeletal, muscular, nervous, blood, respiratory, digestive, reproductive systems and so on.
Don't you think this preserved blood system in the hand look like an abstract work of art? I think it's wonderful!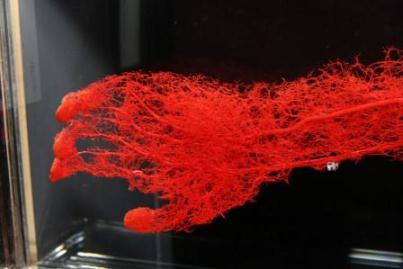 I found especially interesting seeing real, healthy organs right near the same diseased ones.

There is an intriguing exhibit of fetuses of ages. Some people find it disturbing, especially when you get to the larger fetuses. You are warned beforehand and can easily avoid this area.
Bodies Exhibition - Quick Facts
Who: The organizers recommend this exhibition for children 11 years old and up. Children must be supervised by an adult.
Price: The price is 59 Shekel for as long as you want. You can rent an audio guide for 12 shekel in English, Hebrew and Russian.
When:
Summer 2012, until August 31, Sunday – Thursday: 11 AM to 11 PM, Friday - Saturday: 10 AM to 11 PM, September to October 21st - Every day at 11 AM
Tickets: No longer available
You are here:

Home

 ›