Dan Tel Aviv Hotel

The Original Tel Aviv Luxury Hotel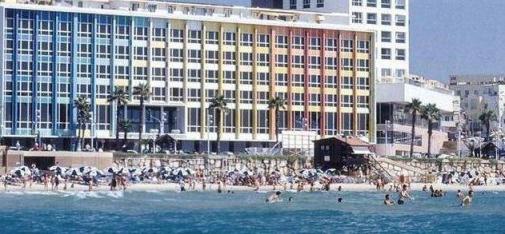 The Dan Tel Aviv Hotel is the first deluxe hotel ever built in Tel Aviv.

The Dan Tel Aviv is expensive, but you get what you pay for. It's the hotel of choice for many stars and VIPs who visit Israel.
---
This classic luxury hotel in a perfect location across the street from Tel Aviv beach , midway between Old Jaffa to the South and the Tel Aviv Port area to the north.

You may also want to read about the Dan Panorama Hotel , an excellent value Dan hotel in southern Tel Aviv. Both hotels are part of the Dan Hotel chain in Israel.
---
Dan Tel Aviv Hotel Rooms and Lounges
The Dan offers a mix of standard, deluxe and executive rooms and suites.

All rooms have great toiletries from Israeli Dead Sea and Sabon bath products.
De standard værelser, der er blevet renoveret, er en smule på den lille side, men komfortable, indrettet luksuriøst med klassiske mørke skove og supermoderne badeværelser. The deluxe and executive sea-view rooms are spacious and beautiful.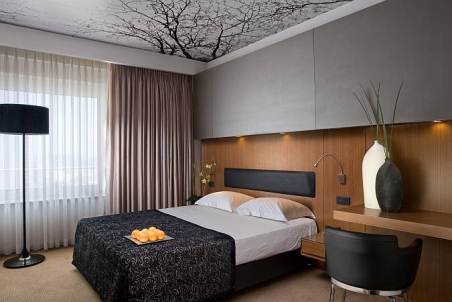 Executive rooms include access to the executive lounge - great value if you can afford to splurge. The lounge serves complementary drinks and appetizers all day long which are superb. A bit of a shame at there is no free wifi in the lounge, only in the lobby.

My best advice - reserve only a recently renovated room and you will not be disappointed. De oudere kamers, zelfs de uitvoerende die zijn een beetje worn.

And as I always recommend when booking rooms in Tel Aviv, ask for a higher floor with a sea view. Besides having a stunning view of the Mediterranean Sea and the beaches, they offer more light and are quieter than rooms facing the street and Molly Bloom's - a fun, but noisy Irish pub just across the street.
---

Facilities at the Dan Hotel



Photo courtesy of TripAdvisor
The Dan is one of the few Tel Aviv hotels with two large swimming pools - both an outdoor saltwater pool overlooking the sea and a indoor freshwater pool.
Most Tel Aviv hotels close their only outdoor pool during the winter months, so if you're planning a winter visit, this can be a big advantage.

The spa facilities are beautiful with a jacuzzi and sauna, a small but adequate fitness center and you can find the usual range of massages and facials.
During Passover and the month of August, the Danyland Kid's Club is open and offer activities, arts and crafts, plays and more for your kids. There is also a small toddlers pool.
---
Outstanding Dining at the Dan Tel Aviv
Israeli hotel breakfasts are usually good, but the Dan Tel Aviv breakfast is a cut above the best!

You'll find all types of breads and pastries, freshly squeezed juices, piles of fruit and vegetables, eggs to order, smoked fishes, cheeses, halva and cakes and the best coffee- filter, espresso, cappuccino and latte.
In fact, all the dining options at the Dan are really good.
Find out about availability, prices and recent reviews
You may also be interested in: