ElAl Airlines

The Good, The Bad and the Better
I'm going to give it to you straight on ElAl, so that you can make your own decision on whether to fly with them or another airline to Israel.
The information on this page is based on my own experiences flying countless times to and from Tel Aviv, and also based on feedback from colleagues and friends who fly often. Some live in Israel like me, and others live in North America or Europe.

Dec. 2019 Update: Please read the page in full, but as of now, El Al is having internal problems. The level of service  and the maintenance of most of the aircraft (minus the new carriers which are fantastic!) are not fully up to par. And most unfortunately, there are union issues with the pilots and other staff that have affected a few flights.
I still do recommend them for those longhaul direct flights with little or no direct-flight competition (such as from Los Angeles). They are a good option if you are looking for 'cheaper' business class, somewhere in between economy and 'real' business class.
I still fly with them if the price and time of the flight is convenient for me. Just reduce your expectations, and you might be pleasantly surprised
---
ElAl Airfare and Routes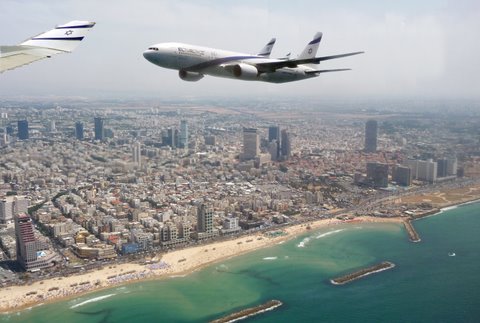 courtesy of El Al
ElAl prices are generally comparable to those of the other major airlines that fly to Israel and sometimes, a notch cheaper.

You can find cheaper flights with low-cost or less-known airlines with multiple stopovers. On the other hand, El Al's business (and 1st class) prices are comparatively cheaper than most of the other carriers that offer business class to Israel.
As the main Israeli based carrier, El Al obviously offers the largest selection of flights to and from Israel. Especially if you prefer to fly nonstop, you will have the most choices for flying to Tel Aviv.
For a complete listing of all direct flights to Israel including El Al non-stop flights, visit our page Non Stop Flights to Tel Aviv. 
---
Security, Security and Security
It's no secret that ElAl is considered the world's most secure airline.
Before 9/11, ElAl's strict security policy was considered a deterrent. Today, El Al's legendary security is a huge advantage.
Personally, I feel safer knowing that ElAl has at least one undercover, plainclothes agent on every flight and a guard at every ticket counter; just two examples of their strict security procedures. Every passenger is questioned in person when flying ElAl and always when departing from Israel. El Al unapologetically uses 'profiling' to decide on the length and depth of the 'interrogation.'
Occasionally, some passengers might spend an unusually long time being cross-questioned. Every so often, security personnel may decide to open and search the contents of your suitcase. It happened to me on my last flight out of Tel Aviv to visit my parents in New York this February. God only knows why.  
Some people find it surrealistic, like in a James Bond movie. Others find it annoying and even insulting.
Don't take it personally! If it happens to you, just remain calm, maintain your patience, speak truthfully and take it in stride.   The general consensus is that the process is lengthy but the security staff are polite and friendly.
My main advice is to arrive at the airport early enough (3 hours before the flight for economy, 2 and a half hours for business) so that you are relaxed and not pressured time-wise in anyway.
I fly a lot. For me, the security hassle is a price worth paying to get the best flight security.
---
Onboard Meals
The news is mixed on the food front.
One of Israel's top chefs, Segev Moshe, has upgraded the company's in-flight meals. Chef Segev's cooking is based on fresh fruits and vegetables as well as excellent fish and meat, all originating in Israel. He also places emphasis on the nutritional value of his meals. 
And almost every meal includes classic Israeli fare such as hummus salad with pita, which is fun...
Let's just say that this uplift was long overdue...  The food, even in economy class is not bad. On the other hand, the food in most airlines is inedible, including some of the best names.
As an example, here are the menus of the new economy and business class breakfasts:

Israeli Breakfast in Economy Class
Omelet, Israeli salad with a light honey-mustard vinegrette, fruity yogurt, choice of fresh rolls, creamy white cheese with black olive spread, butter, jams, crispy cinnamon biscuit, coffee and tea.
Breakfast in Business Class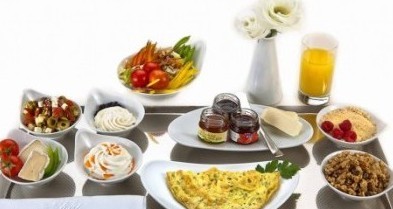 Start with freshly brewed espresso, cappuccino, coffee and assorted teas.
You get a choice of omelet with a rich Israeli 5-colored salad with assorted seeds and a light honey-mustard vinegrette, or a caramel cheese cake with grated lemon peel, creamy white cheese drizzled with red olive oil, tehini-eggplant cream, granola, choice of fresh breads and other baked goods with butter, honey, jjap and assorted cheeses.
---
Planes and Seating Arrangements
El Al has a fleet of about 40 Boeing planes consisting of 737, 747, 757, 767 and 777s. If you're unlucky and fly with one of the older planes used mainly on shorter flights, you'll probably have older, less comfortable seats.
The furnishings and layout on the newer planes are more inviting.
But probably the most widespread complaint about El Al is the cramped seat setup in Economy Class, which does not leave a comfortable space in between rows and seats and makes for tight legroom. For those blessed with longer legs, this is a definite minus.

El Al also offers "Economy Class Plus." This is a new, curtained-off section in between business and economy where you get more legroom, a footrest, a lower incline when you push back your seat, a personal entertainment center and an electric outlet for your electronic devices. 

Economy Plus costs an additional $80 - $150 depending on the length of the flight. This can a good option for some, especially on shorter flights.
IFE – Inboard Flight Entertainment
The newer fleet planes have good flight entertainment on demand.
The older planes don't offer you a choice and you watch whatever is being shown. The LCD screen is often too small or far away.
---
El Al Service
Israeli's love to 'hate' El Al. 
El Al's service is inconsistent. El Al's flight crew and check-in staff, especially in Tel Aviv, are usually friendly, sometimes attentive and polite, sometimes less so. Some of the staff members are amazing and provide real personal service, and others are indifferent. It really depends
Despite the bad reputation from years ago, El Al used to get good ratings from international and objective reviews. Unfortunately, the service (as of 2018) is sometimes good, sometimes not.
My only complaint is their tendency to be lax with passengers who often refuse to conform to any rules, those wandering about or in small groups crowding the aisles while conversing loudly. If ElAl's staff were a bit more forceful, the plane ride would be less noisy and more enjoyable.
Since I am able to curl up and sleep, this bothers me less than others. If it bothers you, do bring some good earplugs and an eye-mask for long flights.
To Make a Long Story Short

I enjoy flying El Al, since I always prefer nonstop flights and they have the most nonstop options with reasonable prices. Being small, I don't suffer like others do from the cramped seating space.
El Al's security is good for me and worth it.
I've tried to give you the pros and cons of flying with ElAl so you can make the flight choice that suits you best.
You may also be interested in: