Internal Israeli Flights

Tel Aviv and Haifa to the Resort City of Eilat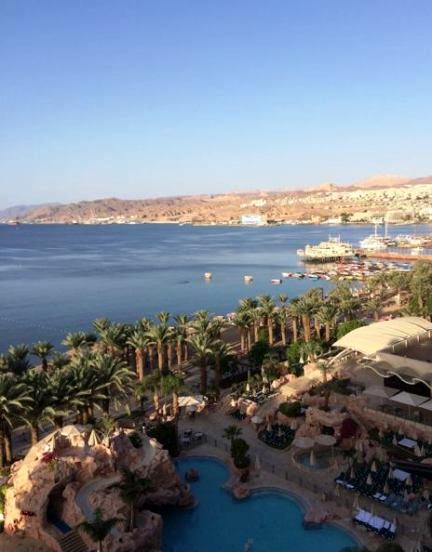 The fastest and most convenient way to get to the resort city of Eilat on the Red Sea in the south of Israel, is to fly there.

There are multiple flights from Tel Aviv to Eilat every day, seven days a week.  You can also fly to Eilat from Haifa.
Sure you can rent a car and drive. Driving down to Eilat from Tel Aviv takes about 5-6 hours or you can take a bus which takes about an hour longer and is quite cheap. Add another hour (at least) for the drive from Haifa.
It can be fun driving down to Eilat through the scenic Negev desert and stopping along the way, but it's not an easy drive and has lots of steep twists and turns.  I personally prefer to fly to Eilat.
The flight itself is under 50 minutes.
---
A holiday in Eilat is not to be missed with the beautiful Red mountain desert scenery and spectaular coral reefs which make for  great snorkeling and diving.
Here's my niece Yuval-Or taking a trial dive in the Red Sea.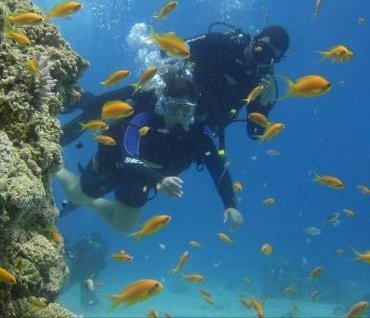 ---
Airports with Flights from Tel Aviv to Eilat
Catching a domestic flight from Tel Aviv to Eilat is a cinch.  You can fly out of Tel Aviv's two airports.

Tel Aviv's Sde Dov Airport (or Dov Hoz) is my preferred airport for local flights from Tel Aviv.  It is conveniently located just north of the Tel Aviv beach strip between Reading Power Station and Ramat Aviv district.
Sde Dov airport is small and cozy - so the entire security and check-in process is really short.
Which means you can arrive just an hour before your local flight. What a relief!
The other airport with Tel Aviv flights to Eilat is from Ben Gurion Airport, Israel's main international airport.
Ben Gurion Tel Aviv Airport is a modern, comfortable airport with good duty-free shopping, but I find it  less convenient for local Tel Aviv flights to Eilat.
It's located 15 kilometers (9 miles) southeast of the city, so it will take you longer to get there.  And as a busy and bustling airport, the security and check-in process is much longer than at Sde Dov airport.

On the other hand, a round trip flight to Eilat from Ben Gurion airport costs at least 100 Shekels less than the same flight from Sde Dov airport.  
---
Which Airlines have Flights from Tel Aviv to Eilat
The three airlines offering local flights in Israel are the 3 Israeli airlines: Arkia, Israir and El Al.

All offer comparable service and similar costs, excepting which Tel Aviv airport they fly out of.  El Al flies only from Ben Gurion Tel Aviv airport. Both Arkia and Israir fly from both Sde Dov airport and Ben Gurion airport.
---
Price for Flights from Tel Aviv to Eilat
Prices for flights between Tel Aviv and Israel vary constantly, so make sure to check the latest flight prices.

As of 2017, a one-way adult ticket to Eilat will cost etween 200 - 400 shekels depending on the season. A child ticket (under 12 years of age) runs about 200 - 250  Shekel. Prices during holidays and the summer tend to be higher.

You can usually buy on the cheaper side if you purchase your tickets a few months in advance.
As you can see, flying domestically in Israel is easy and relatively cheap.  If you are on vacation in Tel Aviv and have at least 3 spare days, don't miss visiting beautiful Eilat.
You might also be interested in: