A Taste of the Israel Art Scene
Tel Aviv Art Galleries Galore
Israel art is always fresh... Sometimes in your face. Sometimes cool and intellectual, but almost always invigorating.

Art galleries are found all over Israel - , in Tzfat (Safed) in the Galilee, in Jerusalem and in Ein Hod, a beautiful artist's village in the Carmel mountains near Haifa.
Most of Israel art, though, is concentrated in Tel Aviv, Israel's cultural capital.
---
You may want to start at Tel Aviv's well-known art museums. Find out more from out Tel Aviv Museum Guide.
The local art scene is well worth discovering. As you stroll around Tel Aviv streets and neighborhoods, you'll inevitably pass by some of the myriad of amazing art galleries and local artist exhibitions.
Just keep your eyes open, or if you prefer, you can follow my Tel Aviv-focused Israel Art Gallery guide just below.
---
Exhibits - What's On Right Now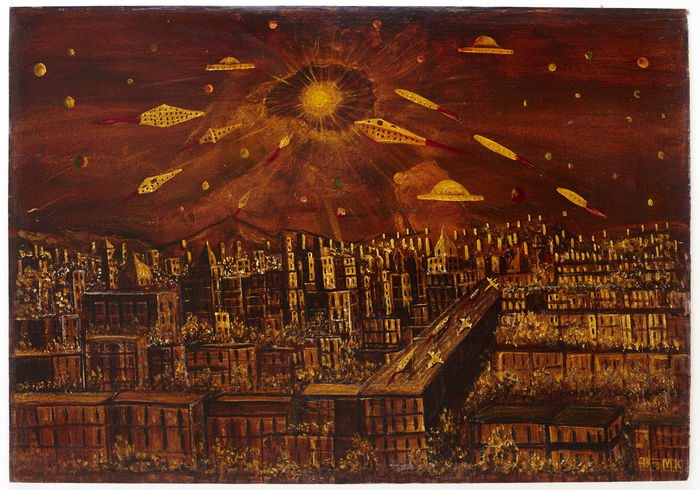 Don't miss this unusual exhibition of Israeli artist Moshe El-Natan. He was an outsider to the Israeli art scene and in fact, was well-known in Jerusalem for his felafel restaurant!

His unique body of art is being displayed at the Engel Gallery at 26 Gordon Street until May 22nd.

---
My Love of Art
I'm Nathalie from Paris. I love art and have since I was a child.

Growing up in Paris, I lived and breathed art in all its forms: literature, architecture, cinema, theater, music, and fine art museums. Art was an integral part of my childhood and the city's culture.
I remember a school class visit to a gallery of abstract art paintings when I was 12 years old. My friends and I didn't 'understand' the abstract art we were looking at, so we were making a racket.
Our art teacher stopped us and told us something that left a deep impression on me:
"Children! Stop making noise! The purpose of this visit is NOT to understand what art is. Don't try to understand art, just FEEL what it does to you! You might feel happy or sad… the art might awaken a pleasant feeling or sometimes an uncomfortable one. There is no good or bad art because art is all about feelings, the artist's feelings and your feelings."
From that day on, I understood that for me, art is all about emotions, feelings.
I hope that on this page, my passion for art will help you find and appreciate what Israel art has to offer. No matter what it 'looks like,' it will make feel something.
For more information on Israel art museums, don't miss our upcoming museum page, where you will find a complete list of all the art museums to visit.
---
When to Visit Tel Aviv Galleries
Here are some of my favorite galleries exhibiting Israel art in Tel Aviv.

Tel Aviv art galleries are open during the normal work week, when they are much less crowded, and during the weekends. The galleries are mainly open from Monday to Thursday, 10 am to 6 or 7 pm; on Fridays from 10 am to 1 or 2 pm and on Saturday's from 10 am to 5 pm.
At most, visiting is free of charge.
For your convenience, I've grouped the galleries based on Tel Aviv neighborhoods.
---
Art Galleries near Rothschild Blvd.


The contemporary art galleries on Rothschild Boulevard have great local exhibitions and they offer a good opportunity to get to know Israel's art scene.
Leafy, tree-lined Rothschild Boulevard is in some ways, the heart of the city. For more about this wonderful neighborhood, Discovering Tel Aviv Streets and Neighborhoods.
I have selected for you my three favorite galleries, but do stroll along Rothschild and enjoy others!
The Sommer Contemporary Art Gallery

13 Rothschild Boulevard, Tel Aviv 03-5166400
I love Sommer gallery for its original themes and artists they sponsor such as 'in your face' Rona Yefman,

or this breathtaking, Landcape and Jerusalem, one of the haunting works of Eliezer Sonnenschein.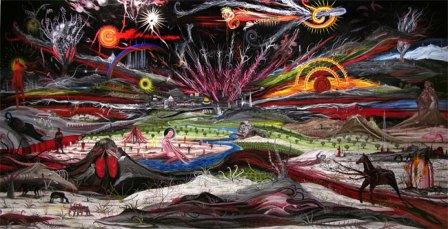 ---
The Julie M. Gallery
10 Bezalel Yafe St. right off Rothschild Blvd. Tel. 03-560-7005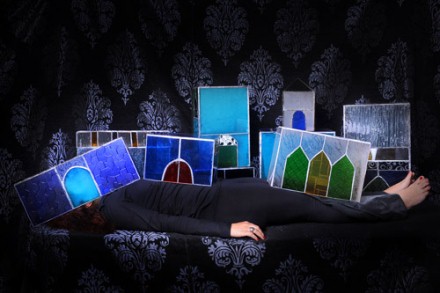 See this amazing work by Manal Mahamid exhibited at Julie M. Gallery 2012-2013
This light and airy gallery is one of my favorites which I visit from time to time. They focus on the young Israeli art scene.
I love finding new and refreshing artists and seeing what the world looks like through their eyes.
---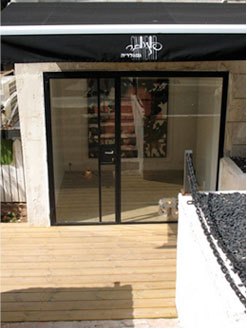 Gam Gallery
27 Mapu Street. Tel. 03-522-9250

Gam Gallery not far from Rothschild Street serves super contemporary art in an alternative, intimate atmosphere.

Worth visiting!
---

Art Galleries near the Beach

Many wonderful galleries exhibiting different styles are conveniently located along the Tel Aviv beach strip where most Tel Aviv Hotels are located.

I always take my French relatives and friends who visit on an "art galleries tour" here, and they are thrilled and to discover another facet of Tel Aviv, getting a feel for Israel's rich cultural scene.
Shoham Gallery at 45 Geula St. Tel. 077-777-9999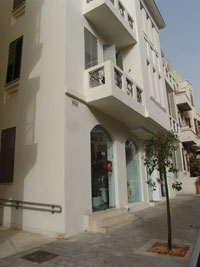 Don't miss this remarkable gallery if you enjoy art sculptures.

The gallery is situated close to the sea shore in a beautifully renovated Bauhaus building.
What's "Bauhaus" - visit our page Bauhaus Architecture in Tel Aviv
Shoham presents frequently changing exhibitions of various artists throughout the year.
---
The Stern Gallery at 30 Gordon St.
Stern's unusual mixture of contemporary and classic art paintings create a unique atmosphere. I love this place!

Stern Gallery is one of Tel Aviv's most established galleries and displays well known Israeli and Jewish artists.
If you are interested in Jewish art, this is the place to visit. My relatives love this gallery for the interesting variety of Jewish art work here.

---
Some other recommended art galleries in the beach area:
Mabat, a Contemporary Art Gallery

31 Gordon St. Telephone 03-523-6868
If you are considering purchasing Israeli artwork, stop at Mabat. Prints are sold at reasonable prices. This is the perfect place to buy original, artistic gifts for friends and family back home.
Givon Art Gallery at 35 Gordon St. Telephone 03-522-5427
Givon gallery is all about Israeli Modernism; abstract, still life paintings and sculptures.

Visit to get a taste of modern Israeli art.
Gordon Gallery at 95 Ben Yehuda St.

Gordon is one of the most beautiful galleries that I know in Tel Aviv.

Its big open spaces, clean atmosphere and avant-garde displays remind me of New York galleries.
The entrance is free of charge, just go and enjoy – you can't remain indifferent to this place.
---
Israel Artist Galleries and Studios in old Jaffa

In the southern tip of Tel Aviv, Jaffa (or Yafo in Hebrew) is a magical place to enjoy local art while wandering in the old-world atmosphere.

Old Jaffa, with its archaeological remains, renovated port and quaint, narrow streets, has become a center for Israel artists who live and work there.
Strolling around you will pass by dozens of galleries. Find out more about where to go on our page on exquisite Jaffa Israel.
Here are some of the best art haunts in Jaffa.

Ilana Goor Gallery and Museum
14 Mazal Dagim Street Telephone 03-683-7676
Probably the most well known gallery and museum in Jaffa is the Ilana Goor Gallery and Museum on Mazal Dagim (Pisces Street), another quaint Yafo alley way.

Ilana Gur is one of Israel's most talented, multi-faceted artists and over 500 works of other artists from all over the world.

Ilana Gur is a special place, with unique art, sculpture and furniture on display in an intriguing historical setting. It's located in an impressive and beautiful building built in 1740.
---
Along Mazal Arie Alley and more of Jaffa Galleries
Mazal Arie is the sign of the Lion.
Walk along this picturesque hilly street, and don't be surprised by the number of art galleries and artist shops you will see along this street alone.
Horace Richter Gallery
24 Mazal Arie Street, 03-682-5842
Don't miss visiting Horace Richter Gallery, one of the most well-known galleries that promotes Israel's modern art scene worldwide.
Frank Meisler Gallery
25 Mazal Arie Street Telephone 512 3000
If you are interested in Judaica sculpture, this is a must visit.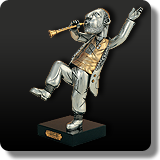 Even more so than the Stern Gallery further north, Frank Meisler is renown for displaying Judaica sculptures made of bronze, silver and gold plating.He has many galleries throughout Israel and worldwide, but the Jaffa gallery serves as his home and studio.
Walk in and expect your senses to be flooded with the tremendous number of diverse art sculptures on display.
And who knows, maybe you will have the chance to meet the artist.
Studio Canetti at 14 Busa Street
After strolling the streets of old Jaffa, do visit the photography exhibit of my close friend, Itzik Canetti. The studio is situated near Shuk Hapishpushim (Yafo's Flea Market).
I love his work and I'm sure you'll enjoy the beauty of his nude art photos.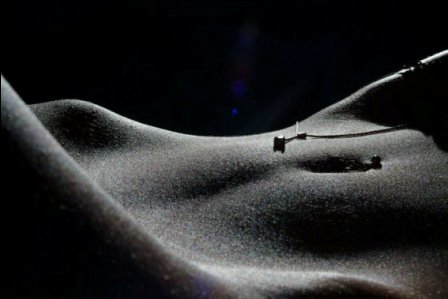 ---
But wait!
If you like abstract art paintings, I'll leave you with Husti, one of my favorite abstract artists, a Tel Aviv native, who sells his"art de nada" paintings online.
Here's a peak at his wonderful paintings.

They are really beautiful abstract art paintings, don't you think? I love his work!

I hope my guide of personal favorites will help you enjoy and discover Israel Art while you're here.
---
You might also be interested in: