For a Romantic Night in Tel Aviv

Book our Boat Hotel at the Marina
If spending a night on a romantic boat hotel in Tel Aviv sounds appealing, read on!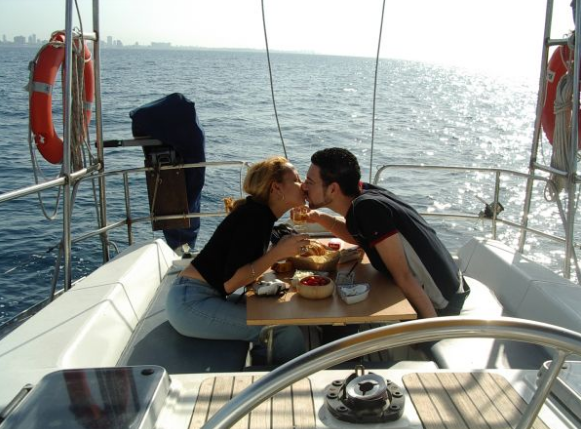 Are you looking for something special and romantic to do while you are in Israel?
Spending a night on board Danit's Tel Aviv yacht with your significant other can be a really unique birthday or anniversary celebration, or just a great, romantic getaway.
You can enjoy the sea breeze and gentle waves with a glass of wine, dinner, a cruise along the coastline, and a perfect evening and night on board this boutique hotel on the sea.
---
Sailing and Dinner on the Boat Hotel
Your evening begins around 7:00 PM, or even as early as 5:00 PM during the winter.
When you arrive  at the Tel Aviv Marina, the skipper will greet you on board the yacht. The boat will be adorned with balloons and as the dusk settles in, it will be decorated with lights.
Down in the living room, a bottle of red wine and soft drinks will wait for you, accompanied by soft, background music.
---
The skipper will take you out sailing on the sea for an hour.
You will head south, passing by Tel Aviv's beaches and as you near Jaffa, you'll see the stunning Tel Aviv sunset.

---
After bringing you back up to the Tel Aviv marina, the skipper will depart for the night.
A bit later, you will be brought a tasty, meat dinner to enjoy on board your floating hotel docked at the marina. If you wish, you can choose in advance other meal options such as a sushi platter, cheese and fruits, or a variety of salads together with breads. 
After dinner, the yacht will be all yours until 10 AM the next morning.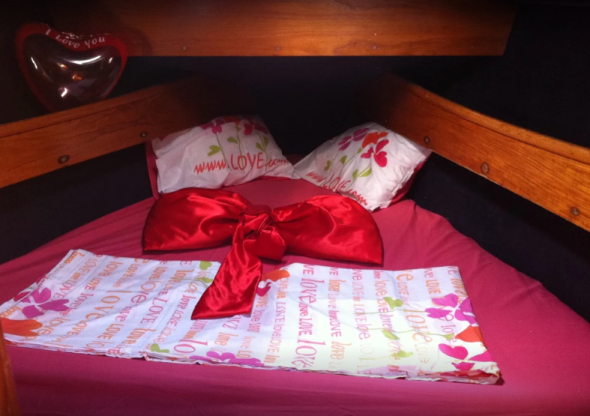 ---
Whats Included on the Boat Hotel
Sailing on the yacht for one hour along the Tel Aviv coastline with a skipper 
On board - a hot dinner, including a bottle of red wine, soft drinks and hot drinks  
A comfortable bed for two with linen, towels, and a bathroom with shower
The boat is yours from 7 PM until 10 AM the next morning
The price is 1,900 Shekels, including VAT
---
---
You may also be interested in: