Gay Israel and Gay Tel Aviv

 a Gay Oasis in the Middle East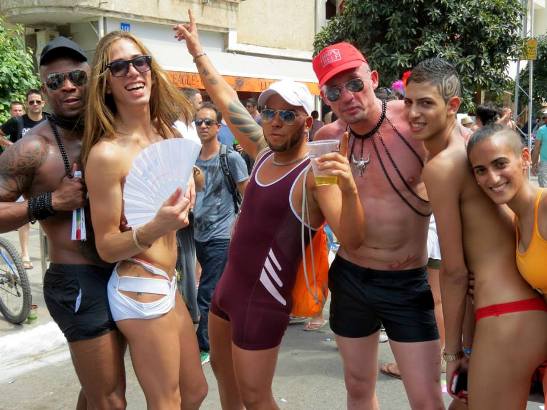 Gay Israel is a true gay oasis in the Middle East. Tel Aviv has been voted over and over again as one of the best gay cities  worldwide. 
Why? Because Israel, and especially Tel Aviv are secular, liberal and friendly.  The atmosphere here is open and welcoming and people are warm and good-looking.  
---
Gay Israel Culture is "Above Ground"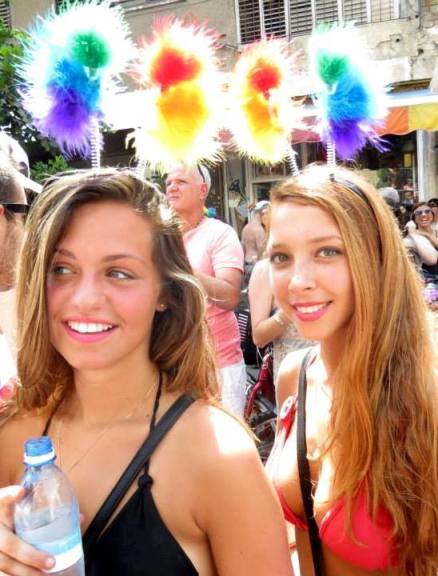 Tel Aviv, Israel, the city that never sleeps, has become one of the hottest gay travel destinations.
The sunny weather most of the year, the beaches, the Mediterranean ambiance,  the clubs and cafes and the popular gay and gay-friendly parties all make for a special atmosphere here.
Gal Uchovsky, an Israeli musician and a gay activist explains, "Gay culture in Israel is not 'underground' or 'alternative.'
Gay tourists find it surprising to see gay couples embracing or walking hand in hand in public, a commonplace occurrence here in Gay Israel.  
Most of the best nightclubs and parties are 'gay-friendly' – gay men, lesbians and straights truly mix and dance near and with each other. And of course, there are lots of gay lines and parties in Tel Aviv which I'll share with you further down.
---
Tel Aviv's Gay Beach - Be Yourself!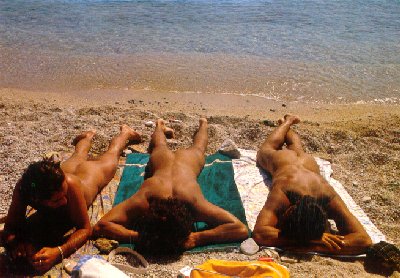 Gays can feel free to be themselves all over Tel Aviv and at any beach, but the best gay beach around is definitely the Hilton Beach.
The atmosphere is great!  
The Tel Aviv Gay Beach is sandwiched right in between the 'dogs' beach to the north, where you can visit with man's best friend, and the surfer's beach.  Oddly the Hilton beach is just south of the religious beach which caters to the 'modest' public and allows only men and only women on separate days of the week.
For more about all 18 of Tel Aviv's lovely beaches, visit our page on Tel Aviv Beaches.
---
Gay Israel Love Week and Love Parade

Each year, Tel Aviv hosts an enormous gay pride parade each year with hundreds of thousands of locals and tourists celebrating together.
Hear what gay tourists from all over the world have to say...
This year's 2015 Tel Aviv Gay Pride Week is from June 7nd to June 14th.  The Love Parade takes place on Friday June 12th with hundreds of thousands of tourists and locals lining the streets.
The Parade starts on Friday at Gan Meir Park, with booths and great drag performances.  
At 1 PM, the parade heads off along Tel Aviv's major streets - Bograshov, Ben-Yehuda, Arlozorov, and culminates at the beach, where the party continues.
photo courtesy of Tom Giebel
The city celebrates with DJs, music and dance on the beach until senset, and at the cafe's, and parties all day and all night long, throughout the weekend.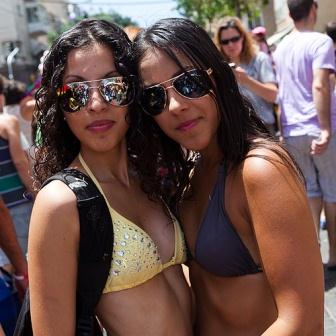 photo courtesy of Tom Giebel
It's a fun, fantastic experience for gay and straight people of all ages!  

I enjoy Tel Aviv's gay pride pride parade with friends almost every year.
---
So Where to Party in Gay Israel?
As I mentioned, most of Tel Aviv's parties are gay-friendly and you should feel comfortable partying almost anywhere.  Visit our page on Tel Aviv's fantastic nightlife.

There are dozens of clubs, bars and party lines that cater just for gay men and lesbians. Most don't have a cover charge - I have noted if there is.  I have divided the list of gay bars, clubs and lines into 3 categories.  You can choose the link that interests you, or browse down the page.
Best Up-to-Date Guide to Gay Parties
---
Gay Israel – Lesbian Bars
Amazona, 23 Lilenblum Street
A new, cool, mainly lesbian bar that is open 7 evening and nights a week and welcomes a gay friendly crowd. Read more about other bars and clubs around Lilenblum Street in our page on Tel Aviv Streets and Colorful Neighborhoods.
Wednesday at Spagat, 43 Nahalat Binyamin St.  On Wednesdays, Spagat, a stylish bar for homosexual men hosts a popular lesbian line.
Monday at Seven Eleven Line at Gildas, 64 Ehad Ha'am Street. This is aneighborhood bar that runs a lesbian line on Monday nights.
---
Gay Israel Clubs, Bars and Parties for Gay Men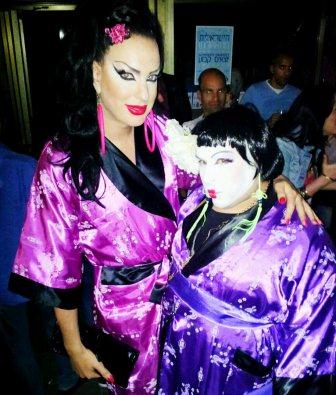 Evita Bar, 12 Yavne Street
The Evita club has been around the longest and is open every day and night of the year, from 12 noon until the wee morning hours.  
Tuesday is Drag Queen Night with the popular drag queen divas – Ziona and Talula.
Thursday is Gay Students Night – popularly called 'Dickan' by the natives.
---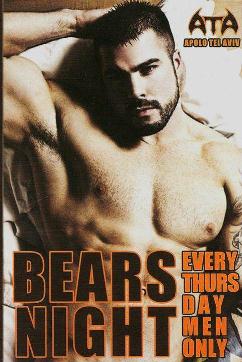 The Apolo Club - For Men Only , 46 Allenby Street
Open all week, the newer Apolo Club runs different lines every night of the week.

Wednesday's is Trashmania night with trash-pop and lots of glitter!

Thursday is Bears night.

You can order chasers all night long for 10 Shekel and until midnight, order 2 vodka and redbulls for the price of one.
The bar area is at street level. Go down to the lower level for the dance floor and a 100 square meter dark room in the back.
---
Shpagat, 43 Nahalat Binyamin Street
Shpagat is a stylish and intimate gay Tel Aviv bar for homosexual men and a straight-friendly crowd.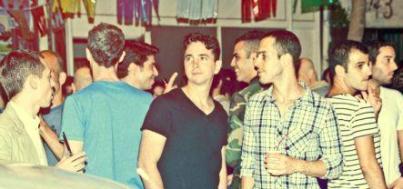 It's open all week except Wednesdays when it's lesbian night.
Mondays - The Notorious G.A.Y Party Line at the Lima Lima Club, 42 Lilenblum Street
Lima Lima is a straight club most nights, but runs the Notorious G.A.Y parties on Monday nights only. You can dance the night away to hip-hop and rap music. The Notorious G.A.Y. parties are popular with gays and the 'straight-friendly' crowd.
---
Gay-Friendly Lines, Bars and Clubs
The  FFF Shirazi Line at the HaOman 17 Club, 88 Abarbanel St.
Shimon Shiraz's FFF gay friendly parties are one of the longest running and most popular gay Israel lines.
Take a look at one of the FFF parties...
Loads of fun!  FFF parties take place usually run once a month on Thursday or Friday nights and on holidays.  They host the world's best DJs, have outlandish decorations and top-notch drag queen shows around a central theme.
The cover charge usually runs at about 200 Shekel.
Wednesdays - the Drek Line at at the Storage Club,98 Dizengoff Street
Lots of attractive homosexual men and a gay-friendly crowd drink and dance the night away on Wednesday's night.  
Anna Loulou Bar, 1 Hapninim St (a right turn from 17 Yefet St), Jaffa
Anna Loulou is a new, hip bar that is different than the rest.
It's a place where gay and gay-friendly Arabs and Jews mix freely, listening to the resident DJ and to live gigs playing different styles of Arab music – alternative, pop and folk style.
Thursdays at the Cheesecake Line at the Breakfast Club, 6 Rothschild Blvd

A trendy gay friendly crowd. Expect a cover charge of about 50 Shekel.


Another popular, gay-friendly line that invites international House DJs is the the Block at 157 Salame Street. The Block has probably the highest-quality sound system of all of Tel Aviv's clubs.   
Depending on the DJ lineup, expect to pay between 50 to 200 Shekel.
I've danced the night away at The Block and had a great time. Just make sure to buy tickets in advance to avoid unpleasant lines and selectors at the entrance.
We hope you enjoy all that Gay Israel has to offer - sandy beaches, the Gay Pride Parade, restaurants and cafes, friendly locals and endless parties. Have a great time!
Other pages that might interest you:
What to See and Do in Tel Aviv
All About Tel-Aviv - Interesting Tales and Odd Facts 
Return to Go-TelAviv.com Insiders Guide home page