David Intercontinental Tel Aviv
 One of the Finest Luxury Hotels in Israel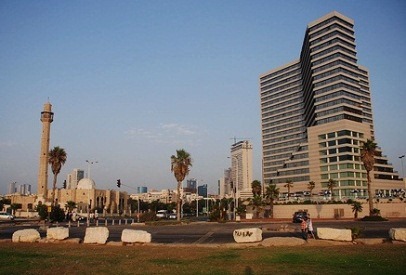 The David Intercontinental Tel Aviv Hotel is one the best 5-star deluxe hotels in the city.  
Room rates start at $400 a night in peak season, but if that's within your price range, it's an excellent choice and you will enjoy this luxury hotel!
---
Prime Location in Southern Tel Aviv
This impressive hotel with its soaring lobbies is in a great location in the south of Tel Aviv, just across the street from the sea.
It is just near Neve Tzedek's restaurants and art galleries, just north of old Jaffa where you can explore the picturesque Jaffa port and alleyways, and within walking distance of Tel Aviv outdoor markets: the Carmel market, Nahalat Binyamin arts and crafts market, the flea market, renovated old railway station, and more.
Find out more on our page on Tel Aviv shopping and other attractions.
The hotel is across the street from the sea.  You just need to walk a few minutes  north or south on the promenade to hit one of the 15 Tel Aviv beaches.
---
David Intercontinental Tel Aviv Hotel
Rooms, Suites and the Executive Club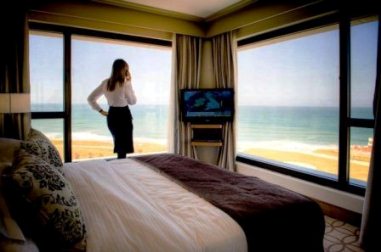 The rooms at the Intercontinental are spacious, modern and comfortable, with a spectacular view of the sea or the city.

There are lots of fun perks like duvet covers, big bathrooms and Dead Sea toiletries.
As in all sea-facing Tel Aviv hotels, ask for higher floors overlooking the beach and even better, try to get a room with a balcony. There's nothing like sitting on a balcony taking in another amazing Tel Aviv sunset!
And... if you're willing to spend a bit more, you will love the executive club suites and access to the executive lounge on the 24th floor. The lounge has dazzling views, it's open all day from 7:30 AM until 10:30 PM, and you get a plentiful choice of tasty snacks, fruit and drinks without additional charge.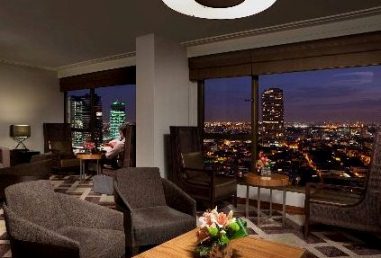 ---
Facilities at the David Intercontinental Tel Aviv
You'll enjoy relaxing at the lovely, decent-sized outdoor pool and poolside bar, open from April until November.
There is also a children's pool and during the holidays and summers, the hotel runs a small Kids Club that keeps your kids occupied with arts and crafts projects.
The Fitness Club on the 2nd floor is better equipped than most hotels with steppers, treadmills, stationary bikes and weights.
There is also well-known Riki Spa, where you can pamper yourself with a massage, or body peeling and facial. I really enjoyed a mixed Swedish -Thai massage I took there.. You can also enjoy dry and wet saunas and steam rooms.
Like other 5 star hotels, there is a fantastic Israeli breakfast buffet!In addition to the standard breads, salads, smoked fish, fruits and made-to-order eggs and other hot dishes, you can enjoy freshly squeezed orange juice, and excellent coffee!
Some of the guests I have sent here discovered that they have had to pay $15 per person for breakfast. Others weren't charged.
At most hotels in Israel, breakfast buffet is included, so make sure your breakfast is included when you make your reservation.
Le Aubergine, one of the better kosher gourmet restaurants in Israel, is located in the Intercontinental. For more about kosher dining in Tel Aviv, visit our page on the Best Kosher Restaurants.  Or visit our page on the best Tel Aviv Restaurants for some of my favorite places places to eat in the city that never stops.
My main gripe is that the  Intercontinental Tel Aviv still charges for WIFI fee in your room.  The price is not high at $15 per night, but given the high room cost, this annoys many visitors.

Even so, the Intercontinental Tel Aviv is one of the most luxurious hotels in Tel Aviv and I believe you will love your stay here.

Find Intercontinental Best Rates, Availability and Recent Reviews
---
You may also be interested in:
---