Eating Kosher in Tel Aviv

Some of the Best Kosher Restaurants
Eating kosher in Tel Aviv can be challenging. The food capital of Israel is known for its tremendous variety of restaurants, but most are not kosher...
But there is a growing number of excellent restaurants serving delicious kosher food. So for my religious friends, here's a list, in no particular order of some of my favorite top-notch kosher Tel Aviv restaurants.
---
If you want to try great Israeli kosher produce from the comfort of your home, explore here the best quality, kosher Israeli wine, or try other delicacies:

extra virigin olive oil
handmade chocolates from the Galilee 
pomegranate and wildflower honey
date and other sweet spreads
kosher Israeli gift boxes
and more right here.
So here goes for my six recommended kosher Tel Aviv restaurants!
---
Eating Kosher at 2C
The Best and Most Romantic Views in the City
Azrieli Round Tower, 49th Floor, Tel. 03-6081990
When I lived in New York, I used to bring my Israeli guests to Windows on the World for the best view in the world.
Here in Tel Aviv, 2C offers the best, most romantic views from the 49th floor of the Azrieli round tower.  

And the food is quite good. They serve quality steaks and are especially known for their main course of goose leg, not a common dish in Israel.
2C is not cheap, but their business lunch ranging between 79 and 99 shekels is a good bargain.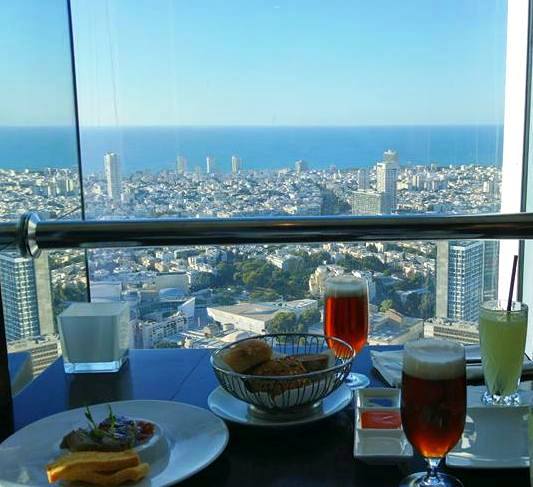 I think that the good food, combined with the spectacular views make this a great choice for eating kosher on your visit to Tel Aviv, or for a special occasion.
---

Eating Kosher at Shmulik Cohen Restaurant
For classic Jewish, Eastern European Food
146 Herzl Street
Whether you keep kosher or not, Smulik Hacohen restaurant is the best place for a nostalgic taste of traditional, Jewish Eastern European dishes...
It's one of husband's favorite restaurants. And his favorite dish is their chulent -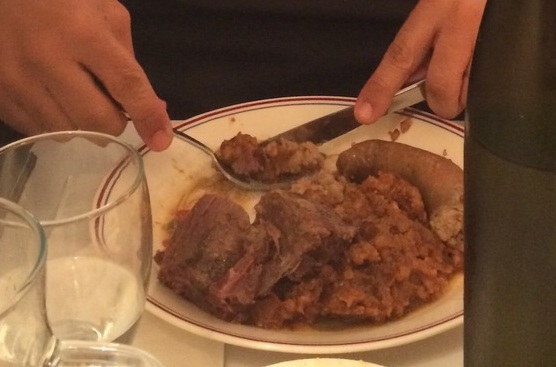 the classic dish consisting of meat, lima beans, barley and onions, with that distinctive, rich flavor of food that has been slow-cooked all night long. And of course, it includes kishka, the sausage-shaped mix of flour, meaty fats and spices.

You can also find on the menu:
chicken soup with kneidlach (matzo meal balls)
gefilte fish (stuffed carp patties)
succulent duck
Hungarian style goulash
both chicken and wiener (veal) schnitzel
 tzimmes - sweetened stewed carrots with dried fruit
cabbage salad
and much more...
Make sure to come hungry for great kosher eating at Shmulik!
---
Eating Kosher Fish and Dairy
at Gourmet Deca Restaurant 
10 HaTaasiya Street 
I discovered Deca by accident at my stepson's wedding, and fell in love with their food.  
Their fish is outstanding.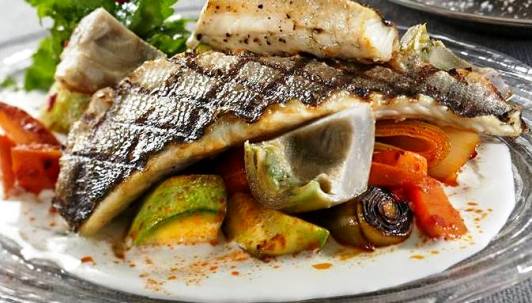 I love seafood.  To newcomers in Israel, I recommend trying the Lebrak fish in Israel, sometimes translated as European sea bass.
It's a wonderful fish and is grilled to perfection at Deca, on top of grilled, crunchy vegetables - artichoke, zucchini, carrot and onion. Tastes wonderful.
Deca also serves delicate, handmade pasta and great desserts.
---

Easting Kosher at Pacific Bistro
on the Tel Aviv Promenade
145 Hayarkon Street at the Crowne Plaza Hotel Tel. 03-5201169

Many of the best kosher restaurants in Tel Aviv are located in the deluxe hotels that are 'forced' to serve kosher food.
Pacific Bistro and Sushi Bar is located at the Crowne Plaza Hotel one floor below the lobby. The décor is a bit old fashioned, but make sure to order a table near the windows with the fantastic sea view.
The restaurant serves French meat and fish dishes with an Asian twist - not your typical upscale hotel fare.
The fusion dishes are fresh, creative and very tasty, even if you don't keep kosher.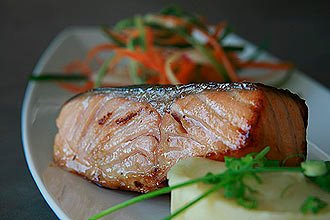 I ordered the salmon and mashed potatoes. Sounds ordinary enough but the miso – mirin marinade is out of this world.
Note that they no longer serve sushi.
Some of the other excellent kosher restaurants located in seaside Tel Aviv hotels that I recommend are:
Yakimono for great kosher sushi at the Hilton Hotel
West Side - at the Royal Beach Hotel  
chef Meir Adoni's Blue Sky at the Carlton Hotel
---
Great Dairy Kosher Eating at Uno
2 Weizman Street, corner of Shaul Hamelech St., Tel. 03-6932005
Try Uno for dairy kosher eating, a la Italia! This Italian restaurant has a fun atmosphere with great views of Tel Aviv.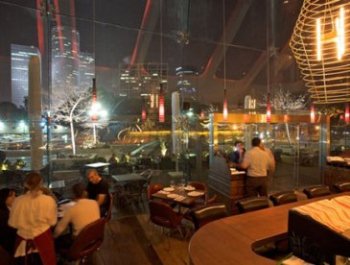 Uno is a five minue walk from the city's art, opera and Tel Aviv museum complex on Shaul Hamelech Street.
You may want to order several appetizers instead of a main dish.
Instead of focaccia, try from their delicious variety of bruschettas, roasted breads topped different combinations of olives, roasted vegetables, pecorino or other Italian cheeses and even fish.

For you sushi lovers, they have a wide selection of Italian crudo, an Italian version of sashimi.
Uno serves fish, pasta and I think some of the best pizza in Tel Aviv. 
I loved their 'Sicilian' pizza with a super thin, crispy crust, roasted eggplants, olives and capers. Yum!
---
Ethnic Kosher Eating at Regina
2 Koifman Street at the HaTachana Complex, Building 10, Tel. 03-7367474
For eating kosher at HaTachana, the renovated Old Train Station complex located in the south of Tel Aviv, try Regina. For more about HaTahana and other fun places to shop and browse, visit our page on Tel Aviv Shopping.
The restaurant is full of character. Chandeliers, potted plants, wooden window shutters and arched doorways.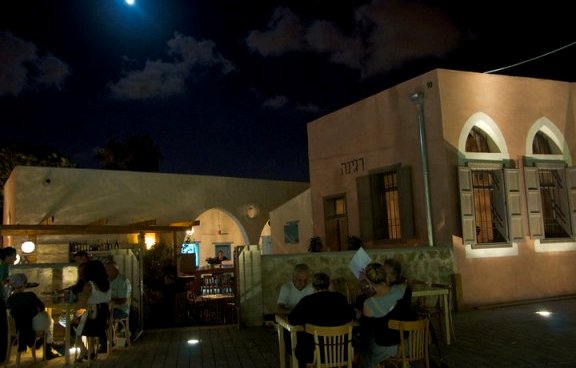 You can dine or have a drink in the charming courtyard outside or within.
It serves traditional ethnic food that Jewish grandmothers cook.
Moroccan spicy fish in tomato sauce. 
Ashkenazic Kreplach soup or Persian Gundi soup.
Polish chopped liver and and classic hummus sauce are just some examples.
---
I hope you enjoyed my pick list of kosher Tel Aviv restaurants. We would love to hear from you. Where do you enjoy eating kosher in Tel Aviv?
We'd love to hear your Tel Aviv
kosher restaurant review!
Share with us about your Tel Aviv kosher eating experience.
What Other Visitors Have Said
Click below to see contributions from other visitors to this page...

Hummus Kaful Ful - Great Persian and Hummus Restaurant

This is a great Persian Restaurant next to Agadir, on 2 Nachalat Binyamin Street. It has delicious dishes for a reasonable price. I discovered this …
Readers Recommend Kosher Restaurants

We just had dinner here at Regina. Its a very nice enchanting place. The food was great and service too!
You may also be interested in:
Go-TelAviv Home
›
Tel Aviv Restaurants
› Kosher Tel Aviv Restaurants