4 Star Metropolitan Hotel Tel Aviv

with Convenient Family Apartment Suites
The Metropolitan Hotel Tel Aviv is the place for you if you're looking for a hotel that is comfortable, convenient and relatively affordable.

The suites are especially good value.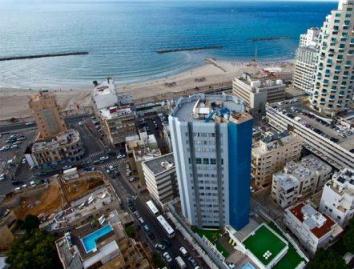 It's a 4 star hotel in a perfect location, just a block from the beach and within walking distance of the  Nahalat Binyamin arts and crafts outdoor market, Carmel open air market and other attractions.
In the picture above, it's the building with the blue stripe.
---
Rooms
and Suites 
at the Metropolitan Hotel Tel Aviv
The hotel is divided into two areas.  
The original taller building contains most of the hotel rooms. The 1 and 2 bedroom apartment suites are all located in the smaller, adjacent building.
On the upper floors, all the 'superior' hotel rooms and two room suites have been renovated and are pleasant and modern. Make sure to ask for a sea view!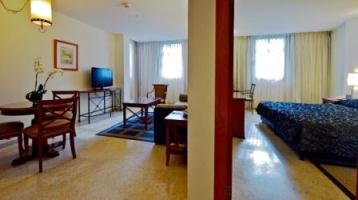 The apartment suites in the newer, smaller building are comfortable and beautiful, and in particular the two bedroom suites are a great value and suitable for larger groups.
All the suites include a full kitchenette with a refrigerator, coffeemaker and microwave oven, all practical if you're travelling with kids.
The standard hotel rooms in the original buildings are pretty reasonably priced, although they are somewhat small and tired looking, with outdated furniture and carpeting.
If price and location are what's important for you, they may still be a decent option.
---
Facilities and Service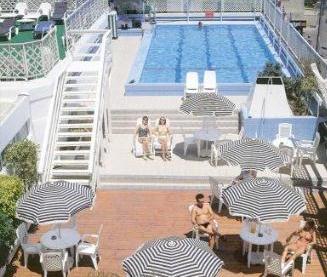 The rooftop pool is small but pleasant. it can be convenient to get in some quick sunbathing or pool time, especially for the kids.  
If you prefer the sea, it's a short walk one block to the nearby Trumpeldor Beach, one of the gorgeous Tel Aviv beaches. 
There is a small but decent fitness room and inexpensive parking in the hotel garage.
The hotel offers free wifi, but make sure to check that it works in your room beforehand.
The food is above the average hotel fare.
Included in your hotel fare is a generous Israeli breakfast buffet offering your choice of eggs, as well as a variety of breads, cereals, cheeses and yogurts, fish (herring, mackerel, sardines, salmon) and loads of Israeli salads.
I've been told from guests that other meals are not bad at all, and the staff are helpful and friendly.
Do try out the many good restaurants and cafe's within walking distance of the hotel. For tips on where to eat, you can visit our page on our favorite Tel Aviv restaurants.
---
I  recommend the Metropolitan Hotel Tel Aviv if you're looking for a 4 star hotel in a good location, and especially if you're travelling with kids and want a 1 or 2 bedroom suite that is reasonably priced in a full service hotel.

Find Metropolitan Hotel  Best Rates, Availability and Reviews
You may also be interested in: