Charming HaTachana

The Renovated Old Train Station of Tel Aviv
Tel Aviv's Old Train Station complex is a delight for the entire family.

At 1 Koifman St., corner of HaMered St. in between Neve Tzedek and old Jaffa, it's called in Hebrew simply - HaTachana – which means 'the Station.'
The station complex combines a bit of everything - history, art galleries, boutiques and specialty stores, restaurants and activities for kids and families.
---
The History of The Old Train Station
HaTachana was the site of the first train station ever built in the Middle East in 1892.
The railroad station and line between old Jaffa and Jerusalem was a major advance back then, replacing camels for hauling people and freight. In its early years, the 35 mile (55 kilometer) ride took 6 hours! Eventually it was shortened to 4 hours. The station was used until the founding of the State of Israel in 1948.
The station was defunct and abandoned until it was renovated and reopened as an entertainment complex a few years ago.
---
Things to Do at Tel Aviv's Old Train Station
Stroll around the train station complex at your leisure.
Enjoy the pastel historical buildings. Browse the Israeli fashion boutiques and interesting design stores. Stop for a meal or a snack at one of the many cafes and restaurants. Catch the current art exhibit. And enjoy the street circus performance!
---
Visit the Historic Buildings
The station complex includes 22 buildings from the Ottoman period.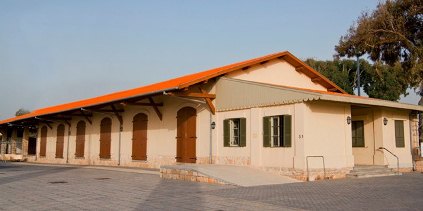 They are interesting and fun to visit - the historic train station, the cargo terminal, the Arab-style 'Red home, a brick factory and villa owned by the Wieland family, part of the German Templars, a Protestant sect who moved to Israel.

---
Street Performances
Every Saturday, you can enjoy free circus performances in the Center Stage at the Station.
Each performance runs 30 – 45 minutes. The shows including acrobatics, fire dancing, clowns, jugglers, street musicians and living statues.
During the summer performances take place Saturdays between 5 and  8 PM.
From mid October until April) - performances take place every Saturday from 1 PM until mid-afternoon.
---
3D Journey in Time
The kids will enjoy the authentic train carriage ride, which includes holograms, light and sound effects and 3D video clips. The ride takes them back over 100 years to meet the people who were part of the history of old Tel Aviv and the founding of the first train ever to Jerusalem.

Buy the tickets at the Tourist Office in Building #5 or at the  grocery store in building #13.
When:
Sunday to Thursday from 2 to 8 PM
Fridays and Holiday Eves from 10 AM to 3 PM
Saturdays and Holidays: 10 AM to 8 PM
Tickets:Tickets can be purchased at the HaTachana buildings number 5 or 13
Cost: Adults - 20 shekels, Children under 15 years old - 14 shekels, Senior citizens - 10 shekels
---
Art Exhibit
There is always at least one art exhibit at HaTachana, and they usually include works from contemporary and up and coming young Israeli artists.
---
Dining at the Old Train Station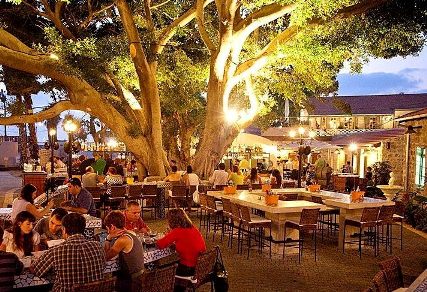 There are nice places to eat at HaTachana, whether you want a sit down meal, a snack or a drink.

Regina has great atmosphere, whether you sit indoors or outside, and good (and kosher!) ethnic food from all over the Jewish diaspora. Like this -
This is a slow-cooking meatball sofrito with beef, lamb, potatoes and egplants. You can read more on Regina and our top ten list of kosher restaurants in Tel Aviv.
We think the best restaurant in the complex is Vicky Cristina, a Spanish Tapas and Wine barץ  Very tasty.  Great atmosphere like all the other restaurants at Hatachana, but not cheap...

For southern Italian food, we recommend Italki BaTachana. In Hebrew, that's 'Italian at the Station'.Chef Amir Markovitz's restaurant specializing in fresh and lighly cooked fish and seafood.

Not hungry but feel like a snack? Go to  Vaniglia, a delicous local Israeli ice cream chain with lots of interesting flavors and combinations. My personal favorite is their almond ice cream mixed with pieces of rich poppy-seed cake . Unusual but so delicious!
Learn more about Tel Aviv Restaurants.
---
You may also be interested in: