Top Ten Kosher Restaurants in Tel Aviv


From Fancy Gourmet to Grandma-style Cooking, Covering Kosher Meat and Kosher Dairy Places



Looking for great kosher restaurants in Tel Aviv?

Eating kosher in Tel Aviv can be challenging. The food capital of Israel is known for its excellent cuisine and variety of restaurants, but most are not kosher.... 

But there are a growing number of excellent restaurants serving delicious kosher food in Tel Aviv. Many of them are located in Tel Aviv's top hotels, perhaps because hotels in Israel are 'forced' to serve kosher food for political and economic reasons. 
So for my religious friends, here's a list of my favorite, top-notch kosher Tel Aviv restaurants (in no particular order).
Some are run by gourmet chefs, others specialize in ethnic cuisine, but all are delicious. 
---
Kosher Restaurants in Tel Aviv

1. Deca Restaurant - Dairy and Fish Gourmet Dining
10 HaTaasiya St. Tel Aviv 03-562-9900
I discovered Deca by accident at my stepson's wedding, and fell in love with their food.  
Their fish is outstanding. For fish lovers new to Israeli cuisine, I recommend trying the Lebrak fish, sometimes translated as European sea bass. I think lebrak the best local fish in Israel.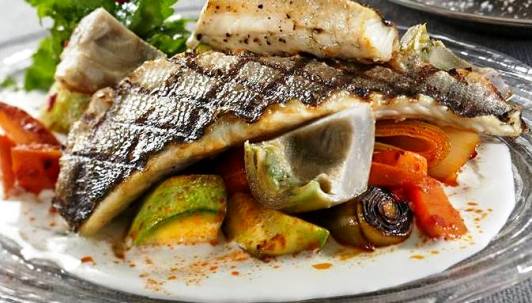 At Deca, the Lebrak is grilled to perfection on top of crunchy vegetables - artichoke, zucchini, carrot and onion. Tastes wonderful.

Deca also serves delicate, handmade pasta and great desserts - such as this chocolate masterpiece!
---
Kosher Restaurants in Tel Aviv

2. Herbert Samuel is the Best Kosher Gourmet in Israel 
Ritz Carlton Hotel. 4 Hashunit St. Herzliya, Tel: 073-203-7596

Although Herbert Samuel is technically in Tel Aviv's northern suburb Herzliya, I've added it to this list because I believe it's the best kosher gourmet restaurant in all of Israel.
Herbert Samuel is run by Yonatan Roshfeld, one of Israel's best albeit controversial chefs. The menu is similar to the mythological Tel Aviv gourmet restaurant of the same name that closed down.
The selection is small, but everything is outstanding.

One of the signatures appetizers is the tomato salad.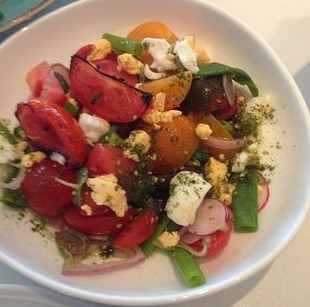 Sounds boring, right?
But this unique salad combines kinds and colors of both fresh and grilled tomatoes, with red and green onion and sheep cheese.

It is probably the best tomato salad I've ever had!
My son ordered the classic  Lamb Chops, slow-cooked for hours. It melted in your mouth.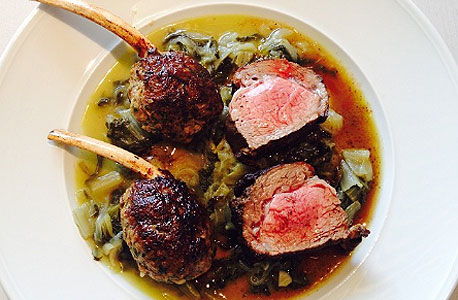 My husband felt like going light. He tried the Mushroom Gnocchi with truffles and peas.
I would normally expect such a dish to be made with butter and cream, a no-no in a kosher meat restaurant.
But the rich, earthy mushroom flavor was to die for...
---
Kosher Restaurants in Tel Aviv

3. Shmulik Cohen Restaurant for classic Jewish, Eastern European Food
146 Herzl St. Tel Aviv Tel: 03-681-0222
Whether you keep kosher or not, Smulik Hacohen restaurant is the best place for a nostalgic taste of traditional, Jewish Eastern European dishes. its run by the same family for nearly 80 years!
It's one of my husband's favorite restaurants. His favorite dish is their chulent -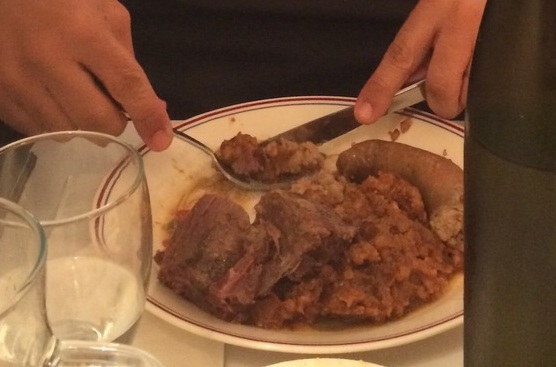 the classic dish consisting of meat, lima beans, barley and onions, with that distinctive, rich flavor of food that has been slow-cooked all night long. And of course, it includes kishka, that fatty but delicious, sausage-shaped mix of flour, meaty fats and spices.

You can also find on the menu:
chicken soup with kneidlach (matzo meal balls)
gefilte fish (stuffed carp patties)
succulent duck
Hungarian style goulash
both chicken and wiener (veal) schnitzel
 tzimmes - sweetened stewed carrots with dried fruit
cabbage salad
and much more...
Make sure to come hungry for great kosher eating at Shmulik's!
---
Kosher Restaurants in Tel Aviv
the Kosher Power Duo: 
4. Blue Sky for Dairy and 5. Lumina for Meat
10 Eliezer Peri Street at the Carlton Hotel at the Tel Aviv beachfront. Blue Sky Tel. 03-520-1830. Lumina Tel. 03-520-1828
Meir Adoni is one of Israeli's super chefs, owner of the recently opened Nur Restaurant in New York city. Although he moved to the Big Apple, he continues to operate this  kosher duo pair of gourmet restaurants at the Tel Aviv Carlton Hotel:
Lumina Restaurant for meat and fish dining
and Blue Sky Restaurant on the rooftop for dairy and fish
In fact, Blue Sky and Lumina both ranked in France's La Liste of the world's 1,000 best restaurants! The restaurants are expensive even by Israel standards, but they offer a true culinary and visual experience. The food is wonderful and served artistically.
A great way to start the weekend is breakfast at Blue Sky.
They serve one of the best brunches in Tel Aviv. Its pure pleasure enjoying the delicious food on a sunny day with the incredible city views from the fifteenth floor, although it is not cheap at about 135 shekel per person.
Fish is served in both Blue Sky and Lumina, and many of the dishes are interchangeable between the two restaurants.
You may want to try the gourmet fish and chips as an appetizer. Its a real treat.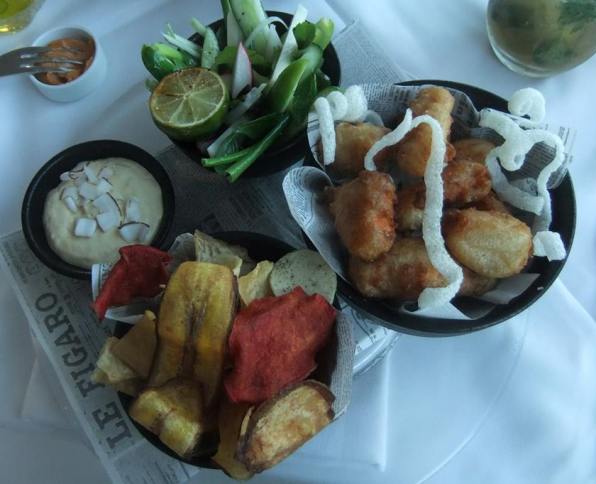 Another excellent fish main entree is  "Malyasia."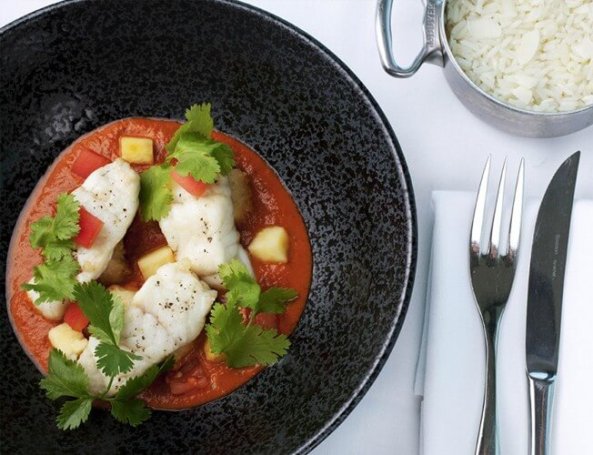 This fusion dish of baby grouper is served in a Moroccan'Hreime' and Thai red curry sauce with fresh cilantro. Very good....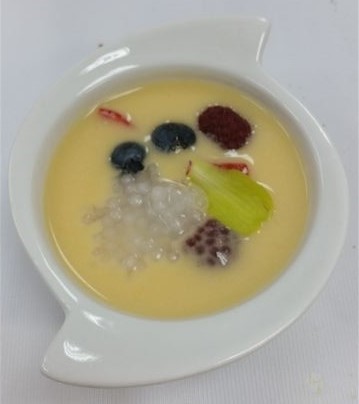 Besides the classic chocolate and fruity deserts, you can try the light and tangy Exotic Soup.
Its an Asian-inspired cold fruit soup made with citrus fruits, passion fruit and lychee, with spiced coconut milk.
Uniquely delicious, especially on hot summer nights. 

---
Kosher Restaurants in Tel Aviv


6. 2C Restaurant for the best view in town!
Azrieli Round Tower, 49th Floor, Tel. 03-6081990
When I lived in New York, I used to bring my Israeli guests to Windows on the World for the best view in the world.
Here in Tel Aviv, 2C offers the best, most romantic views from the 49th floor of the Azrieli round tower.  

And the food is usually good, although not cheap. They serve quality steaks and are especially known for their main course of goose leg, not a common dish in Israel.
2C is not cheap, but their business lunch is a relatively good bargain.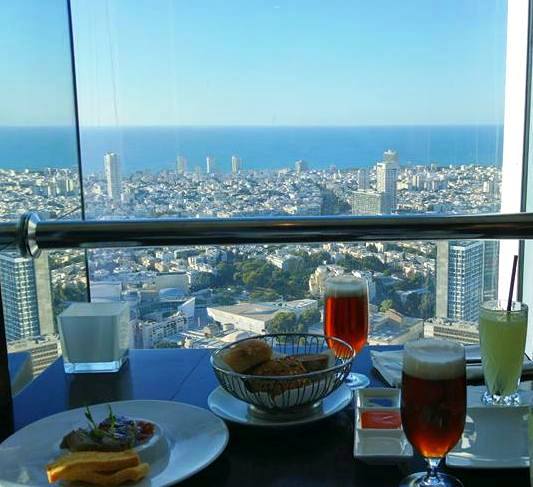 The spectacular views make this a fun choice for eating kosher on your visit to Tel Aviv, or for a special occasion.

---
Kosher Restaurants in Tel Aviv


7. Kinto for Authentic Kosher Georgian Food 
6 Koifman Street, Tel. 03-779-0000
Kinto Restaurant is one of the few kosher restaurants in the world serving bonafide Georgian cuisine.
On some evenings, you will also be entertained with authentic Georgian music. Many of the songs are performed by the owner Morris Janashvili, a popular singer in Georgia and with the Jewish Georgian community in Israel.
Their Vegetable Platter salad is fresh and delicious.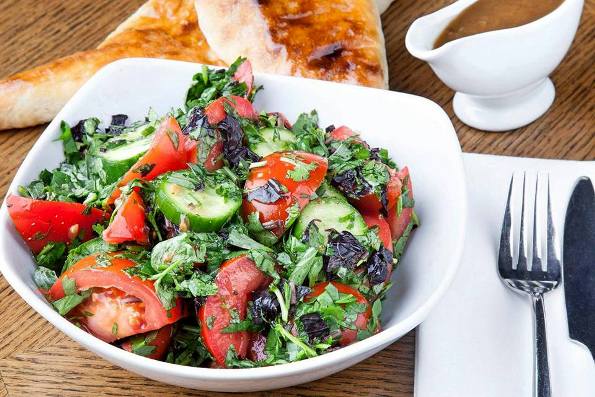 Besides  tomatoes, cucumbers and onion, its loaded with fresh herbs - cilantro, tarragon and red basil leaves.

One of their specialties is the classic Georgian dish of Khinkali,  dumplings stuffed with minced meat and spices.
How to eat a khinkalie? Not with a fork and knife! You need to take it by the hand, bite into the tip and suck out the tasty meat juice that spurts out, and only afterwards eat the dumpling.
The main dishes include a variety of different grilled meats.

Another Georgian specialty is eggplant stuffed with a walnut paste.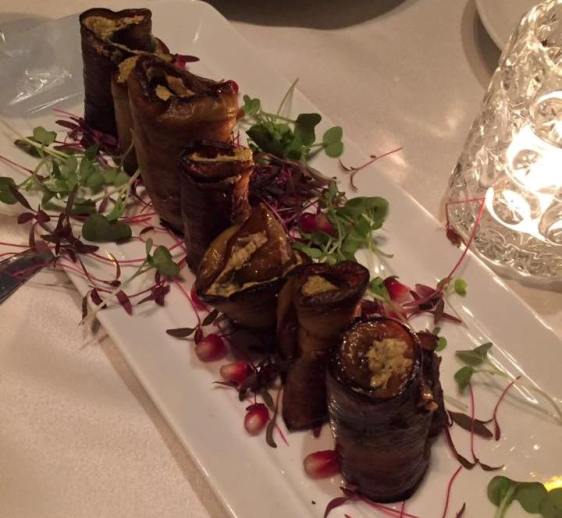 In fact, many side dishes and deserts are made with walnuts, a favorite Georgian ingredient.
---
Kosher Restaurants in Tel Aviv


8. Yakimono for the best Kosher Sushi 
205 HaYarkon St  Tel Aviv at the Hilton Hotel. Tel. 03-520-2128
We think that Yakimono at the Hilton Hotel serves the best kosher sushi in Israel.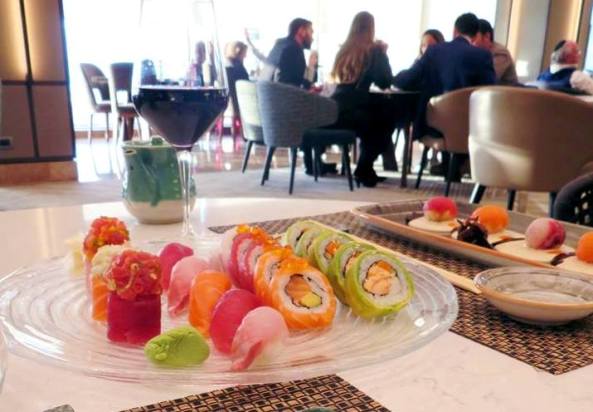 It is just as good as the sushi at the original non-kosher Yakomono  on Rothschild Blvd, but with a smaller selection since there is no seafood.
Besides sushi, there are excellent Japanese fish and meat dishes -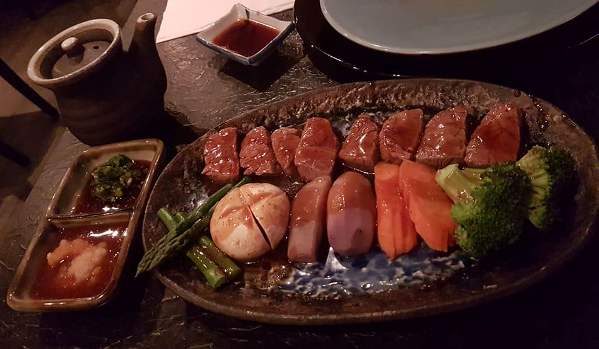 such as this classic steak filet with grilled vegetables, Japanese style.

---
Kosher Restaurants in Tel Aviv


9. Pankina for Kosher Italian (Dairy) at Reasonable Prices! 
39 Gordon Street (corner of Dizengoff). Tel. 03-644-9793
Pankina is located within walking distance of the main beachfront hotel strip.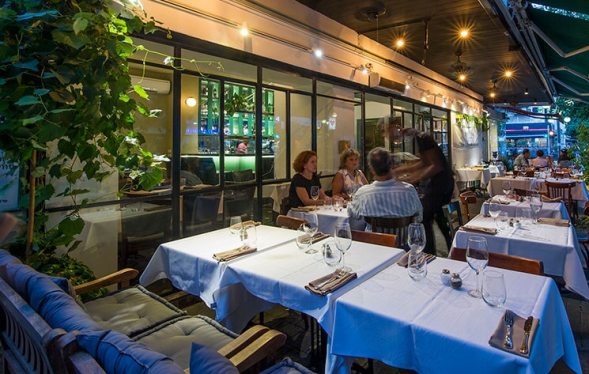 Its not easy to find quality kosher restaurants in Tel Aviv that are decently priced. Pankina is one of the few. At this dairy Italian style restaurant, you'll find delicious pasta, fish, focaccia breads, classic Roman dishes and Italian deserts.

One of the best fish dishes is the salmon served baked within a crust, with risotto in the side.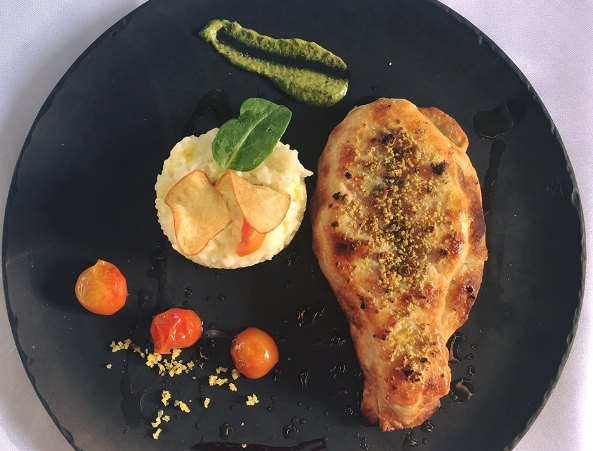 There is also a superb tuna dish, served encrusted with pistachio nuts.
All the pasta is, of course, homemade, such as this gnocchi made with lebrak fish, parmesan cheese and tomatoes.
Pankina is an excellent kosher restaurant choice for fair prices and good Italian dairy and fish. 
---
10. Ethnic Kosher Eating at Regina
2 Koifman Street at the HaTachana Complex, Building 10, Tel. 03-7367474
For eating kosher at HaTachana, the renovated Old Train Station complex located in the south of Tel Aviv, try Regina. For more about HaTahana and other fun places to shop and browse, visit our page on Tel Aviv Shopping.
The restaurant is full of character. Chandeliers, potted plants, wooden window shutters and arched doorways.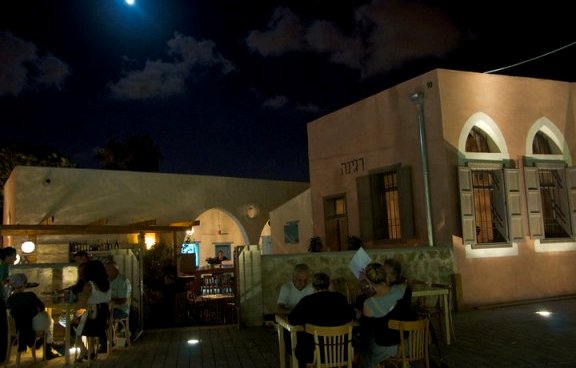 You can dine or have a drink in the charming courtyard outside or within.
It serves traditional ethnic food that Jewish grandmothers cook.
Things like Hreime - Moroccan spicy fish in tomato sauce. Ashkenazic Kreplach soup and similar yet different Persian Gundi soup. Polish chopped liver and and classic hummus sauce are just some delicious examples.
---
I hope you enjoyed my pick list of kosher Tel Aviv restaurants.
We would love to hear from you. Where do you enjoy eating kosher in Tel Aviv? Tell us about your favorite places!
We'd love to hear your Tel Aviv
kosher restaurant review!
Share with us about your Tel Aviv kosher eating experience.
What Other Visitors Have Said
Click below to see contributions from other visitors to this page...

---
Unique Experience - Dining with Locals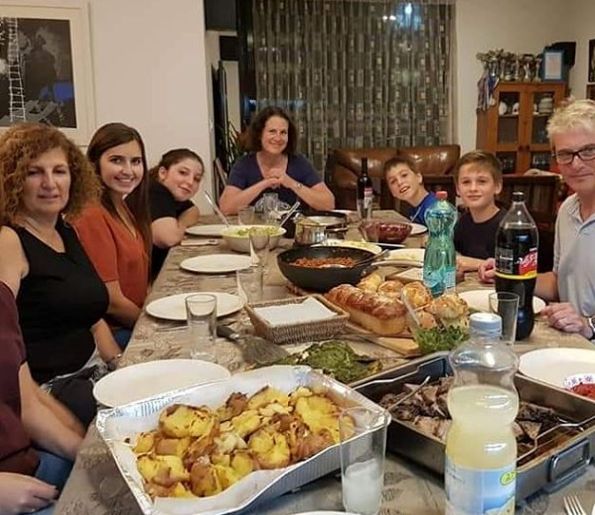 If you are looking for a truly unique dining experience, Betzavta connects you to Israelis hosts who invite you for a home-cooked dinner. It's an amazing way to meet local Israelis, enjoy a delicious meal and make new friends.
Find out more here.
You may also be interested in: