Tel Aviv Port - Namal Tel Aviv

A Lively Favorite for Locals and Tourists Alike
The Tel Aviv Port is a fun, happy place to visit all year round. It is one of my favorite places to go.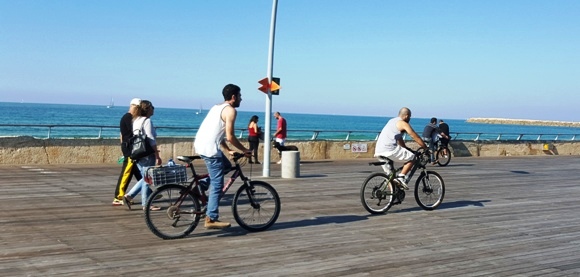 Explore Renting Tel Aviv Vacation Apartments
It has a little bit of everything that is Tel Aviv - blue sea, serene mornings, bustling markets, shops and restaurants galore, kids stuff, outdoor happenings and a lively night scene with clubs and bars.
And best of all, it has lots of people of all ages walking, biking or just chilling at Namal Tel Aviv, as it is called in Hebrew. 
The wooden decks of the port are part of the 9 mile long Tel Aviv Promenade. You can head south along the promenade as far as to Jaffa, or work your way north to Tel Aviv's Hatzuk beach.
If you are so inclined, you can jog it -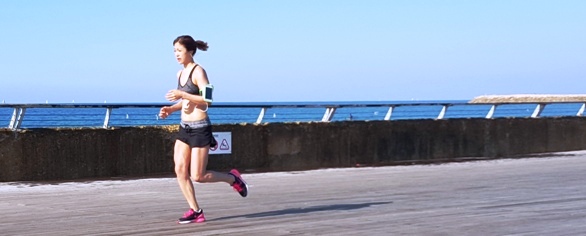 ...rollerblade or even go fishing along the port.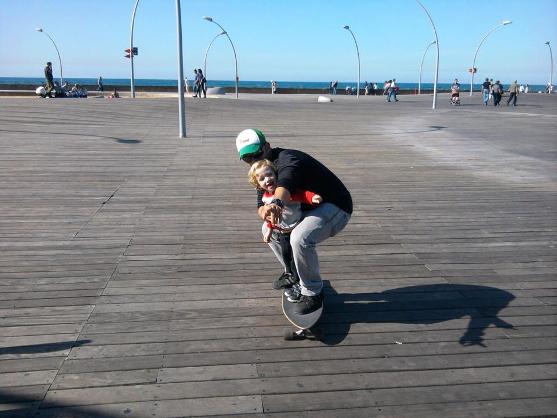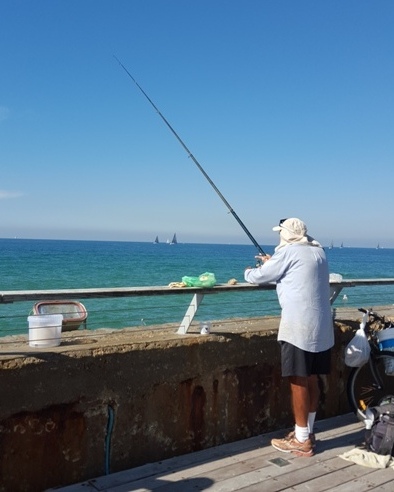 ---

Especially during the summer,  the port is packed until the wee hours of the night with people strolling, talking and eating as they enjoy the refreshing sea breeze. 

Most of the shops in the port are fashion boutiques carrying well-known international and Israel brands. The shops are open until until 10 PM and even later during the summer.
It is also a perfect place to come with kids who can play along the wooden decks, or take a ride on the merry-go-around.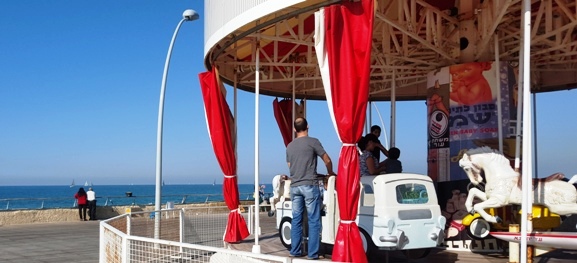 ---
Where Is It?
Tel Aviv port is located in central north Tel Aviv.  
Its southern border is adjacent to Metzizim Beach and it runs one kilometer northwards until where the mouth of the Yarkon stream empties into the Mediterranean Sea. At its northern tip is the Wauchope footbridge, named after Sir Arthur Wauchope who was the British High Commissioner before WWII.

Most people call it simply Reading Bridge. You can cross the bridge to the old Reading power station and lighthouse, both Tel Aviv landmarks.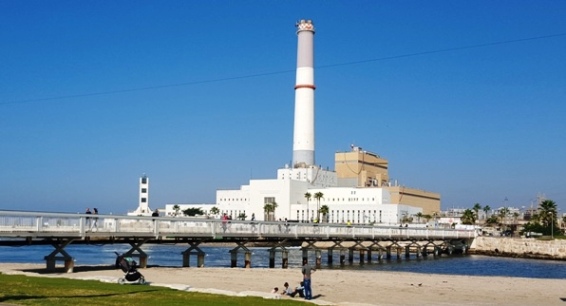 This spot is the beginning of beautiful Hayarkon Park in Tel Aviv which runs along the Yarkon Stream to its source about 20 kilometers east.
---
History of the Tel Aviv Port
Unlike the Jaffa Port where you can still see fishing boats plying their trade, you won't find any shipping vessels here.
The port is no longer active.  In fact, it was only built in the 1930s when shipping from Jaffa became too dangerous during the Arab uprising. In its brief heyday, Tel Aviv Port was used for passenger travel and to ship Israel's main export of the time, Jaffa oranges and other citrus fruit. The goods were stored in large hangers which still exist today.
Less than thirty years after it opened, the port activities were transferred to Haifa and Ashdod.  
Its shipping days are over. The hangars have been transformed into public spaces for shops, restaurants and clubs.
---
The Namal Market at Hangar 12
Even if you're not a foodie, don't miss the indoor Namal Food Market located at Hangar 12.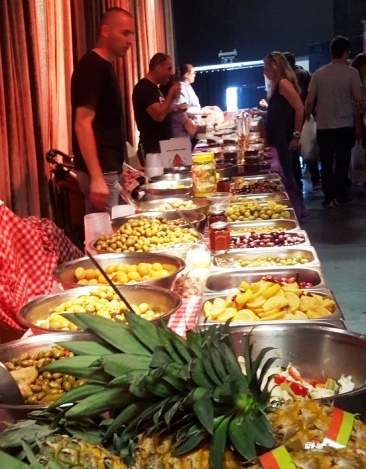 The exceptional quality of the foods here is akin to London's Borough Market or Barcelona's La Boqueria.
Enjoy the sights, smells and tastes of freshly baked bread and a scrumptious array of fine foods: local and international cheeses, handmade salamis, wines, specialty fruits and vegetables, chocolates, hand-cooked pasta, and so much more...  
 You can take a break over a mug of beer from one of Israel's boutique breweries.
In addition to the indoor market, there is an outdoor Farmer's Market on Fridays only from 7 AM to 5 PM displaying seasonal, fresh Israeli produce.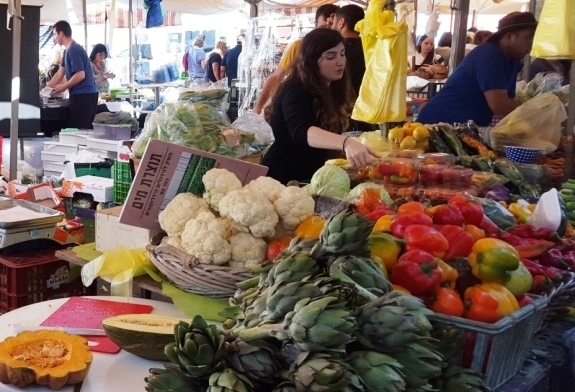 ---
Free Yoga on Friday Mornings at the Port
Every Friday morning  you can join a fun, free yoga lesson at the Tel Aviv Port, courtesy of EllaYoga studio.
There is nothing like doing yoga in the fresh air, sunshine and sea breeze to start the weekend peacefully... The lesson is guided by qualified yoga instructors and will include  exercises for both body and mind.
The sessions are open to all. (Young children must be supervised.)
Event details:
When: The yoga lesson runs for one hour from 8 AM to 9 AM on Friday mornings
Where: At the port, near the carousel area
Conditions: the yoga lesson takes place weather permitting. You can safely assume that the weather conditions will allow the class to take place between May and November.
Level: The yoga class is appropriate whether you are a beginner or an experienced practitioner.
What to bring with you? Comfortable clothing, a mat (or two thick towel(s), and a bottle of water.
---
Restaurants at the Tel Aviv Port


There are lots of Tel Aviv cafes along the port, and some fast food joings, a hummus place, and a few quality dining and gourmet restaurants.
The better quality restaurants are in the Namal Market area. Here are our favorites:
Rokach Shuk
 -  located in the Namal Market in Hanger 12
This 'Sea & Food Bar' is run by gourmet chef Eyal Lavi. Rokach Shuk offers light and tasty Italian and local cuisine, extra fresh and cooked on the spot. 
My husband is a stickler for fried calamari.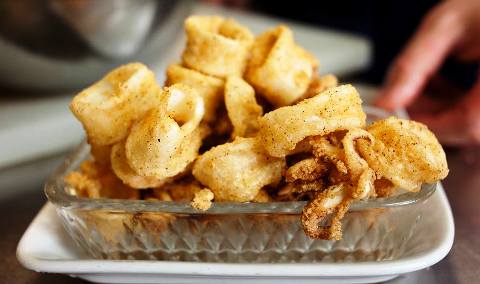 To be well-made, they have to be light and crispy, never overdone, and not too oily. He says these are the best he's had...
Chef Eyal Lavi is also known for his  more formal, French seafood gourmet restaurant called Rokach 73. I highly recommend both! 
---
Kitchen Market
 - in the Namal Market on the 2nd floor of Hangar 12 
This excellent gourmet restaurant is the one most closely associated with the market and the slow cooking philosophy behind it. 

For mushrooms lovers, I recommend their delicious Funghi Gnocchi -
- made with both porcini and shimeji mushrooms and topped with thin slices of parmesan.  It is simply delectable!
---
Yulia 
at Hangar 2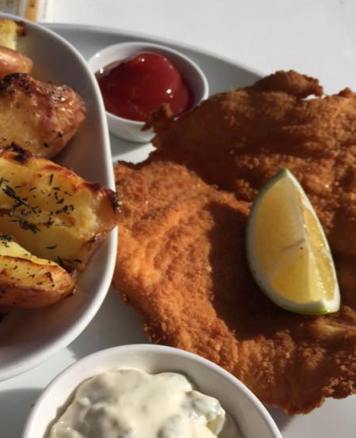 Yulia is run by the same group that ran Boya, the excellent seafood restaurant at the Port that closed its doors in 2015.  
The sea views are fantastic.  
They serve classic Israeli fare. My kids enjoy the shnitzel and potatoes.
Press the link to discover more of the Best Tel Aviv Restaurants.
You may also be interested in: