The Best Hummus in Tel Aviv

Where to Eat Hummus Like a Native
Wondering where you can eat the best hummus in Tel Aviv?

Like most Israeli's, my family and I adore hummus - the ultimate Israeli fast food made from chickpeas.
Freshly made hummus is really delicious. The supermarket variety simply does not compare.  

And its healthy too.

Hummus is full of protein, iron, vitamins and minerals.  While its high in fat, most is unsaturated. If you're calorie conscious, you can usually order half a serving, and some places offer whole wheat pita bread.
We eat it morning, noon and night. Try it. 
Having eaten hummus in hundreds of places, here are our five recommended places to eat hummus in Tel Aviv.  
But just before you read about them, you need to know the basics on eating hummus in Israel.
---
How to Eat Hummus
Hummus is served drizzled with extra virgin olive oil, and often with chopped parsley and paprika.
You eat it by dipping your torn pita bread directly into the hummus. No forks or knives please!

You can eat hummus plain or with a variety of toppings. I love them all! The most popular ones are:
Tehina - the well-known sesame seed spread, served on the hummus.  
Tznobar - toasted crunchy pine-nuts on top 
Masbaha – cooked, whole chickpeas served in a steaming hot sauce, on the cold hummus
Ful (pronounced FOOL) – a fava bean sauce served hot on top of the cold hummus. My personal favorite
On the side, you will be served (or ask for) garlic-infused lemon juice, sliced raw onions and harif - a hot sauce.

At most Hummus joints you can also order side dishes of crispy falafel balls (also made with chickpeas and spices), Israeli-style chopped salad, chips (french fries) and assorted Israeli salads.

There are lots of other toppings for hummus. Two classics are hummus with hot mushrooms -
Other popular dishes are hummus topped with small chunks of meat, and hummus with shakshuka,  a classic Israeli dish on its own of eggs cooked in a rich tomato sauce.
A portion of hummus in Tel Aviv runs from about 15 to 40 Shekels. Be aware that some hummus only joints don't accept credit cards.
---
Five Places Serving the
Best Hummus in Tel Aviv
There are so many varieties of hummus.  It can be light or thick, aromatic or simply spiced, creamy or chunky, lemony or hot, with or without toppings.

Our five recommended restaurants all serve their own unique and delicious hummus:
Best Hummus in Tel Aviv 
1. Abu Hasan (also called Ali Caravan)
14 Shivtei Yisrael in Jaffa, and around the corner on Dolphin Street
Abu Hasan opened a 2nd Tel Aviv branch at 3 Kelman Magen Street in the Sarona market
Abu Hasan is a Tel Aviv institution. The original hummus joint in Jaffa is an authentic blue-collar workers joint, with no frills seating and basic décor. But it is worth it!
Telavivians flock here because it is so darn good.
Their most famous dish is their heavenly masbaha - 
Masbaha is a particular type of hummus made with whole chickpeas, so it does not have the consistency of a paste.  It is made with more tehina than regular hummus and is very flavorful. 
Abu Hasan's masbaha is delicate, fluffy and legendary!
If you want to try a bit of everything, order the triple dish, called the 'meshulash'.
The triple dish combines hummus, masbaha and ful (warm fava bean sauce). This is a mouthwatering dish, and I guarantee you won't walk away from the table hungry...
Like many traditional hummus places, Abu Hasan in Jaffa is open early in the morning and serves until the huge Hummus pot is empty, from 8 AM until 3 PM. 
---
Best Hummus in Tel Aviv 
2. Hummus Ashkara
Hummus Ashkara is another Tel Aviv hummus institution. It's a favorite with local celebrities who frequent the place.
Ashkara's hummus is quite thick with a unique texture. The hummus isn't overly spiced, so no spice masks the pure taste of chickpeas. It's delicious. 
Beside serving great hummus dishes, Hummus Ashkara is open every night until 2 AM (except Fridays) which makes it a favorite with the late night party crowd. In fact, it used to be open all night, but the city forced them to shut down between 2 to 6 AM. What a shame.
---
Best Hummus in Tel Aviv 
3. Hummus Shlomo and Doron
Shlomo and Doron is located in Kerem HaTaimanim, the Yemenite Quarter.  It is fun to wander around the narrow streets and market of this neighborhood, one of the oldest in Tel Aviv.
There are several places serving hummus in the Kerem, but we think Shlomo and Doron offers the best.
Try their hummus with ful ( fava bean topping) and a hard boiled egg.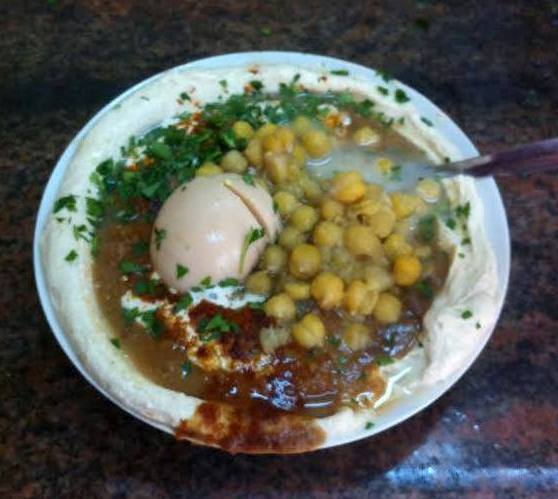 I love the mixed flavors - the earthy warm fava bean sauce on top of the gritty hummus paste, the spicy red harif sauce, the fresh parsley taste, the nutty olive oil and the lemony garlic juice sprinkled on top.
Topped with the egg and eaten with pita bread, this is a hearty, healthy and amazing meal!
---
Best Hummus in Tel Aviv 
4. Mashawsha Hummus
40 Pinsker Street (not far from Dizengoff Square)
Mashawsha is a type of flavorful hummus made in the Galilee in the north of Israel.  It is similar to masbaha, but rather than whole chickpeas, the beans are 'broken' before they are cooked, resulting ina hummus paste that is more like a chunky stew. It is often served with a warm topping of whole chickpeas.

The mashawsha here is so tasty... and much airier than regular hummus.  
Alongside the dish you are served homemade pickles, cabbage salad and an extremely spicy green sauce. Be warned!
You can also ask for whole wheat instead of regular pita bread.
---
Best Hummus in Tel Aviv 
5. Hummus at 206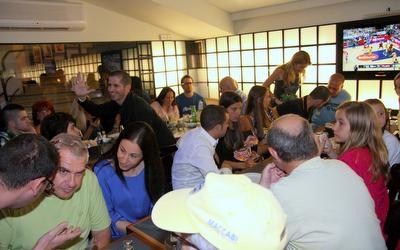 Although 206 restaurant is in a residential section of Tel Aviv and a fifteen minute drive from the main tourist area, I highly recommend it.
Their homemade hummus is a thick paste, less spicy and with more of a tang than other hummus varieties. But it is well loved by Israelis and is positively addictive.  My kids refuse to eat any other hummus.  

206 not a hummus joint, but a full fledged Middle Eastern restsaurant.  We eat here often and usually start with hummus as an appetizer, and continue to the main courses and especially their delicious grilled meats and fish.
Bon Apetit or as they say in Hebrew, bete'avon!
---
Make Your Own Hummus at Home
If you've enjoyed your hummus while in Israel, why not make your own at home.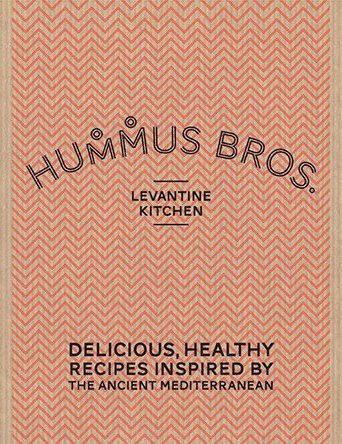 There are lots of recipe books dedicated to hummus, but my favorite is Hummus Bros. - Delicious, Healthy Recipes inspired by the Ancient Mediterranean.
It's a great book with wonderful pictures written by two college kids, one Israeli and one British who created the 4 Hummus Bros restaurants in England. Their hummus is inspired by the Israeli-Lebanese variety.
---
You may also be interested in:
-