Where to find
the Best Burekas in Tel Aviv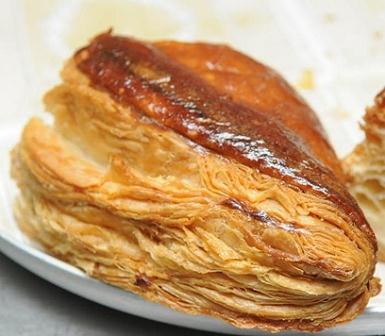 Mmmm, burekas……
Crispy, flaky, melt in your mouth crust on the outside, filled with cheeses, spinach, spiced mashed potato, mushrooms or even chopped meat. 
Everyone has their favorite.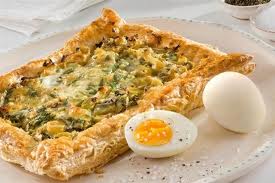 My daughter Eden loves the tiny 'burekitas' stuffed with tangy olives. 
My son Gilad, like many kids, goes for pizza-flavored ones filled with tomato sauce, cheese and oregano.
My Dad likes his filled with mashed potatoes, while I prefer the spinach and feta cheese filling.  
---
Origin of Burekas
These ubiquitous pastries have an interesting history. 
Believe it or not, 'burek' is a stuffed pastry that originated in Central Asia! Asian Turkish tribes brought them in the Middle Ages to Turkey, Bulgaria, Greece, and other Balkan countries, where they are still quite popular.
Jews who escaped the Spanish Inquisition in the in the late 15th century eventually reached the Balkans where they discovered  'burek.' They renamed them 'burekas', a direct influence of their Spanish dialect called Ladino. 
Their descendants who immigrated to israel in the late 19th and early 20th century brought this popular pastry to Israel.
They have become a classic Israeli snack, or even a delicious and cheap meal, served on the side with a hard boiled egg, sour pickles, tehina sauce, sliced tomatoes or salsa sauce. 

Israelis love 'em!  You will too.
---
Recommended Burekas Eateries In Tel Aviv
Bakeries, cafes and restaurants all over the city serve these Balkan pastries.  
But I'm sorry to say that all too often, they are not that good. They tend to be too oily, heavy and mushy, instead of light and flaky.
Here are the places I recommend for the very best, flakiest Tel Aviv burekas: 
---
Burekas At Levinsky and Carmel Markets 
If you have the time, exploring Tel Aviv's traditional, authentic markets is not to be missed, espeically Levinsky spice market and the Carmel Market.
For more about the best places to enjoy walking around and shopping in authentic markets, visit our page on Tel Aviv Shopping. 
And while you are there, do eat some burekas at the best places:
---
Penso at 43 Levinsky Street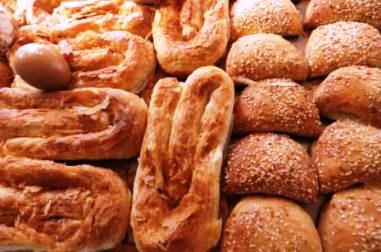 If there is a 'burekas landmark' in Tel Aviv, this is it.
Penso has been serving amazing Turkish baked goods for 80 years and is managed by the 3rd generation of the Penso family from Turkey. 
You can choose 3 different types of pastry doughs: regular, flakey and filo. They also serve a variety of Turkish breads, great desserts and Ayran, the traditional Turkish yogurt drink similar to Indian Lassi.
---
Burkeas Shel Ima at 46 Levinsky Street
Served fresh and hot, choose from the cheese, potato or spinach pastries served with 'haminados', slow cooked eggs which has browned in the oven for several hours.

(Haminados is short for 'huevos haminados' in Ladino, the Spanish Hebrew dialect spoken by many Balkan and Turkish Jews, a remnant of their Spanish origins.)
On the side, you can drink freshly squeezed lemonade, Turkish coffee, mint tea ("tay nana"),  or my favorite, Aryan, the yogurt drink, served with fresh dill or mint.  Delicous and helps break that burekas heaviness...
---
Turkey Original at 
39 HaCarmel Street
Nissim and his son serve over-sized bureks with a very thin and light filo pastry.

The most popular are the two cheese variants – Kashkaval, a yellow sheep cheese or Bulgarian, a white salty cheese.
You can also choose spinach, spinach with cheese, potato, eggplant or meat. These too are served with a hard boiled egg on the side.
For under 20 shekels (under $5),  it's filling and cheap too. Try their special 'Aryan', flavored with fresh sage leaves.
---
Burekas Sammy, 28 Raban Gamliel Street 
(corner of HaCarmel Street)
Sammy bakes and serves from his 'wagon.'
His cheese pastries just melt in your mouth. They come with an egg, freshly sliced tomato and pickles on the side, for under 20 shekel.
---
Leon and Banav at 17 Oley Zion Street in Jaffa

This is another Tel Aviv landmark in Yafo near Tel Aviv's Flea Market (Shuk Hapishpishim) serving Bulgarian pastries from 1948.

Leon died some years ago, but his sons Avi and Eli continue their family tradition.
Burekas are usually fattening, but these Bulgarian delicacies are handmade with a thin and flakey filo dough made of flour, water and just a bit of canola oil.
Try the grilled pepper or smoked eggplant flavors. Amazing.
They also serve tasty sweet ones, similar to a strudel, stuffed with nuts or apples.
---
Eli Ta'am Gan Eden at 43 Jerusalem Boulevard
(also in Jaffa)
Early on Saturday mornings, there's a line of people waiting to pay 15-16 Shekels for some of the tastiest bureks in the city.
They are sprinkled with freshly grated cheese and served with an egg and pickles, and as elsewhere, a glass of refreshing Ayran yogurt drink. 
---
Saloniki Bakery at 254 Florentin Street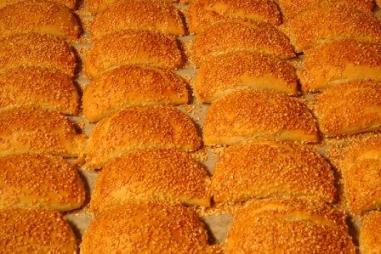 Florentine neighborhood was founded by Jewish immigrants from Greek's second largest city, Thessaloniki (Saloniki in Greek) in the 1920's.
Saloniki Bakery is the best there! I already mentioned this old-time bakery on my page on Tel Aviv Streets and Neighborhoods. 
I love their roasted mushroom filling,  but they are all really good. 
---
Miss Burekas at 5 Stern Street in Florentin
Miss Burekas is another excellent bakery.

Besides classic fillings such as cheese or mushrooms, they are known for unusual stuffings:
tuna with olives,
yam with leeks
mashed hummus, tehina and ful (fava beans)!  
You will not leave hungry!
---
Mamas Burekas at 16 King George Street
If you get a burekas craving at 3 in the morning, this is the place for you!

It's a favorite stopover for the party crowd.
Choose between cheese, cheese and olive, potato or eggplant, and you'll also get the obligatory egg, tomato sauce and spicy sauce (harif).
---

Want to try to make them on your own?  I recommend you try this classic recipe in Tori Avey's food blog. 
---
You may also be interested in: